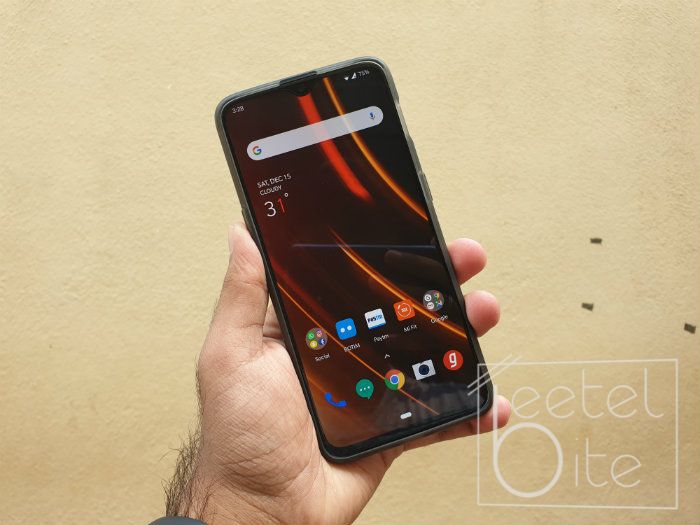 OnePlus is now gearing up to launch their next flagship smartphone, the OnePlus 7. Though the company has not yet confirmed what the next smartphone would be called, currently it is being referred to as the OnePlus 7. The smartphone has leaked for the first time via the more popular and reliable leak provider, SlashLeaks.
In a Twitter post by SlashLeaks, OnePlus 7 has been spotted alongside what looks like to be a 5G variant of the OnePlus 6T. OnePlus promised at the Qualcomm Summit in Hawaii that they will soon be launching a 5G smartphone. So, the OnePlus 6T in the image looks like to be the first 5G smartphone by the company.
#OnePlus - #OnePlus7 - OnePlus 7 leaked https://t.co/STBcjEJiKe pic.twitter.com/SqMG6WJPwV

— /LEAKS (@Slashleaks) January 12, 2019
As for the OnePlus 7 itself, it seems to have a nearly bezel-less design with no notches what so ever. Speculations suggest that the smartphone will come with a slider for the front facing camera just like the Xiaomi Mi Mix 3 and Honor Magic 2. Also, the leaked OnePlus 7 has a curved glass design similar to what we have seen on the latest Samsung Galaxy S-lineup.
Also Read: How to make a normal OnePlus 6T look like OnePlus 6T McLaren Edition
Looking at the leaks so early give us a hint that OnePlus might launch the 5G variant of the OnePlus 6T at MWC 2019. The phone will run on Qualcomm Snapdragon 855 to bring the 5G modem on board. It is expected to be priced at around Rs. 45,000 when it drops in India. As for the OnePlus 7, it is expected to launch sometime in May 2019, which would be a bit earlier than their regular cycle.