Xiaomi has finally introduced the Mi Exchange, an exchange program by the company in India. The Mi Exchange allows users to trade-in their old smartphones to purchase a new Xiaomi smartphone. Xiaomi will provide exchange coupons in exchange for your old smartphone. The exchange coupons can then be used to claim discount on a new Xiaomi smartphone.
Xiaomi's all-new Mi Exchange program is applicable to a wide range of smartphone companies. The smartphone brands include Samsung, Google, Huawei, Sony, Asus, Lenovo, Moto, LeEco, Micromax, Gionee, Oppo, Vivo, HTC, and OnePlus.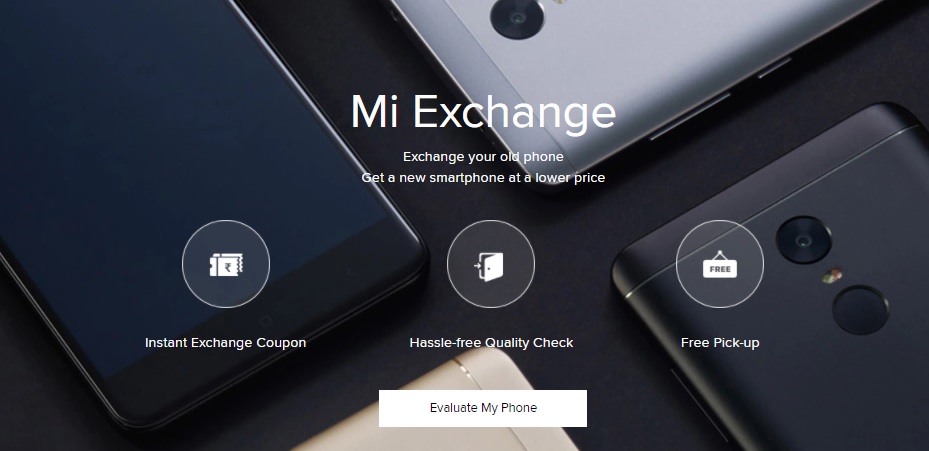 How to use the Mi Exchange?
Head over to Xiaomi's Mi Exchange page
Now click on "Evaluate My Phone" in order to see how much you can get for your old smartphone
Here, Select the brand and model of the smartphone you want to exchange. You can also use the "Search Model" option to easily search for the smartphone
Enter the IMEI number of your smartphone and agree to the terms and conditions. Now, tap on "Get Exchange Coupon."
You might need to login to your Mi Account. In case you don't have one, you will need to create one.
Voila! Your Exchange coupon is now generated
You can now purchase a new Xiaomi smartphone and get a discount using the coupon. At the time of delivery, your old smartphone will be picked up.
What do we feel about the Mi Exchange program?
Xiaomi's Mi Exchange program brings great discounts and hassle-free exchanges. However, we did notice that you can get better offers by not using Mi Exchange. The Mi Exchange was started in collaboration with New Delhi-based Cashify. So we decided to check the value of our Samsung Galaxy S8 on Mi Exchange as well as on Cashify.
We discovered a price difference of a whopping Rs. 7,500 between the Mi Exchange and Cashify's offering. So we would highly recommend checking out Cashify and other services before heading over to Mi Exchange. Yes, Mi Exchange reduces the hassle, but for a price difference of Rs. 7,500 a little bit of hassle is acceptable.
Sometime you might get a better deal on Mi Exchange depending on the smartphone you are trying to sell. It also highly depends on the condition of your smartphone and the accessories you have with it.