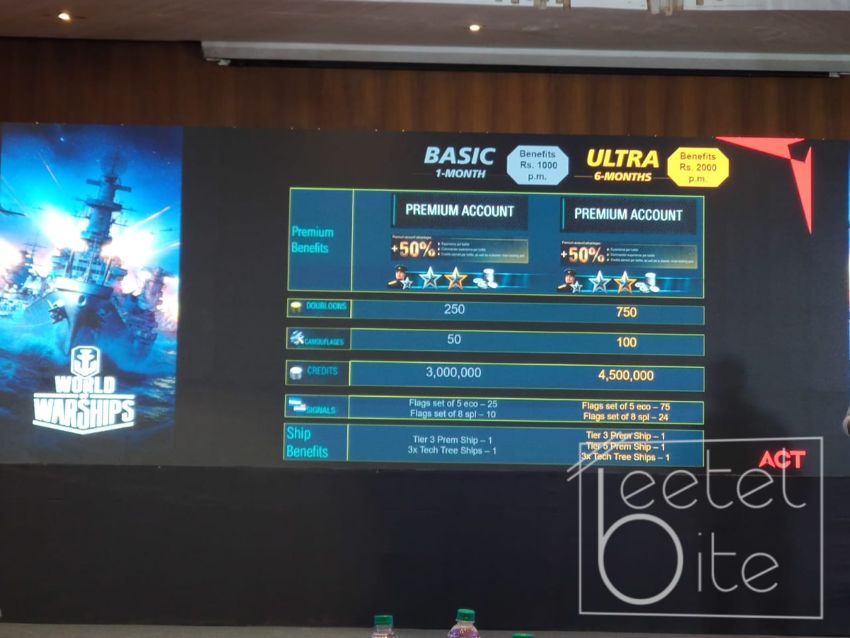 Today, at the launch of the World of Warships, ACT Fibernet announced new something called as the "ACT Gaming Booster" in India. The company is currently servicing in over 19 cities and has gigabit connections available in Chennai, Hyderabad and Bengaluru. With these new gaming booster packs, the company is aiming to bring a better gaming experience to the gamers.
ACT Fibernet is currently offering two gaming booster packs, namely, Basic and Ultra. While the basic plan costs just Rs. 500, the Ultra pack will set you back Rs. 2,000. Also, these prices are exclusive of GST. The booster packs can be added on top of any sort of plan and the amount will be added in the monthly bill.
As the name suggests, the "ACT Gaming Booster" packs boost the gaming performance. This happens in two ways, one being Speed Boost and the other is Data Boost. The Speed Boost brings 300mbps download speeds for 3 hours or 5 hours per activation on Basic and Ultra packs respectively. With the help of the speed gain, the users can instantly download games or their updates. Basic users can use the Speed boost 5 times a month whereas the Ultra users can use it 10 times a month.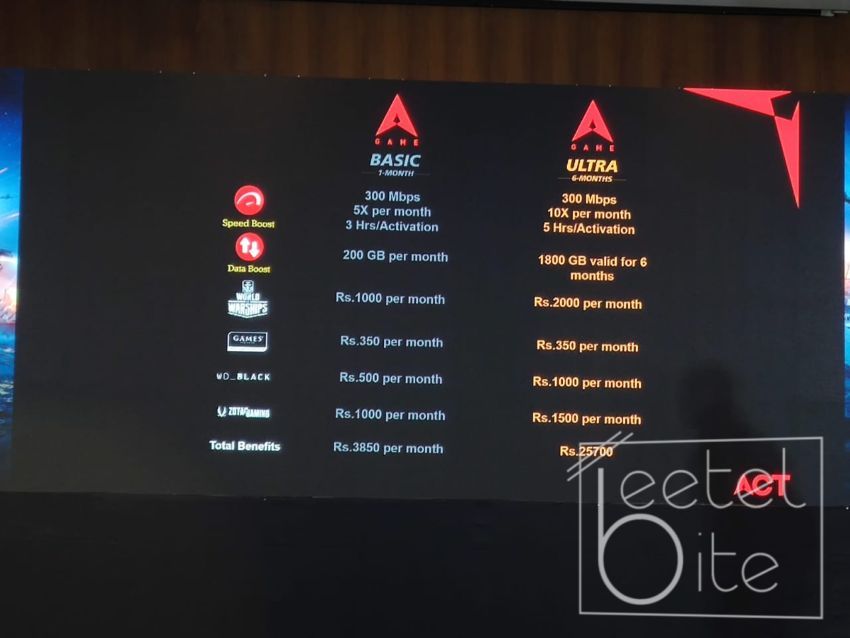 Data Boost brings 200GB and 1800GB additional data for Basic and Ultra packs respectively. Also, while the basic plan comes with a validity of just one month, the Ultra plan offers six months validity making it a wiser choice.
Also Read: Wargaming brings World of Warships to India in partnership with ACT Fibernet, Zotac Gaming and more
Since the company has partnered up with World of Warships, they have also included free bundles for WoW gamers. The Basic pack subscribers will get in-game benefits worth Rs 1,000 per month, a free premium account, 250 doubloons, 50 camouflages, 30,00,000 credits and much more.
As for the Ultra pack users, the company is providing a free premium account on World of Warships along with 750 doubloons, 100 camouflages, 45,00,000 credits and more.
With the ACT Gaming Booster packs, the users will also get one-time discounts of up to Rs. 1,500 on Zotac GTX and RTX GPUs, WD SSDs and more.
Disclaimer: The author is currently in New Delhi on the invite of Wargaming India.