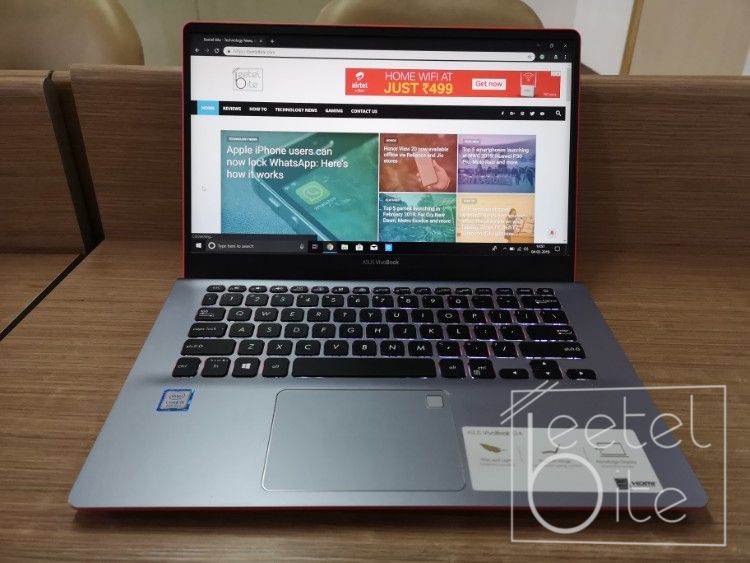 Asus has a variety of laptops targeting different types of customers. The VivoBook series concentrates on people looking for a laptop for school or work who need a portable laptop, which they can carry everywhere and with which they can get their work done. However, the Asus VivoBook S14 (S406) is not meant for everyone and here's why we think so.
Asus VivoBook S14 (S430U) Review: Specifications
The review unit of the Asus VivoBook S14 we got came with a 14-inch IPS LCD display with a resolution of 1920x1080 pixels. It is powered by the 8th generation Intel Core i5 8250U processor coupled with Intel's integrated UHD Graphics 620. The device comes with 8GB of RAM, 256GB SSD storage and a 1TB hard drive.
Price: Rs. 69,990
Asus VivoBook S14 (S430U) Review: Design
Asus VivoBook S14 comes with an eye catching design and a variety of colour options to choose from. It is also quite sleek, which makes the laptop extremely portable. The laptop is around 18mm in thickness and weighs in at around 1.4kgs. Most of the body is made out of plastic, which makes it less durable but at the same time offers a lightweight design.
As soon as you open the laptop, you will be greeted by, what Asus likes to call, a NanoEdge display. It basically has thin bezels on both sides and the top. Just like its predecessor, this has allowed the company to put a 14-inch display in a chassis of a typical 13-inch laptop. The chicklet keyboard is backlit and the brightness levels can be adjusted in 3 different levels. The laptop also features a fingerprint scanner on the trackpad, which is a welcome feature as it makes unlocking the laptop very easy.
Also Read: Asus Zenbook UX333 first impressions: Portable powerhouse?
In terms of the port selection, Asus has added three USB Type-A ports, a USB Type-C port, an HDMI port, a 3.5-mm headphone jack and a microSD card slot. For the price Asus is asking, they could have included a ThunderBolt port, which would have allowed users to plug-in an external GPU and other accessories to this ultrabook.
Asus VivoBook S14 (S430U) Review: Display
The Asus S14 sports a 14-inch IPS LCD display with a resolution of 1920x1080 pixels and has a refresh rate of 60Hz. It is an antiglare panel and offers a 178-degree wide-viewing angle and 84 percent screen-to-body ratio. Watching Netflix was pleasing on this display. It also gets bright enough and should be fine for most use case scenarios.
Asus VivoBook S14 (S430U) Review: Performance
The Asus VivoBook S14 comes with a U-series processor from Intel and lacks a dedicated GPU, which is acceptable considering the company is marketing this as a portable thin and light laptop. Performance from the Intel Core i5-8250U CPU coupled with 8GB of RAM should be sufficient for most day-to-day tasks.
The laptop uses an ErgoLift design where the laptop lifts up slightly to give room to the fans for better cooling. However, it makes using the laptop difficult on uneven surfaces. When it is on a table, it does remain cool.
Asus VivoBook S14 (S430U) Review: Keyboard and Mouse
One of the best things I liked about this laptop is its backlit keyboard. The lighting makes the laptop comfortable to use during night time. Just like most other Asus laptops, the trackpad on this one is also quite good. The trackpad comes integrated with a fingerprint sensor, which when combined with Windows Hello, works very well.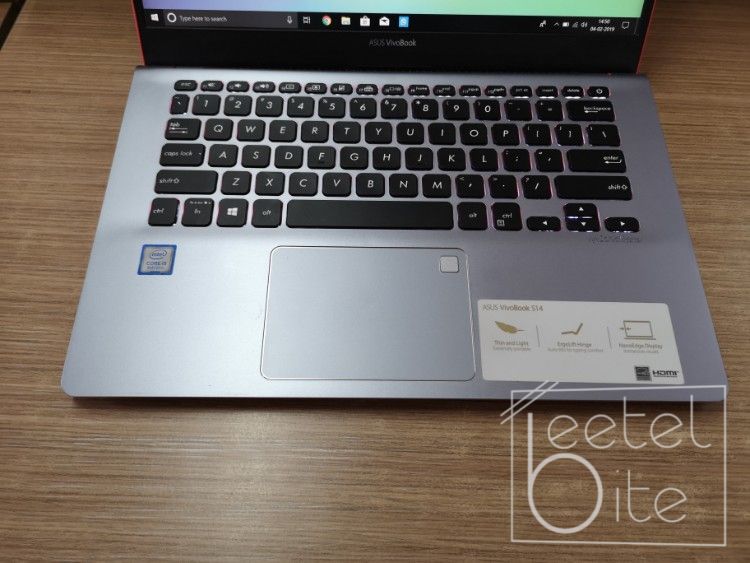 Also Read: Asus S14 (S406) laptop review: Mobility over performance
Just like its predecessor, the power button is included within the keyboard area. The button is quite close to the backspace key which means you might accidentally hit the power key instead of hitting the backspace key on most occasions.
Asus VivoBook S14 (S430U) Review: Battery
One of the key highlights of the Asus S14 is its long battery life. During the review period, we were able to use the laptop continuously for around 8-9 hours before it required to be plugged in. We got good results with keyboard backlight turned off and Windows Power Mode set to Better Performance. You can suck some more juice from the laptop by Windows performance settings even more. Also, if you do drain the battery, the included charger can charge it back quite quickly.
Asus VivoBook S14 (S430U) Review: Verdict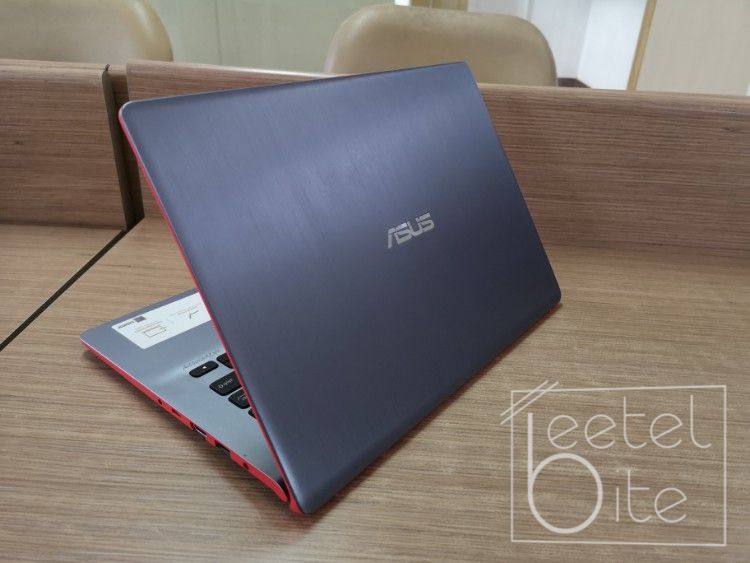 Asus VivoBook S14 (S430U) is made for people who prefer mobility over performance. The laptop is lightweight meaning you can carry it around with you most of the times. The battery life is quite good, which means you will not need to carry the charger to work or school. However, these perks do come with a tradeoff, which in this case is performance.
The lack of a dedicated graphics card means that you cannot edit your videos or play games on the go. A ThunderBolt 3 port could have made a huge difference here. However, considering the market Asus is targeting with this device, it isn't a huge deal.
In a nutshell, if you need a laptop for work and you travel a lot, picking this one up will never bring regret.