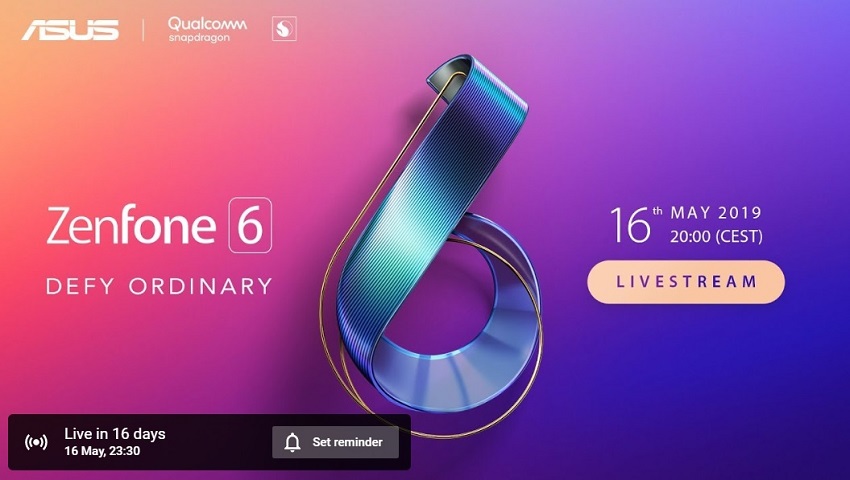 While OnePlus fans are super pumped up with OnePlus 7 Pro launching tomorrow, the smartphone will get its true competitor just two days after with Asus launching the new ZenFone 6 series. The Taiwan-based tech giant is launching its new series of flagship devices on May 16 at an event in Spain and here's everything we know so far.
Just like last year, the company is expected to launch two new smartphones, namely Asus ZenFone 6 and ZenFone 6Z. Both the smartphones will come with flagship grade hardware but the 6Z will have a slight edge over the regular version due to some aesthetic changes or a few other changes here and there.
As far as the specifications are concerned, the leaks and rumours suggest that the ZenFone 6 will be powered by the latest Qualcomm Snapdragon 855 processor coupled with the new Qualcomm X50 modem for 5G capabilities. The device is expected to come with up to 12GB of RAM and 512GB of onboard storage.
On the optics front, the smartphone is said to come with a dual-camera setup at the back consisting of a 48-megapixel primary sensor and a 13-megapixel secondary sensor.
Just like the OnePlus 7 Pro, both the new smartphones from Asus will have a full-screen display without any notch. The more expensive Asus ZenFone 6Z is expected to come with a larger display and a higher screen to body ratio. It is also said to come with a dual slider mechanism, where if the phone is slid downwards, it will reveal a dual camera setup with dual LED flash for selfies and if it is slid upwards it will reveal a secondary speaker and two touch buttons.
Also Read: Here's how to pre-book your OnePlus 7 Pro and get one-time free screen replacement
All of this can be taken with a pinch of salt and we will need to wait till May 16 to see what Asus actually has to offer and if the pricing manages to compete against the OnePlus 7 and OnePlus 7 Pro.