Best Free Backup Software: AOMEI Backupper Standard
Looking for a good backup tool to back up your entire partition or disk? Here is one for you. AOMEI Backupper Standard is the best free backup software that could back up not only data but the system to ensure your computer safety with a simple and intuitive user interface. It's a perfect solution for Windows users; both 32-bit and 64-bit editions are supported.
The main interface has 4 tabs on the side, with each tab representing a single function of the program. They are: Backup, Restore, Clone and Utilities.
Backup tab offers 5 types of back up options.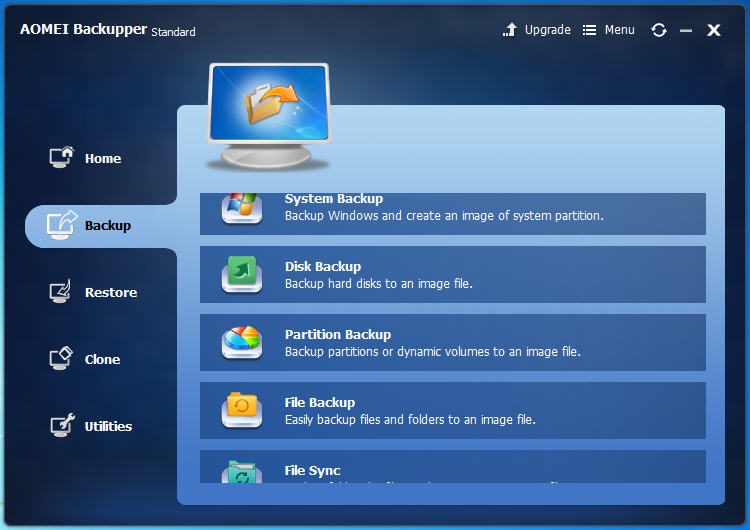 System Backup: Easy system drive backup of all contents, including Windows operating system and system settings without interrupting the system.
Disk Backup: Backup your hard disk drives, including internal disk, external disk, USB flash drive and other storage devices that can be recognized by Windows.
Partition Backup: This free back up software allows you to back up selected partitions or volumes to a compressed image file.
File Backup: Securely backup individual files and folders, such as office files, photos, videos, documents, games and programs. Also support backing up files on network or NAS.
File Sync: Synchronize files and folders automatically with a schedule to local disks, external hard drives, removable USB flash drives, NAS or network shared folders.
You can set up a schedule to automatically backup your system and data. It's extremely useful and handy for those who want to their backups done at a lesser frequency or in a multiple backup sets.
Restore function offers 3 types of restore options: System Restore, File Restore and Disk/Partition Restore.
It is worth mention that Aomei has become the first software company to provide Dissimilar Hardware Restore feature for FREE! No other free imaging program includes this feature. The process is quite simple: create an image of a good working operating system on the old hardware and then restore that image to the new hardware using Aomei Backupper's "Enable Universal Restore" option, which automatically detects any differences in hardware between the source computer and target computer.
Clone tab offers 3 types of backup options.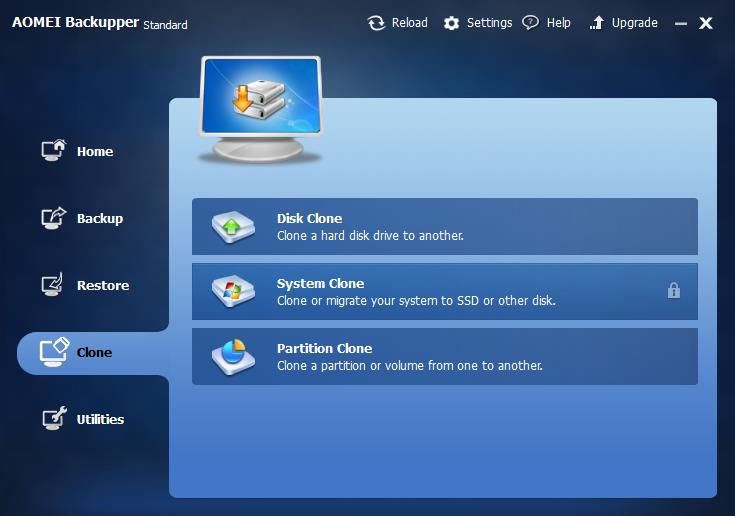 Disk clone: Directly copy a hard drive to another without creating an image file. It supports to copy large hard disk drive to small solid state drive (HDD to SSD).
System Clone: Clone operating system (OS) and all applications in system drive to the faster SSD or a larger hard disk drive without re-installing Windows. Much efficient when you want migrate os to ssd.
Disk Clone: Directly copy a hard drive to another without creating an image file.
Utilities tab includes 6 handy utilities that can be very useful.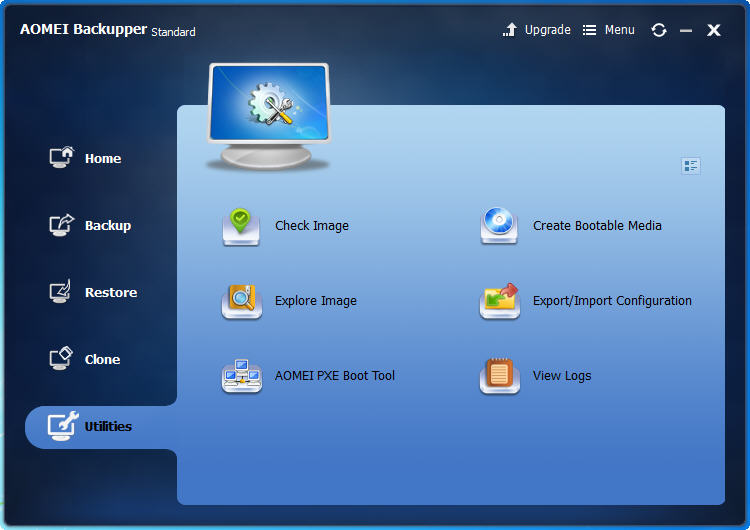 Check image file to make sure the integrity of the image files consistent.

Create bootable media as a rescue tool to restore system drive in the event that Windows can no longer boot.

Explorer image to let you browse through the image file to see what files and data are being backed up and included in the back up image file.

Export all back up tasks stored in a file which can be imported later.

View logs function shows you the log information of what operations this program has done.

PXE Boot Tool: Start up client PCs within LAN through the network booting by using AOMEI Windows PE and Linux micro-system or your own personalized bootable image file on a master PC for system maintenance.
Overall, AOMEI Backupper is a nice back up utility with amazing features which will satiate your desire for the best free back up software. It's simplicity and easy to follow user interface especially recognized by world around users. It's absolutely worth a try.