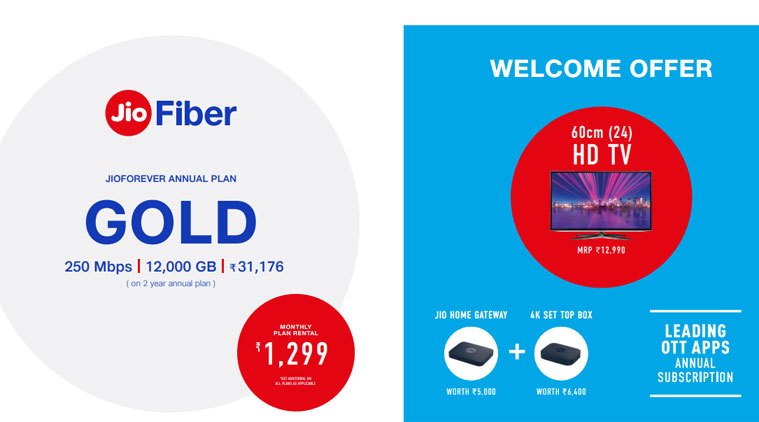 Reliance Jio announced their broadband fiber connection last month and the company has now finally revealed the pricing details. Since it is Jio, it was expected that the pricing strategy would be quite aggressive. With so many plans on the table, you might be confused that which plan would be the right one for you. We will help you pick the right one right now.
Jio Fiber plans start at Rs. 699 and go all the way up to Rs. 8,499 per month. These plans offer different validity period, data and speeds. The plans are titled Bronze, Silver, Gold, Diamond, Platinum and Titanium.
Bronze Plan
Bronze Plan is the basic plan that is priced at Rs. 699 per month. It offers 100GB of data with speeds of up to 100Mbps. Apart from that, the company also includes 50GB additional data.
Silver Plan
Once upgraded to the Silver Plan, the data doubles up to 200GB while the speed remains the same at 100Mbps. As for the additional data, the company offers 100GB additional data. This plan is priced at Rs. 849 per month.
Gold Plan
Unlike the above two plans, the gold pack is a part of Jio's Forever annual plans. It is priced at Rs. 1,299 per month and brings 500GB of data on board. The plan offers speeds of up to 250Mbps and post complete data usage, the speeds reduce to 1Mbps. Additionally, users also get 250GB of additional data with the pack.
Diamond Plan
The diamond plan also comes under the company's annual packages and it is priced at Rs. 2,499 per month. It brings with 1250GB of data with speeds of up to 500Mbps. It also offers 250GB of additional data.
Platinum Plan
This is where the consumer starts to notice the real reason to upgrade to Jio Fiber. The platinum plan offers up to 1Gbps speeds with 2500GB data included. It is priced at Rs. 3,999 per month.
Titanium Plan
As the name suggests, this is the flagship package available. The plan is priced at Rs. 8,499 per month, which sums up to Rs. 1,01,988 per year. It comes with 5000GB of data with speeds of up to 1Gbps.
Apart from all this, the company provides Free voice calling anywhere in India, TV video calling/conference, Zero-latency gaming, Home networking with content sharing at home and outside and Smartphone security powered by Norton for up to five devices standard across all the plans. JioForever plan users will also get access to free OTT subscription.
Which plan is right for you?
If you are at home and you have a family of below five members, we would recommend getting the Silver Plan as it offers plenty of data at a reasonable cost. On the other hand, if you are living in a joint family and have more than 7-8 members at home with a lot of internet requirement, you should prefer getting the Diamond plan.