The Lenovo Phab 2 Plus Review
In recent years the smartphone market has become crowded with 5 and 5.5 inch offerings. But, Companies like Xiaomi, Lenovo and other smartphone manufacturers have found another small share of market which prefers phablets rather than normal smartphones.
Lenovo Phab 2 Plus
The Lenovo Phab 2 Plus is rocking an all metal body with a 6.4 inch 2.5D Gorilla Glass. The device gives a premium look and has all the features that a person would need, even has a dual camera. The phablet market became more prominent when the Samsung debacle started to happen Lenovo saw the market of people looking to use a phablet after the loss of the note and came out with the Phab 2 Plus. Lenovo has put out the phab 2 plus in the market now let's find out is it worth buying.
Design
The Lenovo Phab 2 Plus comes with a all metal body and 2.5D Curved Gorilla Glass touch screen. Getting into the design the phone looks stunning for the price that it is offered for. Though the Phab 2 Plus being a little big for some people's liking, it does definitely appeal to the phablet using niche market, and with the samsung note debacle it is a great offering for those people.
The Lenovo Phab 2 Plus has a 6.4 inch FHD display, it still uses micro-usb for charging instead of the usb type c, and also has the 3.5mm headphone jack all of these didn't bother or interest us. What gained our eyes was the dual camera in a smartphone which costs only Rs.15,000. The 13MP dual camera is supported with a dual tone flash and laser auto focus which is great. Rest the Lenovo Phab 2 Plus has an 8MP front camera with flash, bothe the cameras record in 1080p. It also sports a fingerprint sensor on the back.
The Lenovo Phab 2 Plus has great design, and looks like Lenovo has put a lot of thought into it.
Battery
The battery of the Lenovo Phab 2 Plus was meant to be good as having such a huge body makes space for a big battery.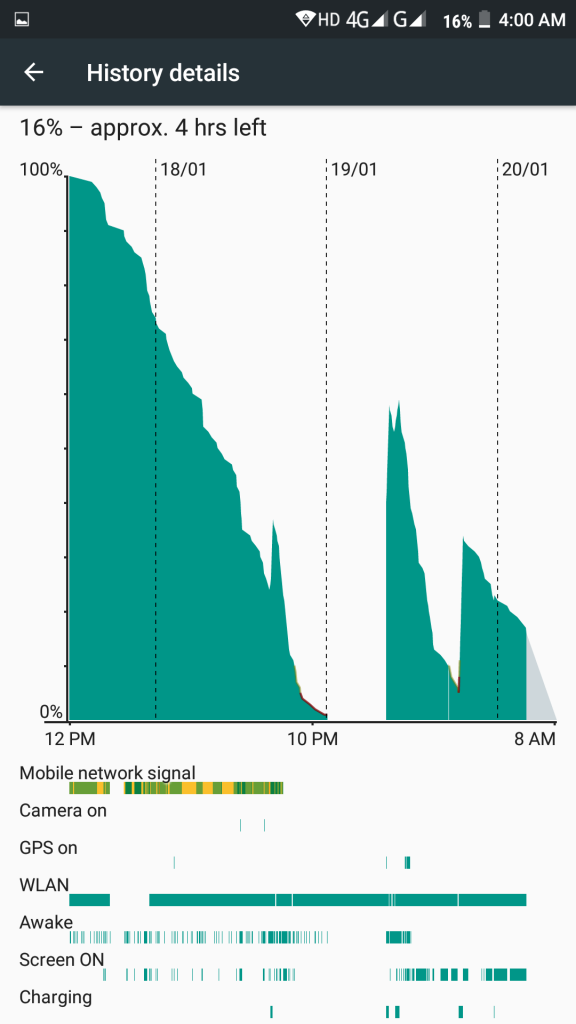 Trust us, we pushed the battery beyond its limits for testing purposes and got phenomenal results. The battery easily lasted for the day even with heavy usage and gaming. And, it was also a blast using this device as even if you were running out of charge you could easily go and plug the device and get 100% charge in 2-3 hours on the stock charger.
So, basically the battery is unparalleled in the phablet range device market. So if you are the type of the person who runs out of phone battery too soon while entertaining yourself this phone is for you.
Camera
The Lenovo Phab 2 comes with a 13MP Dual Primary Camera with dual tone flash and a laser autofocus, it also has an 8MP secondary shooter with front flash. After trying out the camera we found out that Lenovo has invested a lot into their camera technologies as all the shots were amazing and even the low light shots turned out amazing.
The Lenovo Phab 2 comes with a dual camera which is amazing to have in such a cheap smartphone. The Phab 2 Plus was the cheapest smartphone with dual cameras that we were able to find from a reputable brand. The Lenovo Phab 2 comes with all the features that a photography enthusiast could ask for from dual cameras, laser auto focus, manual shooting modes,  dual led flash, etc.
Performance
The Lenovo Phab 2 Plus consists great performance capabilities, We had put the smartphone to heavy tests and the Phab 2 Plus did them with ease. The 3GB of RAM and the Mediatek MT8783 SoC keeps the device running very smoothly. The interface runs flawlessly, and apps and games load and run without any trouble. We tested game performance with multiple games and they ran smooth as a hot knife through butter.
The battery due to being so big we weren't worried about the phone running out of battery during the day. The battery gave us around 2 and a half days worth of usage on a single charge. The phone performed well overall there was no signal drops, the call quality was great, the dual camera setup was amazing, our only gripe with the phone was that it is a bit on the larger side that a few people might not like.
Features
Mediatek MT8783 is a powerful octa-core processor processor which combined with 3GB of RAM runs very smoothly. It comes with 32GB Internal storage expandable via a MicroSD card which is combined with a hybrid SIM slot. The Lenovo Phab 2 Plus is rocking a 4,050mAh battery which gives you great usage time on the smartphone. The fingerprint sensor is very responsive and the dual camera setup is simply amazing.
Connectivity
The Lenovo Phab 2 Plus supports GSM, HSPA, LTE, VoLTE; The Bands it runs are 2G, 3G, 4G. It has Wi-Fi 802.11 a/b/g/n/ac, Wi-Fi Direct, hotspot. And Supports Bluetooth Version 4.0 with A2DP. The phone also has GPS with A-GPS.
Accessories in Box
Lenovo PHAB 2 Plus
JBL Earphones
Charger
Safety/Warranty Guide
Quick-Start Guide
Specifications
KEY FEATURES

KEY SPECIFICATIONS

·         Model : Lenovo PHAB 2 Plus

·         Dimensions : 17.4 X 0.55 X 8.8 cm

·         Weight : 218g

·         Operating system: Android 6.0  

·         Colours : Champagne Gold, Gunmetal Grey

 

Performance

•        Memory :  3GB RAM, 32GB ROM

•        Expandable Memory : Up to 128 GB; microSD

•        Processor : MediaTek (MTK 8783) Octa-Core Processor

•        GPU : Mali-T720

•        Sound : Triple Array Microphone with Active Noise-Cancellation, Dolby Atmos + Dolby Audio Capture 5.1

•        Battery : 4050mAh Li – ion, stand by time of 17 days and 23 hours talk time

Connectivity

·         Wireless communication : WiFi Hotspot, Bluetooth

·         Connectivity : 4G, VoLTE

Display

·         Size: 16. 2cm (6.4) Full HD IPS

·         Type :  2.5D  curved Glass

·         Material: Aluminium alloy

·         Resolution: 1920 x 1080

 

Included Applications

·         McAfee Security*

·         Netflix

·         SwiftKey

What 's in the box

·         Lenovo PHAB 2 Plus

·         JBL Earphones

·         Charger

·         Safety/Warranty Guide

·         Quick-Start Guide

Accessories : JBL® Hybrid earphone

End User Price : INR 14, 999

SIM type : Micro SIM + Nano SIM or Micro SIM + TF Card

Slots : Dual Slots

Camera

Rear

·         13 MP Dual Camera

·         Milbeaut ISP, F2.0 Aperture

·         1.34 Big Pixel, Laser Focus with

·         PDAF Light Supplement

Front

·         8 MP Fixed-Focus

·         F2.2 Aperture

·         1.4 μm Big Pixel

·         Light Supplement

 

Sensors

·         G-Sensor:  Gyroscope

·         P-Sensor:  Hall Sensor

·         L-Sensor : Battery Manager

·         E-Compass Vibrator :  Fingerprint Sensor

Connectivity / Radios

·         SKU1 : PRC without CA

·         GSM : B2/3/5/8

·         UMTS : B1/2/5/8

·         TD-SCDMA : B34/39

·         FDD LTE : B1/3/7

·         TDD LTE : B38/39/40/41 (narrow band)

·         CDMA/EVDO : BC0

·         SKU2 : ROW (AP/EMEA) without CA

·         GSM : B2/3/5/8

·         UMTS : B1/2/5/8

·         FDD LTE : B1/2/3/5/7/8/20

·         TDD LTE : B38/40/41 (narrow band)

·         SKU3 : AG without CA

·         GSM : B2/3/5/8

·         UMTS : B1/2/4/5/8

·         LTE : B2/4/5/7/12/13/17

·         Speed : 2.4 GHz and 5 GHz

·         WLAN : 802.11 a/b/g/n/ac; Dual-band

·         Bluetooth® : Bluetooth® 4.0

·         mm Audio Jack : Yes

·         FM Receiver : Yes
Pros

 -
Good indoor and low light shots
Gorilla Glass 4 protection
Great camera setup
Good Build Quality
Bright And Vivid Screen
Fast Charging Technology
Good Looking and easy to use UI
Fantastic Performance
MicroSD Expansion
Affordable
Cons

-
Battery sealed inside
A bit on the larger side
Final Verdict

-

The Lenovo Phab 2 Plus is a solution to a problem that everyone in the market with a Samsung Note 7 was dealing with. The need of a phone and a tablet hybrid from a reputable and trustable company after what people with the Samsung Galaxy Note 7 faced. Though being the saviour that it was trying to be it was a little bit late in coming to the market and other competitors had already put out similar products. That all being said this phone is a beast of a phone both on the software and hardware side and will let you do whatever you want with ease, so go ahead and buy it already you won't regret it.
Buy The Phone Here - Click Here
The Lenovo Phab 2 Plus has looks and performance of a premium smartphone, but the price of a mid-ranger.