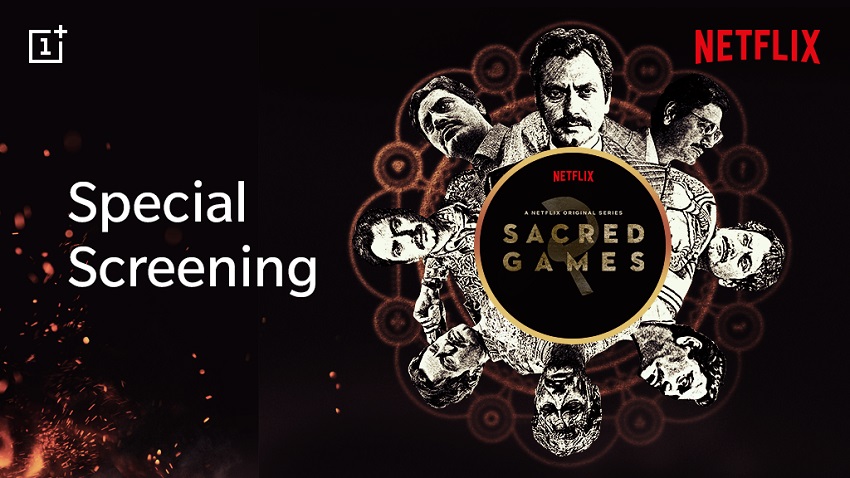 At the time of OnePlus 7 Pro launch, the Chinese smartphone manufacturer announced its collaboration with Netflix. As Netflix is now gearing up to release the second season of the popular Sacred Games show, OnePlus offers its users to watch the first episode before others. While the official release is scheduled for August 15, OnePlus users will be allowed to watch the first episode on August 14. Here's how.
The members of the OnePlus community will have a chance to watch the first episode of the popular show by registering for special screenings in three cities including Mumbai, Delhi and Bangalore. The screenings will be held on August 14 users with a OnePlus device can head over to this link to register for the screening. The tickets will be available starting today, August 10 from 12 PM onwards.

Commenting on this, Vikas Agarwal, General Manager, OnePlus India, said "When we announced our partnership with Netflix, we spoke about bringing unique experiences for our community and provided an incredible viewing experience on OnePlus 7 Pro with its HDR supported display. Now, we are happy to bring this unique experience to our community and look forward to a full house as we watch the first episode of the exciting new season of Sacred Games."
Also Read: OnePlus 7 Pro First Impressions: Finally a premium phone from OnePlus
OnePlus announced its collaboration with Netflix back in May this year when the launched two new smartphones in India, the OnePlus 7 and OnePlus 7 Pro. The company also released two posters and a behind-the-scenes video of Sacred Games Season 2, shot on OnePlus 7 Pro, demonstrating the camera capabilities of the device.