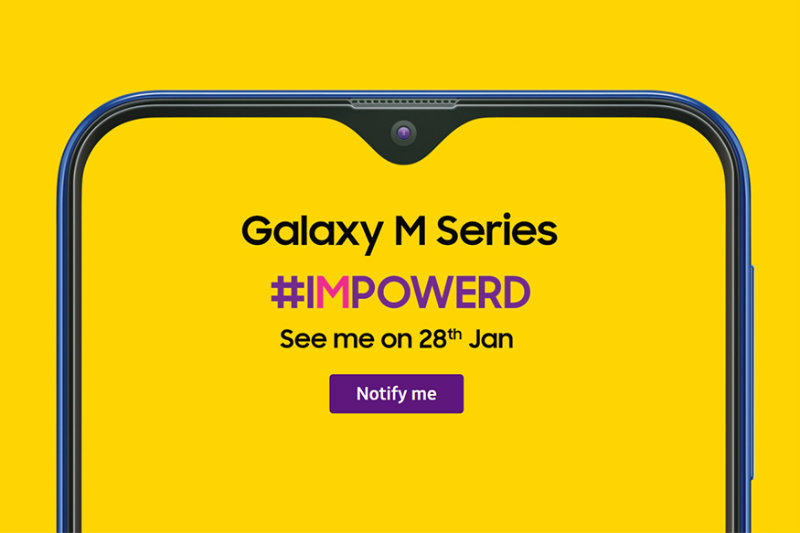 Samsung has announced that it will be launching its new Galaxy M series of smartphones in India on January 28. The series will be targetted towards the country's millennials, hence the nomenclature, 'M'. The company has stated that India will be the first country it will be launching this new smartphone series in, with more countries to follow.
This new Samsung Galaxy M series might be an online exclusive smartphone series. As the company has said it is partnering with Amazon to sell this new series in India. The company also stated that all the Galaxy M series smartphones will also be available on their own online store, for consumers to purchase.
Samsung also stated that all the Galaxy M series smartphones will sport a powerful display, powerful camera, powerful battery and a powerful processor. This according to the company will help deliver good performance to millennials.
Also Read: Samsung Galaxy A7 (2018) Review: Great cameras, good performance and average battery
The lineup according to earlier reports will include the Galaxy M10, M20 and M30, all of which recently appeared on Geekbench sporting the company's own Exynos 7885 processor with 4GB of RAM.
Also Read: Samsung Galaxy S10 to launch on February 20: Here's what to expect
It seems with this new lineup of smartphones Samsung is trying to take on brands like Xiaomi and Asus that provide very good specifications at a low price. These smartphones are preferred by most millennials due to their power to cost-performance ratio. Samsung might radically price their devices to get an upper hand on these manufacturers. With the big brand name, and if it is able to deliver the specifications at a low price, Samsung might be able to take back its crown in India.