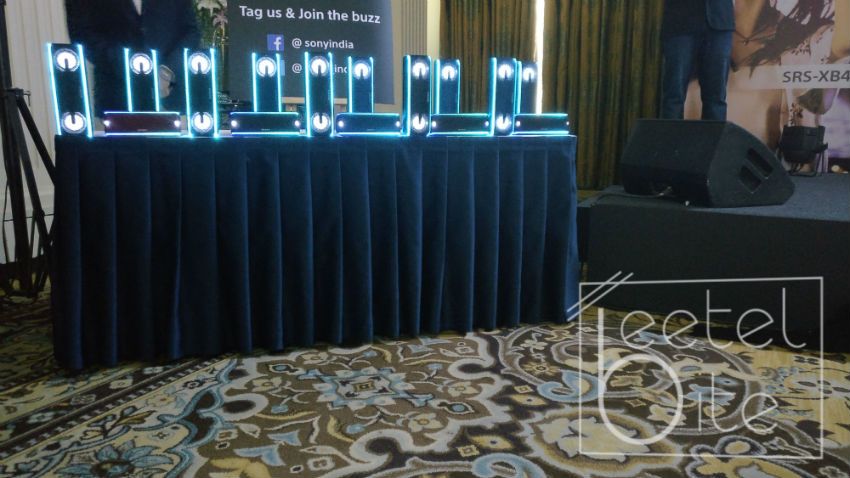 Sony demonstrated Sony Connect by connecting 25 speakers and playing a sound to demonstrate its power.
Sony recently announced their new lineup of Party series wireless speakers for India. These speakers are designed to be used during activities like camping or during a house party. The new party series speakers range starts from Rs 7,990 and goes all the way up to Rs 13,990.
The new range of Sony's party series speakers includes three models. Namely,SRS-XB21 (Rs. 7,990), SRS-XB31 (Rs. 9,990) and SRS-XB41 (Rs. 13,990). All of these speakers are completely wireless. Also, they come packed with NFC support and party link. They are optimized to work with Google Assistant. No Siri optimisation though. Also, standard connectivity is via Bluetooth. Party Link is Sony's software which enables the speakers to be bundled with up to 100 speakers together.
Design
All three of the Sony's party series speakers look almost the same. Except for minor changes. The SRS-XB41 comes with speakers lights and strobe lights which sync to music and look really impressive. The SRS-XB31 misses the strobe lights feature. However, it still has the speakers lights. The smallest of the bunch, SRS-XB21 has just a single led for power. All three of the speakers are made from mesh technology offering a software feel in hand. Overall, they look and feel very good. The best part about these speakers is their IP67 rating, which is unparalleled in the market.
Sound Quality
All of the three, Party series speakers are designed to be fully wireless and offer loud sound with a great base. We tried all three of the above-mentioned speakers for a couple of minutes. Our first impression of the sound quality is really good. Pairing them using NFC was easy and convenient. The base of the headphones is extremely good. Also, these speakers get really loud if you decide to turn up the volume. However, these are made for the party environment, so that was expected. However, the few minutes of testing isn't enough to completely tell us the quality of sounds these speakers will put out in all genres. Although, the first impression makes us feel it will be pretty good.
Also, the company claimed that the speakers can be clubbed for a louder sound. Also, it supports up to 100 speakers coupled together. We couldn't see that in action, but the company displayed by connection 25 speaker together.
Conclusion
TheSRS-XB21 (Rs. 7,990), SRS-XB31 (Rs. 9,990) and SRS-XB41 (Rs. 13,990) are greatly designed wireless earphones by the company. These look and feel very good. Also, they sound good by the initial testing. These make the speakers completely worth the money spent on it. However, we would recommend the smaller model if you don't care about those fancy lights. This is due to the fact, these offer similar sound quality. Although, missing Siri optimization might put some iOS users down. With the ease of access to mobility of wireless speakers and the capability and IP67 rating, these are a good option to spend your money on.