Nowadays rooting has become a great trend. So, here we present you some of the best apps for rooted android phones according to us. So let us start with the -
Top 5 Apps for Rooted Android Phones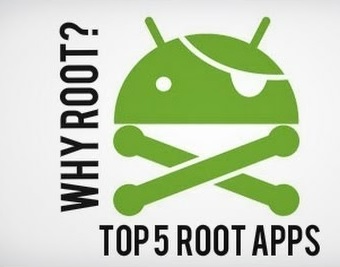 1.) Greenify
Greenify allows you to "Greenify" an app. Basically, it puts an app in a state of hibernation, unable to access system resources, bandwidth or run background processes. However, Greenify allows you to run an app normally in the foreground when explicitly called by the user without any extra fuss. So, Just don't greenify your alarm clock or messenger.While other apps allow you to freeze or uninstall bloatware and unwanted services, Greenify is designed to put apps into a state of hibernation when you aren't using them. The beauty of this is that you can use them as normal when you want to, but when you close them down they won't be running in the background and consuming resources.
2.) Uninstall
The first thing a lot of people want to do when they root is to rid themselves of bloatware and with this app you can uninstall anything. You can also uninstall multiple apps at once, rename apps, move, and re-organize them. It automatically backs up all the apps you uninstall so you can test for ill effects and stability issues and restore them if you need to.
3.) SuperSU
SuperSU by Chainfire is the de facto Superuser application available. Most root methods have you installing this app anyway so most new root users already have it. It's a solid app and works great to be that front door to root access on your device. It's simple to use and frequently updated to support new devices and changes in how root works. Also, it helps that Chainfire is one of the most well-known developers out there with a sterling reputation and a deep knowledge of Android and root access.
4.) Titanium Backup
As the name suggests, the primary purpose of Titanium Backup is to backup all of your apps, your data, and your device settings. You can automate these backups, and you can save the backup files to your SD card. If you plan on flashing a lot of ROMs, then this app is essential. For power users, the Pro version is well worth the outlay as there are no restrictions on your backups and schedules, and you can sync directly to cloud services like DropBox and Google Drive. The Pro version also allows you to freeze or completely uninstall bloatware that your manufacturer or carrier preinstalled. TB is one of those apps with a never-ending list of features.
5.) Goo Manager
Next up is the official app for goo.im called GooManager. This app is a one way ticket to download and install anything you can find on goo.im. It has an easy to use interface and can help you find a lot of files that you may otherwise have to Google Search to find. Some examples include ROM and Gapps downloads for your device. You can also use it to install TWRP Recovery if you need a custom recovery, and use the interface to reboot to recovery or flash ROMs without using the recovery.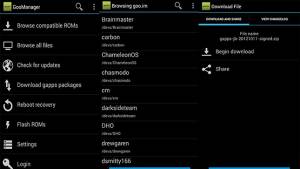 These are My Choices of Top 5 Apps for Rooted Android Phones that you can get.
Feel free to post your Top 5 Rooted apps that you like if its not there on this List.
Check out our video on the Top 10 Apps for Rooted Android Phones - Click Here