To answer the question of why do we require E-Foundation's /e/ ROM on our Android smartphones, let's answer the question of why do we need /e/. We did another article on why you need /e/, you can check it out here.  Now that we are clear of why privacy is important for you, you might be wondering how you can also get the /e/ ROM installed on your Android smartphone and how secure it really is?
How to install /e/?
If you are willing to install the project /e/ custom ROM on your Android-powered smartphone, you should first know how to unlock your bootloader, load a custom recovery like TWRP and then install a new ROM. We are assuming you have basic knowledge of ROM flashing and understand its risks.
Also Read: How to Install Lineage OS on your smartphone
Firstly, find whether your device supports /e/ or not, to do so you can browse the list of eligible devices here.
Once you have confirmed that /e/ is supported for your smartphone, you need to prepare your smartphone for installation, by having a recovery software like TWRP installed.
Now download the custom ROM. The company has provided installation instructions for each supported device on their website, if you need help in flashing your device. You can also read our article on it here.
Once the installation is finished, setup with an /e/ account and you are done. If you want, you can skip the /e/ account part.
How /e/ actually performs?
E-Foundation's project /e/ promises to unplug your smartphone from Google. This stops Google servers from collecting any of your device data. It uses the microG services to do things like sync contacts and let the Android based device activate without any google infrastructure in place. If you chose to install applications like Google Chrome for web browsing, which we had done, the ROM has a preinstalled Pro Guard application, which blocks not only chrome but any third party application from accessing a users personal information unless you whitelist it yourself. The Pro Guard can also be used to control each and every aspect of the application permissions in a more advanced manner than stock Android ever allows you to.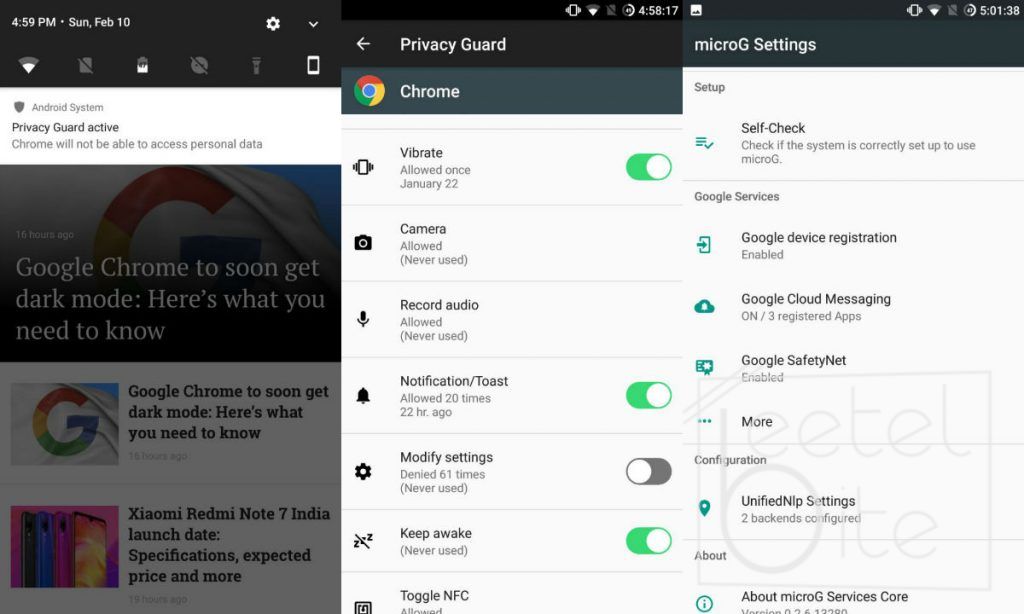 Project /e/ also get regular updates that patch any security vulnerabilities in the Android operating system that are discovered. What's more is that if you want even more control over your device, you can always root the system and control even more things out of the box. The project /e/ ROM already has root access configured for ADB only, so if you want to block a few more things out, you can easily do that out of the box.
Also Read: How to increase your privacy on Android
Also, project /e/ is based on Lineage OS so it offers tons of personalization options for the users which is ultimately a great thing.
Should you install /e/?
If you really want that extra level of security by disconnecting from Google servers then yes. As an additional benefit, you will also stop any third party applications from collecting your data. However, if you don't care so much about your personal data then it is a lengthy headache you do not need to take on for yourself. So the answer lies in how much you care about data privacy on your mobile device.
Disclaimer: We are not responsible for bricked devices or any issues you face while flashing any custom ROMs onto your smartphone so please do some research on custom ROM flashing and side-loading ROMS before you start making any changes. You are choosing to make these modifications and any result positive or negative is your responsibility, Beetel Bite will not be party to any such claims.