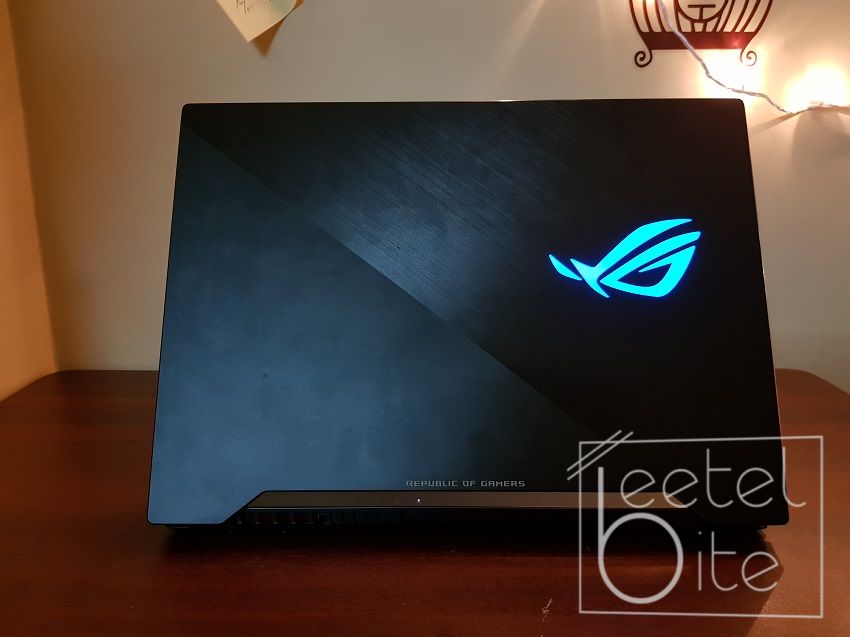 Asus recently launched their Asus ROG Strix Hero II laptop in India. The gaming laptop is focused on the MOBA gamers and the USP of the device is its 144hz display. Does the RGB lighting all around and the 144hz display means that it is the best gaming laptop for your money? Well, let's find out in our full in-depth review of the Asus ROG Strix Hero II.
Asus ROG Strix Hero II: Specifications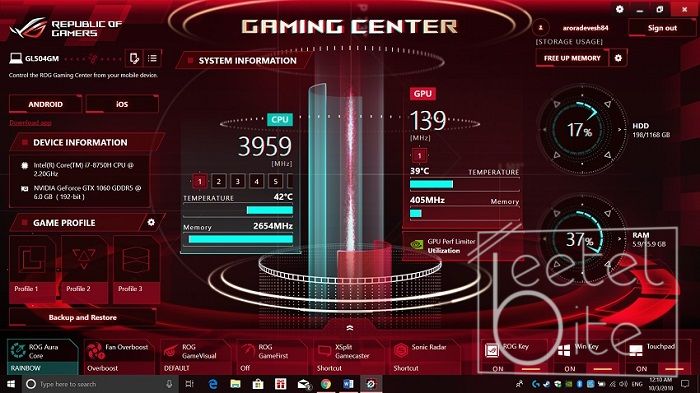 As far as the specifications are concerned, the Asus ROG Strix Hero II features a 15.6-inch IPS LCD 144Hz display with a resolution of 1920×1080 pixels and a response time of 3ms. The laptop is powered by the Intel Core i7-8750H 8th Gen CPU coupled with 16GB of DDR5 RAM. For graphics, there is a Nvidia GeForce GTX 1060 with 6GB of GDDR5 VRAM. The storage is being taken care of by the 256GB M.2 NVMe PCIe SSD drive paired with a 1TB HDD which runs at 5400rpm.
Asus ROG Strix Hero II: Design
As soon as you take the Asus Strix Hero II out of its packaging, you will notice that the device shouts premium. The top panel is made up of metal and has a ROG logo on it which has RGB lighting built in. Opening up the laptop reveals the 15.6-inch IPS panel which has very minimal on the sides as well as the top. However, the chin is relatively huge as it houses a ROG logo and the webcam. The webcam is not in the best place and it is that one thing you should ignore about this laptop.
While the top panel was made up of metal, the bottom panel that houses the keyboard is made out of polycarbonate. The quality of materials used are really premium and the laptop should last long enough. There is an RGB backlit keyboard and a trackpad at the bottom.
Coming to the I/O on the ROG Strix Hero II, the laptop gets you covered with almost every port you would ever need. One the left of the laptop, there is a charging port, an ethernet port, a mini display port, an HDMI 2.0 port, two USB 3.1 Gen 1 ports, a USB 3.1 Gen 2 Type-C port and a headphone jack. On the right, there is a USB 3.1 Gen 2 port, an SD card reader and a Kensington lock.
One thing which I think can bother many people about the design of this laptop is the placement of the fans. The fans blow hot air from the right side where most people usually have their mouse. However, I personally did not face any issues as my mouse is usually a little far from that place.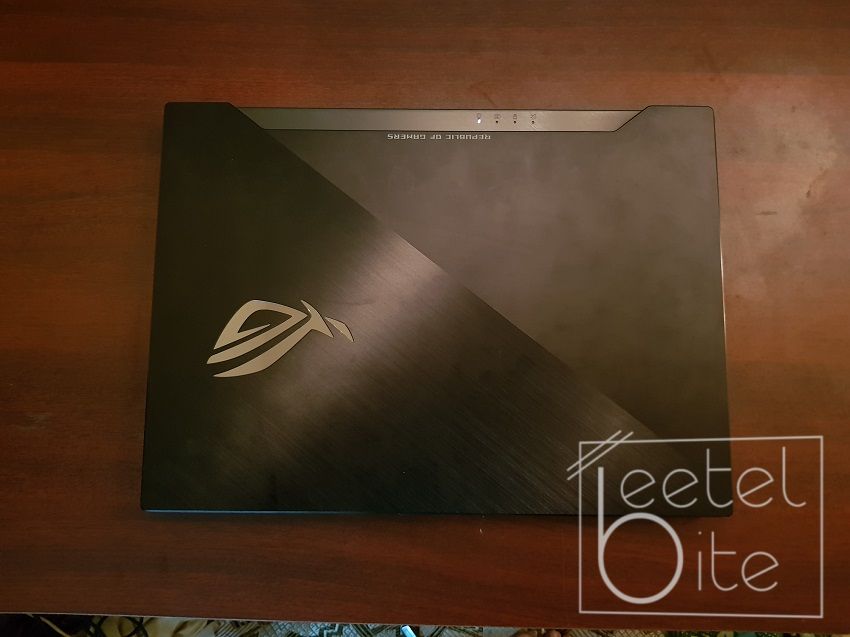 There is also an RGB light strip up front which is quite unique and gives a nice aesthetic to the gaming laptop. There are two 3.5W downwards firing speakers which are loud enough and sound pretty good. However, when the audio levels are cranked up to 100 per cent the speakers start to struggle.
Also Read: Top 5 Smart LED TVs to buy during this Amazon Great Indian Festival Sale
Asus ROG Strix Hero II: Display
The Asus Strix Hero II sports a 15.6-inch IPS LCD panel with a resolution of 1920×1080 pixels. The most impressive part about the display is the 144Hz refresh rate and the 3ms response time which really improves your gaming experience. The display has minimal bezels on the top, left and right but has a significantly larger chin at the bottom.
I personally feel that the display itself can be the unique selling point of this laptop as it takes your gaming experience to a whole new level. Especially first-person shooter games like CS:GO look a lot smoother than on a traditional 60Hz panel. Even browsing on the web and scrolling between different things feels faster.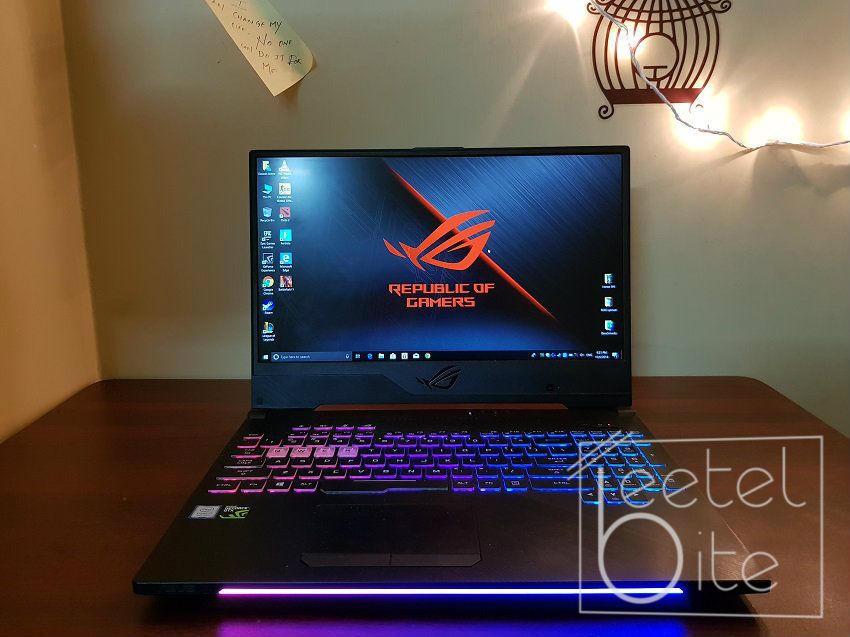 The display gets up to 310nits of brightness level which is quite enough for most use case scenarios. It has a good amount of colour accuracy as well.
Asus ROG Strix Hero II: Performance
Asus Strix Hero II comes with the Intel i7-8750H 8th Gen CPU which is a 6-core processor and can easily run anything thrown at it. The 16GB of RAM can make multitasking an ease and you can easily open up more than 50 tabs on your browser and the RAM would still have room to breathe. The GeForce GTX 1060 graphics card with 6GB of VRAM was easily able to handle any game we threw at it.
We were able to achieve around 250 to 300 fps on CS:GO with High settings. More demanding games like PUBG and Battlefield 1 ran quite smoothly even with 1080p ultra settings. However, to gain a little more FPS we cranked down the settings to High and we were easily able to see a reasonable 90FPS on our FPS counter.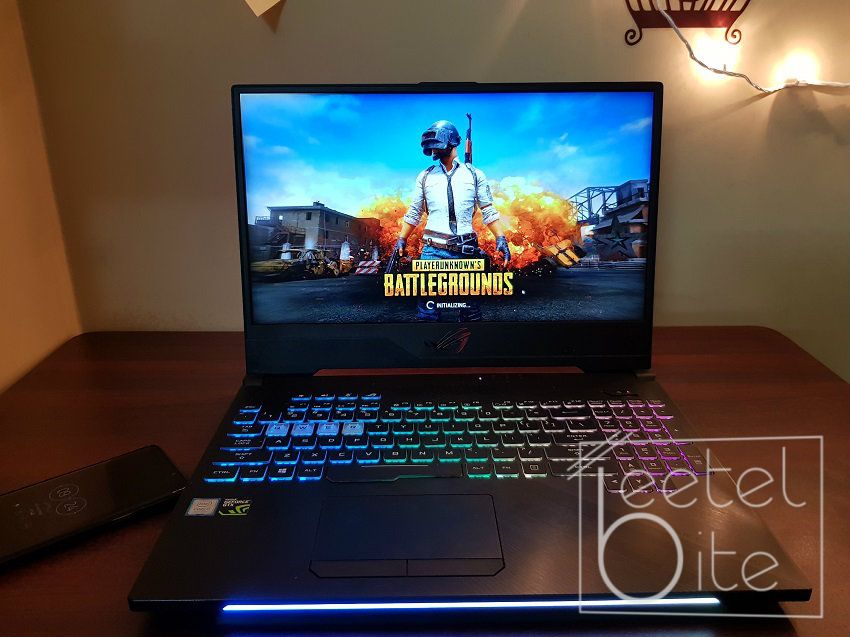 As this laptop is targeted towards MOBA games, we also tested out games like League of Legends and Dota 2 which ran quite well and gave us a smooth gameplay experience even at the highest settings.
Also Read: Fortnite Battle Royale vs PUBG Mobile: Here's how they compare to each other on Android
The laptop also has multiple modes for the fan, Silent, Balanced and Overboost. The Overboost mode cranks up the fans to the fastest and helps in cooling down the GPU and the CPU so that you do not face any FPS drops. However, in this mode, the fans can be pretty loud and they might not bother you while you are wearing headphones but it will bother your teammates when you use the mic to communicate.
The hardware that made a world of a difference in performance was the 256GB M.2 NVMe PCIe SSD. The Windows boot time was exceptionally fast and even installing updates or any software on the SSD did not take much longer. We played a few games directly off the SSD and did notice that the map load time was quicker as well.
Asus ROG Strix Hero II: Keyboard and Mouse
The keyboard on this laptop is really comfortable and has a good amount of travel. Whether it be gaming or long typing seasons, this keyboard is not going to disappoint you. However, there is a learning curve when coming to this keyboard as the placement of the arrow keys are little weird.  The RGB lighting is 4-zone instead of being induvial lit for every key. Asus provides a software where we can easily control the lighting and have them static or switch colours on their own.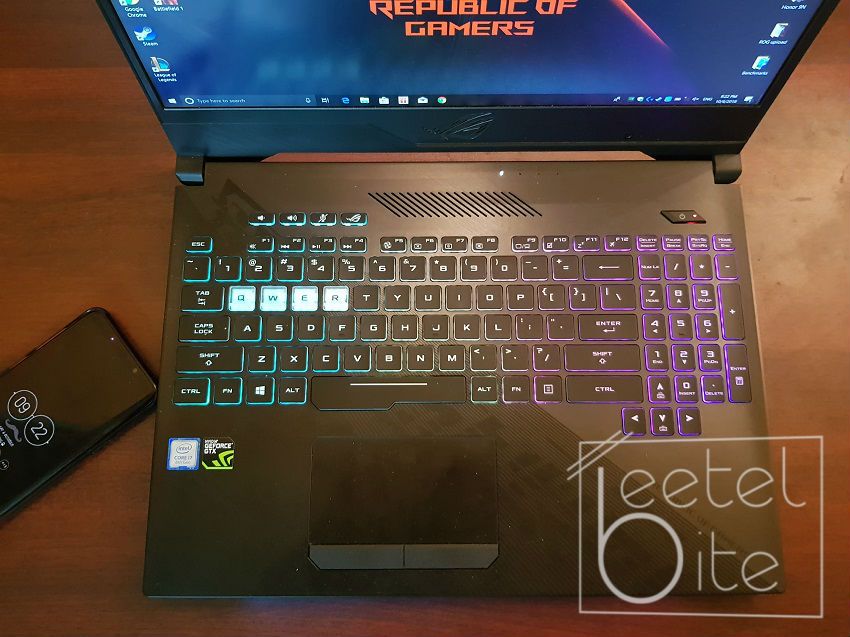 The trackpad is one of the best you could find on a gaming laptop. Most companies tend to use cheaper trackpads as they consider people are going to use a dedicated mouse for gaming anyways. The trackpad comes with Windows Precision drivers which makes Windows 10 gestures pretty smooth. Also, I appreciate that they have separate buttons for right and left click which is not the case in most Asus laptops.
Also Read: Here's when your Nokia smartphone will receive the Android 9 Pie update
Asus ROG Strix Hero II: Battery
As this is a gaming laptop, you cannot expect much from its 64Wh battery. During my testing, I was able to get around 3 to 3.5 hours of usage. However, you can gain some extra juice by bringing down the refresh rate of the display to 60hz and turning off the RGB lighting all around the laptop. If you are gaming on this laptop, you will need to use the power brick anyways as that can give you the best performance.
Asus ROG Strix Hero II: Verdict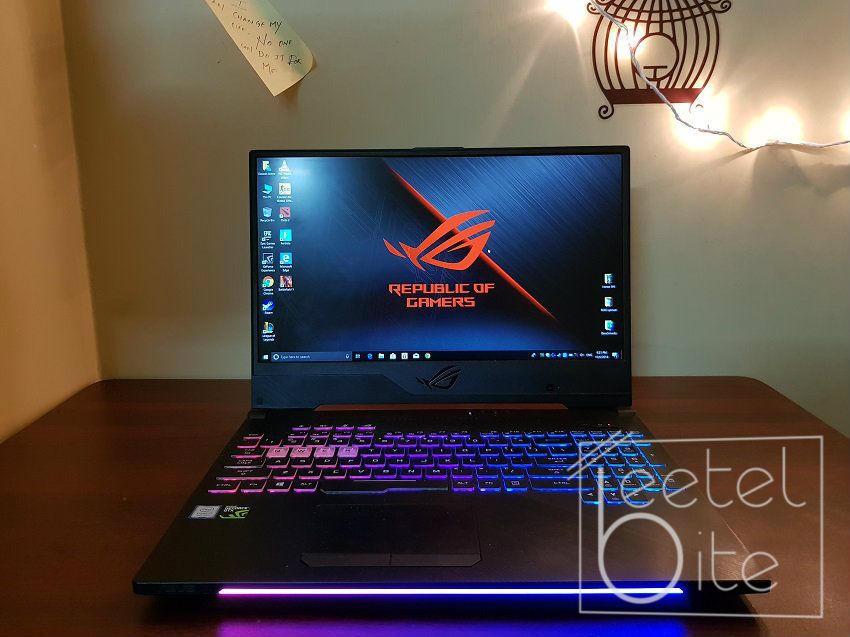 Though the Asus ROG Strix Hero II is focused on gamers, it is also good for content creators or other people who need more performance out of their laptop. This one is not the easiest to carry around as it is quite heavy and can seek attention at coffee shops or libraries with all its RGB lighting. As the battery is not the best in the segment, you also might want to carry the beefy power brick around.
At a price of Rs. 1,39,000, the Asus ROG Strix Hero II does offer a great value for money. There is also a Scar edition available which comes with similar specifications, but it is focused more towards FPS gamers. If you are looking for more performance, we recommend waiting for the GTX 1070 variant to arrive in India which should happen pretty soon.