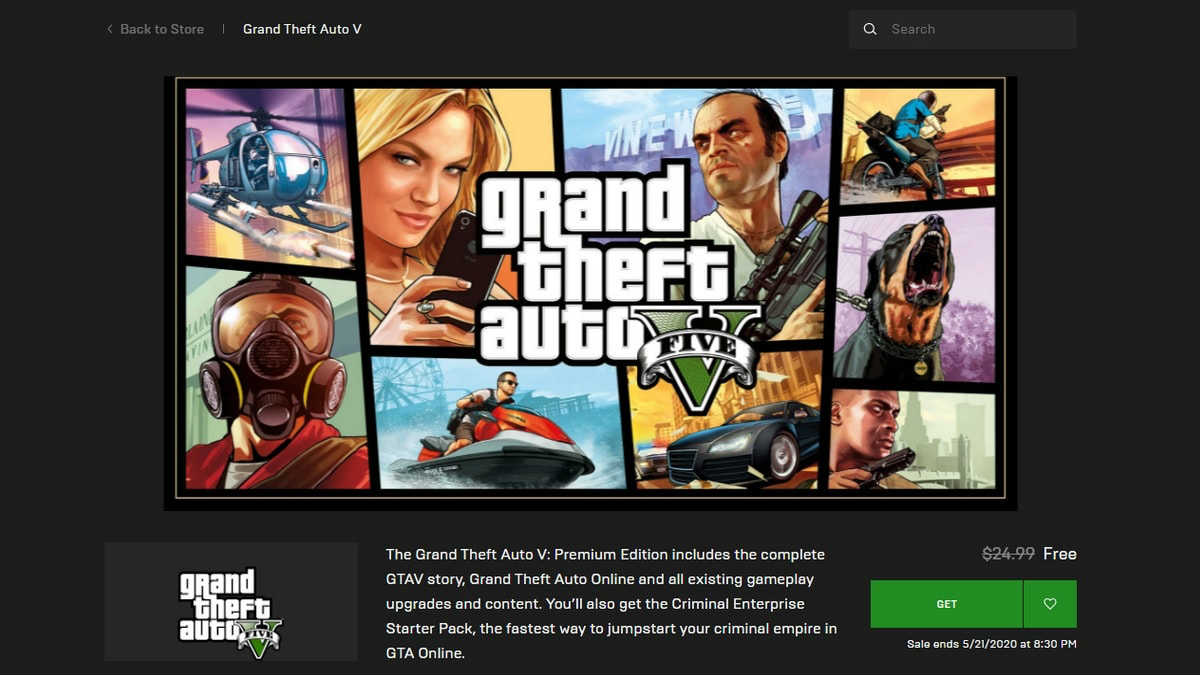 Grand Theft Auto, the franchise owned by Rockstar Games has ruled over the gaming industry for decades now. Now its latest iteration, GTA 5 is currently available for free. Yes, you read that right! The game is available for free via the Epic Games Store. Sprinkling some more element of surprise, this is not a regular version of the game but GTA 5 Premium Edition that brings a cash bonus of $1 million, which can be used in GTA Online.
As this is a tempting offer, the company has set a clock on it. The offer will be available on the Epic Games Store only until May 21. Keep in mind that the store is currently receiving too many requests to download GTA V, due to which it has been seeing continuous crashes.
People trying to download the free GTA 5 are experiencing slow load times, 500 errors and more, because of the servers being overloaded. Some have even reported that the Epic Games Launcher, which is used to maintain the game library is constantly crashing.
Many are even unable to play Fortnite. Players have been complaining about issues related to the loading of the game, in-app purchases and more.
Epic Games has tweeted that they have been working towards fixing the problems and the issues. They expect to soon resolve these.
As of writing this article, we did not face any issue trying to get the game for free and even downloading it on our gaming rig.
Also Read: PUBG Mobile Lite 0.17.0 Payload Mode update: How to download, new features
Here's how you can download GTA 5 Premium Edition for free via the Epic Games Store:
Open EpicGames.com on your web browser.
Type GTA in the search box and click on 'Grand Theft Auto V'.
You will be prompted with a notice that you are trying to access the page of an 18+ rated game. If you are eligible, click on 'OK'.
Tap on the 'Get' icon highlighted in green.
Now, you will be asked to sign in with your Epic Games account. If you do not have one already, you will need to sign up for one.
Once done, head over to the GTA 5 page and tap on the 'Get' option again
In order to download the game for free, you will be prompted to enable 'Enable two-factor authentication' screen if not enabled. Enable it by following the on-screen instructions.
Tap on the 'Place Order' option
Also Read: Motorola One Action Review: Its all about the 'Action Camera'
Now, the game has been added to the library of your Epic Games account. In order to download the game to your PC, you will need to follow these steps:
Head over to the Epic Games website.
Look for the option to download the Epic Games Launcher.
Install the launcher using the file downloaded from the website.
Open the launcher and enter your login credentials.
On the left-hand side, tap on 'Library'.
Click on the install option found right below the GTA 5 label.
Select the path where you want the installation to take place.
Also Read: PUBG Mobile Royale Pass Season 13 starts today: All you need to know
Once done, you should be able to play GTA 5 Premium Edition Online. As mentioned above, you will be signed up with a cash bonus of $1million, which can be used in purchasing properties, cars and a lot more.