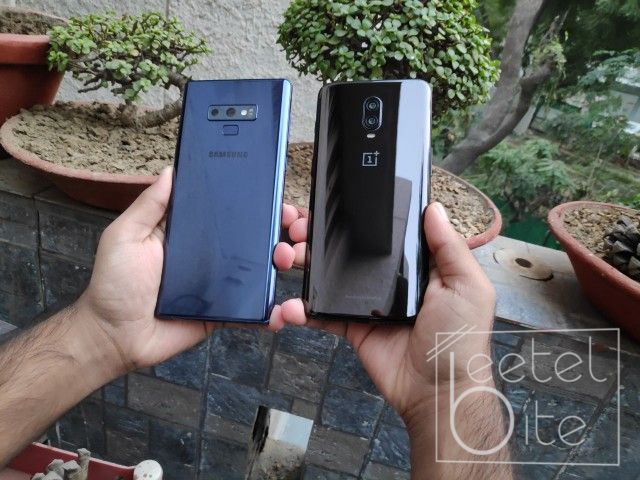 Samsung's Galaxy Note series has always been known for providing some of the best hardware coupled with a handsome look. OnePlus, on the other hand, has been more about performance and less about feature sets. However, over the years the company has evolved in such a way that it is ready to knock off some of the big guys like Samsung and Apple. So how does the latest OnePlus 6T stack up against the feature-packed Galaxy Note 9? Let's find out in our quick comparison.
Samsung Galaxy Note 9 vs OnePlus 6T: Design & Display
Samsung Galaxy Note 9 flaunts a premium look with a 6.4-inch Super AMOLED display with a resolution of 2960x1440 pixels. Unlike the OnePlus 6T, the Galaxy Note 9 does not have a notch up front. However, that allows Samsung to fit in a better selfie camera, an IRIS scanner and a couple of other sensors that OnePlus devices lack.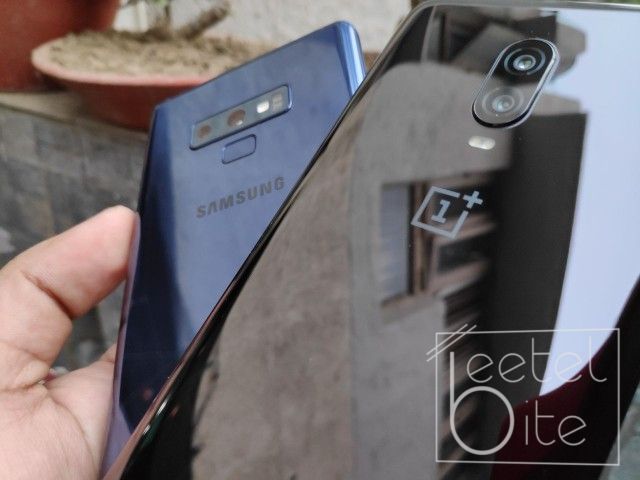 OnePlus 6T, on the other hand, brings a more modern look with the water drop style notch up front. Unlike previous OnePlus devices including the OnePlus 5T, the OnePlus 6T looks more premium. It also has a clean design at the back as there is no physical fingerprint scanner.
Also Read: OnePlus 6T Review: The mid-range flagship just got better
Both the smartphones look quite good and feel premium in hand. However, they will appeal different set of audiences as not everyone prefers a notch. Notably, the OnePlus 6T also lacks a 3.5mm headphone jack, which is still present on the Galaxy Note 9.
Samsung Galaxy Note 9 vs OnePlus 6T: Software
Both the Samsung Galaxy Note 9 and OnePlus 6T run on Android 9 Pie. The difference here is the UI. While the Galaxy Note 9 has received Samsung's new One UI interface update, the OnePlus 6T runs on Oxygen OS 9.0.11.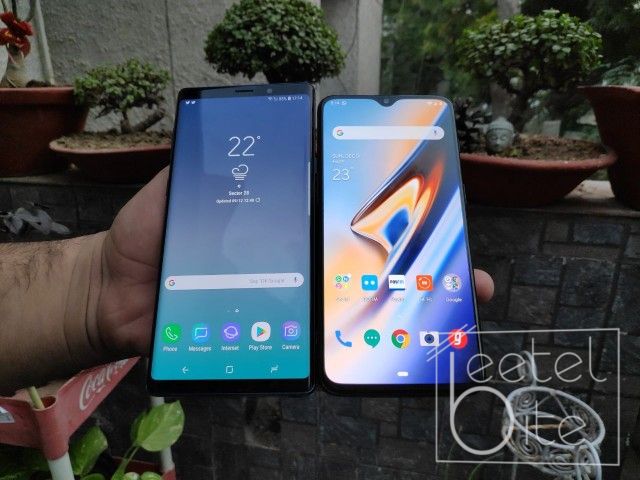 In terms of software, Samsung has come a long way and they have improved drastically. Samsung's older TouchWiz UI or Samsung Experience UI, though looked pretty on the eyes, had a lot of performance issues. The newer One UI looks cleaner and brings major performance improvements.
OnePlus offers OxygenOS, which is basically stock Android with a couple of useful features sprinkled on top. It is, hands down, one of the best Android user interfaces. The performance is flawless and the animations are smoother than any other Android phone out in the market.
Also Read: Here's when your Samsung device will receive Android Pie based One UI update
Where Samsung's One UI offers more customizability and features like Samsung Pay, OxygenOS shines with its performance with a minimal user interface.
Samsung Galaxy Note 9 vs OnePlus 6T: Performance
While the Galaxy Note 9 is powered by the Exynos 9810 octa-core chipset, the OnePlus 6T comes with the Qualcomm Snapdragon 845. Both the smartphones chew through any task thrown at them. When numbers come into considerations, OnePlus 6T scores higher than the Galaxy Note 9 at 2,92,774 on AnTuTu, where Note 9 gets a score of just 2,25,209.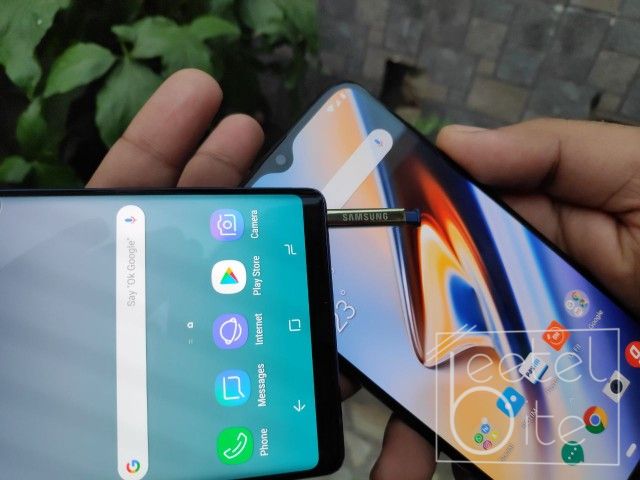 OnePlus 6T does perform better while performing day to day tasks like opening and closing apps as it has better software with faster animations. However, Note 9 isn't far behind and you should not notice much difference until you keep them side by side.
Samsung Galaxy Note 9 vs OnePlus 6T: Battery
Samsung Galaxy Note 9 packs a 4,000mAh battery while the OnePlus 6T settles for a 3,700mAh battery. In our daily usage, the battery life of both the smartphone was almost equal. Both phones easily lasted one full working day without much hesitation. However, Dash Charge one the OnePlus 6T is quicker than Samsung's Adaptive fast charging.
Conclusion
OnePlus 6T starts at Rs. 37,990 while the Galaxy Note 9 charges a premium of Rs. 67,999. OnePlus 6T offers great performance for the price and brings in decent camera setup. Samsung Galaxy Note 9, on the other hand, justifies every penny it asks extra by delivering good performance, tons of features, great cameras and not to forget the beloved S-Pen.