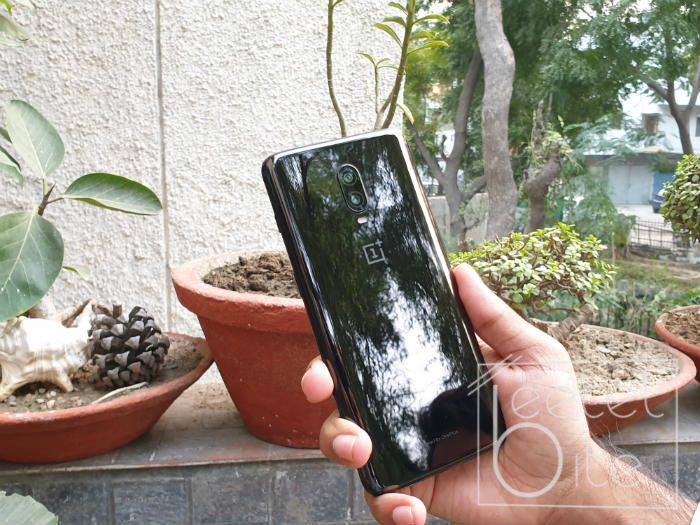 OnePlus has been following the tradition of launching two smartphones in a year since the time of OnePlus 3T. While the regular variant brings in the new design, its T variant is mostly about improvements. This year's T variant is the OnePlus 6T and here's our full review as to how it performs.
OnePlus 6T Review: Specifications
OnePlus 6T sports a 6.41-inch Super AMOLED display with a resolution of 2340x1080 pixels and an aspect ratio of 19.5:9. It is powered by the Qualcomm Snapdragon 845 processor coupled with an Adreno 630 GPU. The dual-SIM handset packs in 8GB of RAM and 128GB of onboard storage. It runs on Google's Android 9 Pie out of the box. Under the hood, there is a 3,700mAh battery which supports the company's own Dash Charge technology.
Price: Rs. 41,999
OnePlus 6T Review: Design
Just like most other flagship smartphones of 2018, OnePlus 6T also sports a metal and glass sandwich design. While the design makes the phone look and feel more premium, it also makes it more fragile. However, the company ships the device with a pre-applied screen protector and a soft TPU case bundled inside of the box.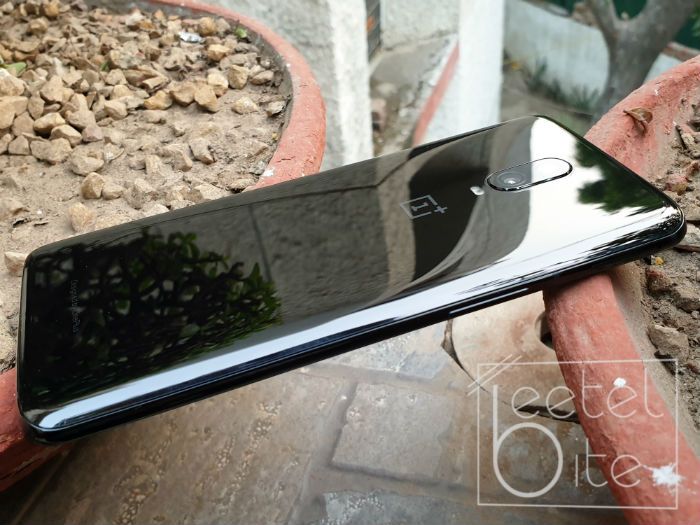 OnePlus 6T looks quite similar to its predecessor, the OnePlus. Our review unit was in the Mirror Black colour, which has an extremely reflective back, which also makes taking shots of the device bit difficult. Other colour variants including Thunder Purple and Midnight Black look way more subtle.
Also Read: OnePlus 7 leaks started to show up, OnePlus 6T 5G variant to arrive soon
The front panel is where you will really start to notice the differences between OnePlus 6 and OnePlus 6T. The company has decided to implement a water drop style notch this time around. It looks beautiful from the front but it also brings a compromise, which is the removal of the notification LED light. The device also doesn't feature a 3.5mm headphone jack, which according to me is a huge sacrifice.
OnePlus 6T Review: Display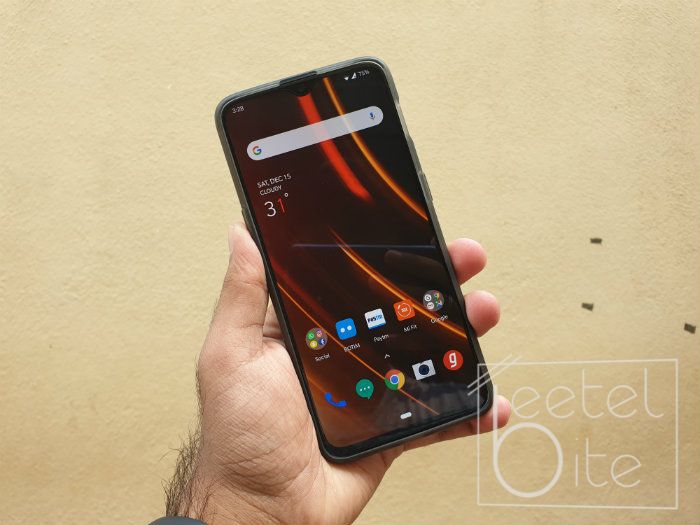 OnePlus 6T sports a 6.41-inch Super AMOLED display with a resolution of 2340x1080 pixels. The resolution choice here is a bit controversial, as the company since the OnePlus One has stuck with having 1080p resolution and hasn't taken the initiative to increase it. However, this does bring better battery life, which is what most people would prefer over a few extra pixels. Also, the Super AMOLED technology allows for punchier colours and deeper blacks. It also brings in Ambient Display, which shows all the notifications and time without the need for turning on the display.
OnePlus 6T Review: Software & UI
Software plays a major role in providing a good user experience, and OnePlus manages to get it quite right. OnePlus 6T runs Google's Android 9 Pie based OxygenOS 9.0.7.
OxygenOS is quite close to stock Android with a few useful features sprinkled on top of it. The lack of any sort of bloatware or a heavy skin is one of the major reasons behind such performance. Notably, the OnePlus community is quite active, which means any software related issue will get solved quicker than most of the other phones.
Also, OnePlus 6T comes with Project Treble support, which basically means it will be even faster than its predecessors in receiving Android updates and the latest security patches.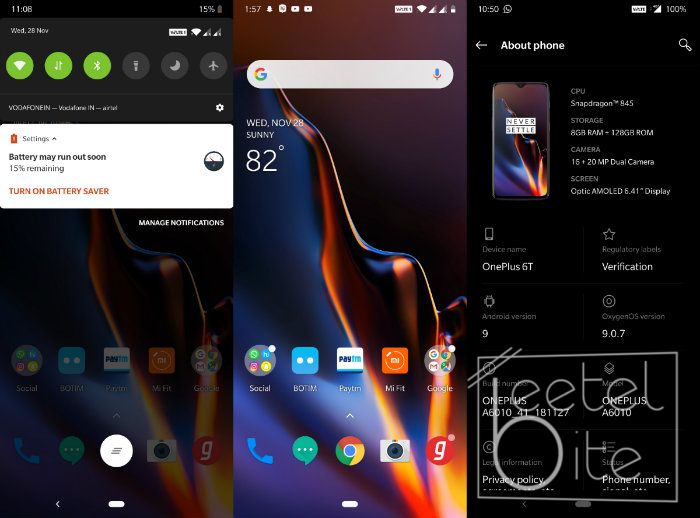 Also Read: How to make a normal OnePlus 6T look like OnePlus 6T McLaren Edition
OnePlus 6T Review: Performance
Since its introduction to the smartphone industry, OnePlus has been known for sheer performance. OnePlus 6T is no exception here. It just glides through anything thrown at it. While the Qualcomm Snapdragon 845 processor offers overwhelming performance, the 8GB RAM brings in a much better multi-tasking experience.
During the review period, I tested out some popular game titles including PUBG Mobile, Asphalt 9 and more. In PUBG Mobile thanks to the high amount of specifications getting a chicken dinner was really easy. The games ran smoothly without any hiccups even at high settings. However, long gaming sessions do tend to make the device a bit warm, however, it does not turn unusable.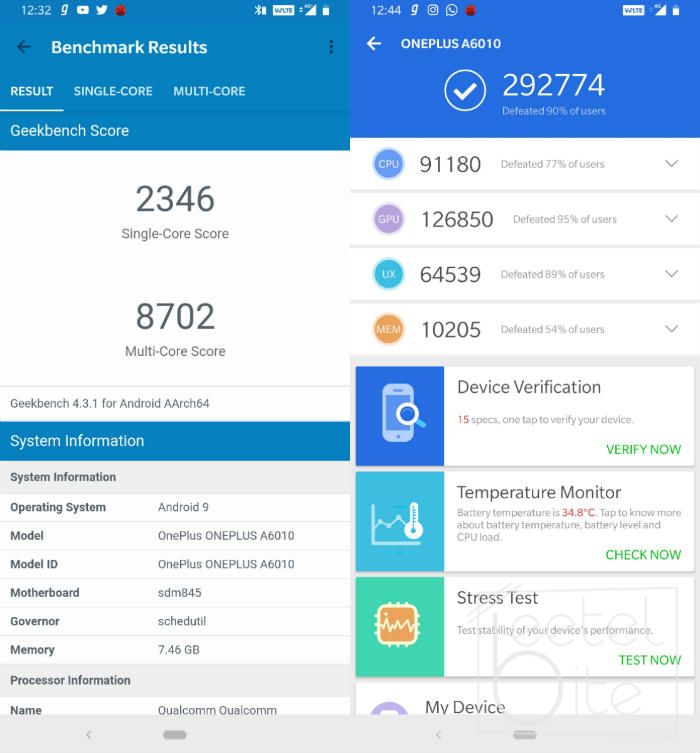 As far as benchmark scores are concerned, OnePlus 6T managed to get a respectable score of 292774 on AnTuTu. In GeekBench 4, the phone secured a score of 2346 in single core and 8702 in multi-core performance tests.
OnePlus 6T Review: Camera
Low-light

Low-light

Bookeh Mode

Outdoor Selfie

Indoor Selfie
OnePlus 6T features a 16-megapixel primary sensor with an f/1.7 aperture and a 20-megapixel secondary sensor with an f/1.7 aperture. On the front, there is a 16-megapixel selfie shooter. Notably, the camera setup is similar to what we saw on the OnePlus 6.
The OnePlus 6T manages to take great shots under good lighting conditions. Even under low-light conditions, the phone performs quite well. The rear camera setup also supports 4k at 60fps and Super Slow Motion video recordings.
OnePlus 6T Review: Battery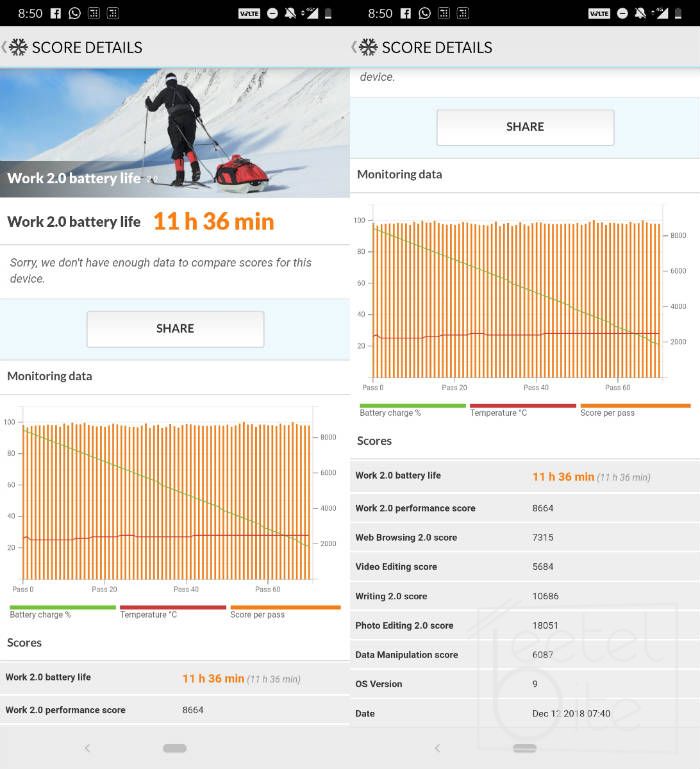 OnePlus just got rid of the 3.5mm headphone jack with their OnePlus 6T smartphone. The company justified this move by installing a bigger battery than its predecessor. Which according to me is only an excuse and one which cannot be forgiven.
OnePlus 6T is backed by a 3,700mAh battery, which combined with the Snapdragon 845 processor and the 6.3-inch AMOLED display performs decently. During my time with the device, it was easily able to get through a full working day on a single charge. Also, whenever I did need to charge the device, it went all the way up to 100 percent in less than 90 mins.
OnePlus 6T Review: Verdict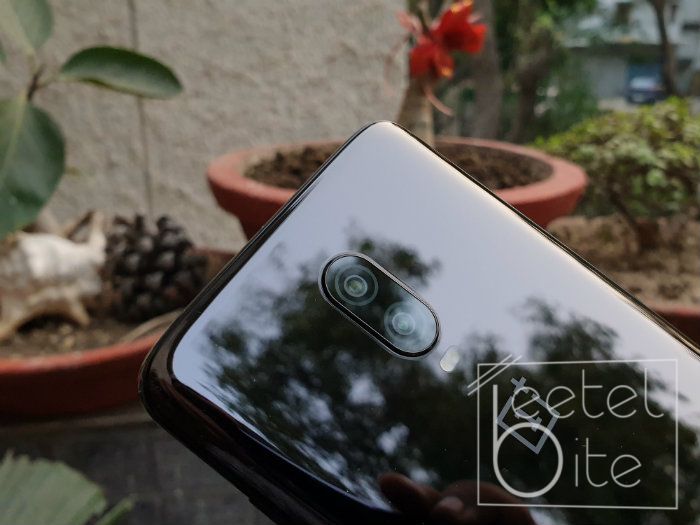 OnePlus as a brand is known to provide some of the best flagship smartphones for the money. OnePlus 6T is no exception here as it brings in an in-display fingerprint scanner, metal and glass sandwich design and flagship grade specifications.
However, the competition has become quite tough over the years with smartphones like the Asus ZenFone 5Z and Xiaomi Poco F1 entering the market.
The Xiaomi Poco F1 offers similar specifications for nearly half the price. Also, phones like the Samsung Galaxy S8 bring more features with a price tag that is similar to the OnePlus 6T.
As for the die-hard OnePlus fans, OnePlus 6T is just an incremental update over the OnePlus 6. So, if you are using a OnePlus 6 or a OnePlus 5T, you should wait for the OnePlus 7. However, if you are using something like the OnePlus 3T, it would be a worthy upgrade.
In a nutshell, if you want good performance on a device that runs nearly stock Android and brings a premium smartphone experience under Rs. 40,000, the OnePlus 6T might just be the one.