As the festive season of lights is around the corner, various companies are coming it with exciting lucrative deals in India. Sony India has now come up with promotional offers on the huge line of products the company has to offer.  The customers can now get products like PlayStation4, Extra Bass headphones, 1TB External Hard Drives, 5800 mAh Sony power bank, 16 GB Pen Drive, SD Cards, Amazon Kindle, Jio-Fi & Jio 4G Data and many bundled accessories, on the purchase of various Sony products.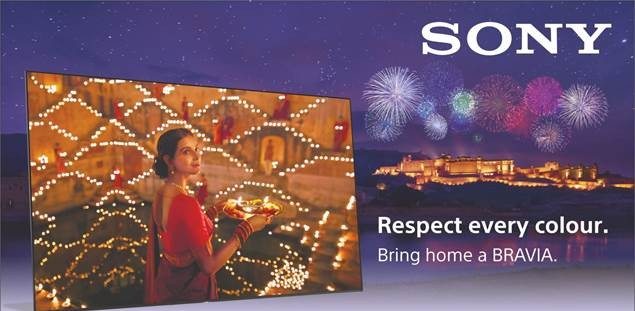 Mr Satish Padmanabhan, Sales Head, Sony India, said, "We are ready to delight our customers and enhance their festivities in this auspicious season with incredible consumer promotion offers. There is an assured gift on purchase on every BRAVIA which will help generate more excitement to the Diwali festivities of Sony fans."

"BRAVIA being one of the major categories for Sony, we are planning robust sales of over 10 lakh BRAVIA units across India during this festive season. Overall, on the back of new products across categories, attractive consumer promotion offers, finance schemes and marketing campaign, Sony aims to achieve 25% sales growth from August to November 2017 vis-à-vis same period last year," he further added.
Also Read: Sony XA1 and XA1 Ultra get a price cut in India
The promotional scheme starts from September 21 and will go on until October 19. The company is offering the Bravia KD-65A1 for Rs. 4,64,900, while the smaller variant KD-55A1 will retail for Rs. 3,64,900. The Alpha camera by the company will be on sale for Rs. 3,29,990 for the a9 ILCE-9 model.
As for the smartphones, the Xperia XZ1, the newly launched flagship will retail for Rs. 44,990, whereas the midrange XA1 Plus will come with a price tag of Rs. 24,990. However, the company has a wide range of Audio devices to offer including MHC-V50D and the MHC-V90D which will be priced at Rs. 33,990 and Rs. 65,990 respectively. Customers can also get the HT-RT40 at a price of Rs. 22,990 or the cheaper HT-CT290 for Rs. 19,990.