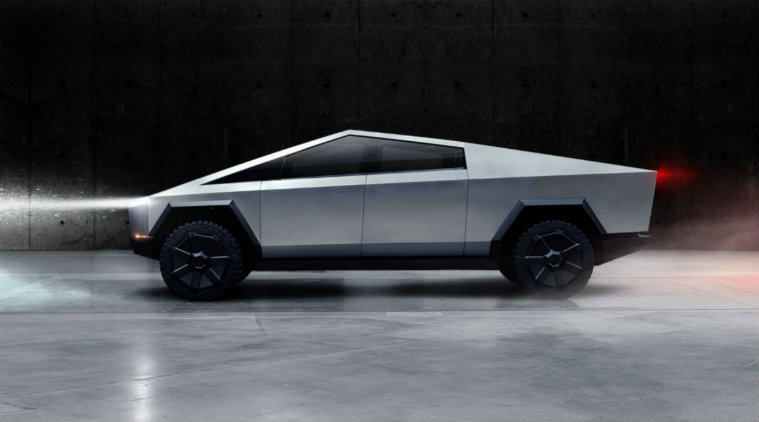 Tesla has introduced two new electric vehicles including an electric pickup truck and a quad bike at an event in Los Angeles. At the event, the company stated that the Tesla Cybertruck will go into production in late 2021.
Tesla Cybertruck will be made available at $39,900 for the base variant, whereas, the other two variants are priced at $49,900 and $69,900. The company has set the official tagline for the Cybertruck as, "Better utility than a truck with more performance than a sports car."
The base variant of the Cybertruck comes with a range of 250 miles, with a towing capacity of 3,400 KG. At the unveiling, Elon Musk said that during the development of the truck, the company was committed to adding a good torque with a dynamic air suspension. He stated that the Cybertruck resembles "an armoured personnel carrier from the future."
Tesla stated that the new pickup truck is built like a tank and won't easily scratch or dent. It showcased the durability of the body by hitting it multiple times with a sledgehammer again and again, with the body having no damage. It also stated that the truck came with armoured bulletproof glass, which at the event broke with a metal ball, Musk was a bit taken aback but said that the company will fix it in post.
Also Read: Elon Musk reacts to #DeleteFacebook by eliminating Facebook pages of Tesla and SpaceX
Tesla Cybertruck comes in three variants: single motor rear-wheel drive, a dual-motor all-wheel drive and a triple motor all-wheel drive.
Apart from the Cybertruck, Tesla also unveiled its own quad bike ATV near the end of the event. The ATV will complement the pickup truck as it can be parked at the back and charge directly from within the vehicle.