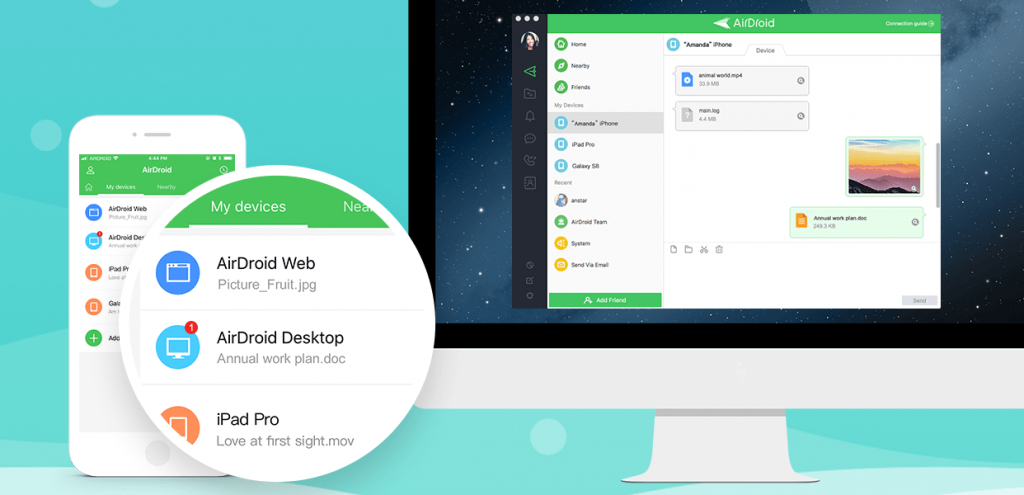 Airdroid is a popular Android application that lets you manage your Android device from a Windows or Mac PC. The user can either use the web interface or download the desktop client for the app. It brings a lot of features to the table like managing files, notifications, reply to messages, remotely control of the Android device and more. If you are not satisfied with Airdroid, here are the top five alternatives available.
Pushbullet
In case you are looking for an app just to receive your Android notifications on your desktop, Pushbullet is the perfect application for you. The app not only allows you to manage your smartphone notifications by also lets you transfer files between multiple devices. It also brings other useful features like a universal clipboard, end to end encryption and much more.
AirMore
Not only the name sounds similar, but the functionality is also quite similar to AirDroid. It does not bring the complete catalogue of features from Airdroid, but it does bring fair but of features. The app allows you to share files, play media, syncs apps, contacts and messages and more. It also comes with a "Reflector" feature that allows the user to mirror their Android device's interface to a computer.
Xender
In case you do not want the extra set of features and just want to transfer to or from your smartphone wirelessly, Xender is a great app for that. It is available on multiple platforms including Android and iOS. It also has a web app, which lets users drag and drop files from their Windows PC or Mac to their smartphone. Interestingly enough, the application is free to use and does not bring any sort of advertisements.
Vysor
While many people like to use the AirDroid app for its AirMirror feature, it highly depends on the Wi-Fi connection and sometimes brings latency or lag. We have the Vysor app to the rescue here. It can mirror an Android device's user interface to the computer by simply connecting it over USB. The user can even control the connected device using a mouse and keyboard on Windows PC or Mac.
Also Read: Best screen recorder apps for Mac: Record it, QuickTime and more
ShareIt
Just like Xender, ShareIt also allows file sharing on multiple platforms. The application is available for Android, iOS, Windows, Mac and more. It uses a QR code to connect two devices and once the devices are connected, file sharing is a breeze.