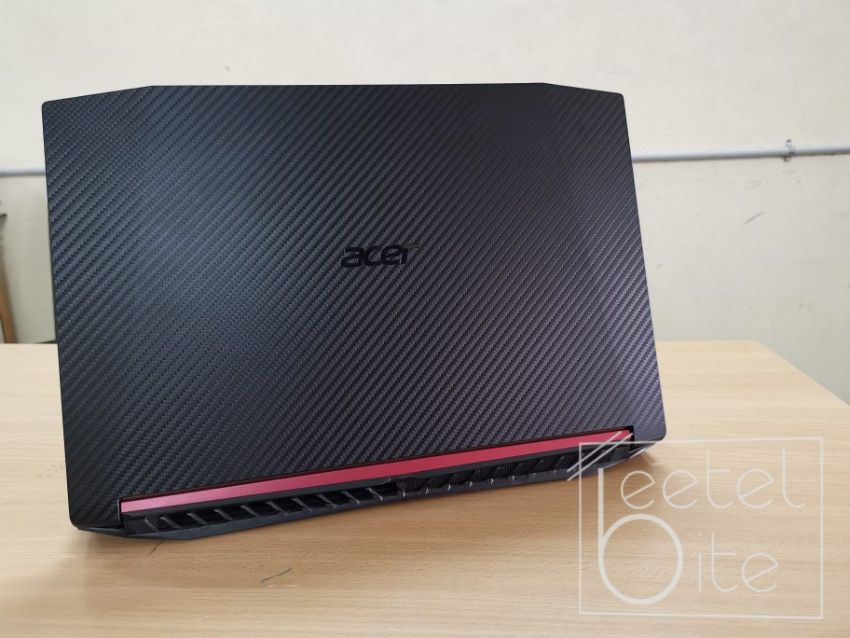 Gaming laptops are usually priced comparatively higher than consumer laptops and above most consumers budgets and necessities. With the introduction of AMD Ryzen processors combined with Acer's aggressive pricing strategy, gaming laptops are now much easier on your wallet.
The Ryzen 5 powered Acer Nitro 5 brings a lot to the table for its price is able to create tough competition in the market. However, does it match up to the needs of gamers and normal users in the real world? Find out in our review below:
Acer Nitro 5 Review: Specifications
Acer Nitro 5 is available in a variety of configurations. The variant we had for review purposes came with an AMD Ryzen 5 2500U processor coupled with a Radeon Vega 8 GPU. The laptop even sports a dedicated AMD RX 560X graphics card along with 4GB of GDDR5 VRAM. It comes with a 15.6-inch IPS LCD display with a resolution of 1920x1080 pixels. The device also packs in 8GB of RAM and a 1TB hard drive.
Price: Rs. 54,990
Acer Nitro 5 Review: Design
The Acer Nitro 5 does not look very attractive but the red accents integrated into the design does give it a gaming vibe. The laptop is quite bulky, which does help in keeping the internals cool due to the multiple fans and heat pipes. But, the downside to it is that the laptop is extremely difficult to carry around.
The outer shell is made out of plastic with a carbon fibre finish to it, and the subtle Acer logo makes it look quite elegant. The plastic body on the inside, though robust is a huge fingerprint magnet and you will need to keep a cloth around for your laptop to always stay shiny.
Acer Nitro 5 Review: Display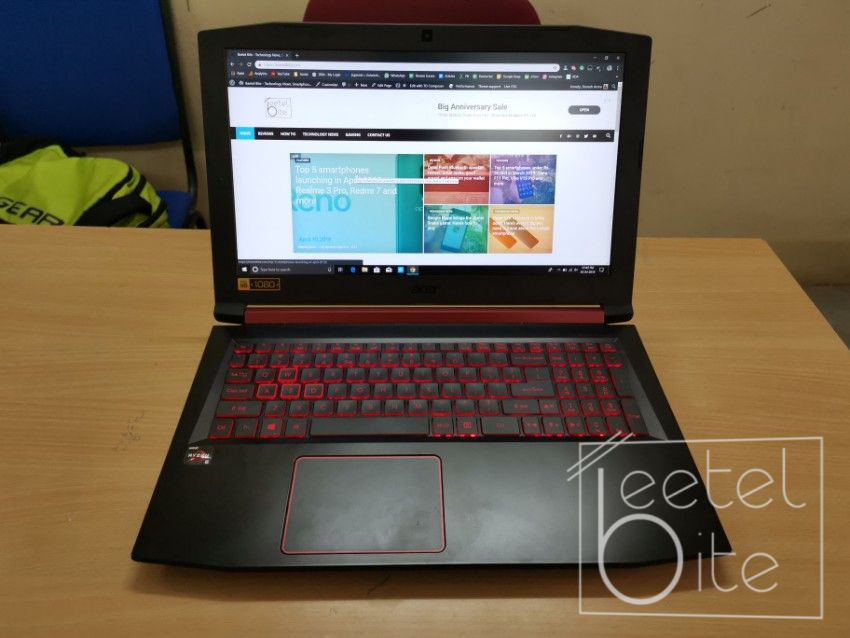 Also Read: Zowie Celeritas II Keyboard Review: The keyboard for competitive gamers
Acer Nitro 5 sports a 15.6-inch IPS LCD panel with a resolution of 1920x1080 pixels. It is quite impressive to see a Full HD panel at this price range. However, the colours and contrast of this display are not the best you can get making it quite unsuitable for hardcore video and photo editing. Watching movies, on the other hand, is bliss on this panel.
Acer Nitro 5 Review: Performance
The laptop is powered by the AMD Ryzen 5 2500U processor with 4 cores and 8 threads. It comes with a single 8GB RAM stick installed, which is quite enough for most use case scenarios and also has room for upgradeability.
One thing that the machine lacks is an SSD, which could have drastically boosted the performance. However, at this price, no one can really complain. Notably, the laptop does have an M2 PCIe slot, which means you can add a fast SSD later down the line without giving up on the larger hard drive.
As for the gaming performance, the device is easily able to play all e-sports titles such as Counter-Strike: Global Offensive. In order to gain higher frame rates, you will need to bring down the graphics a little bit. Heavier games like PUBG and Battlefield V can also run, but with graphics turned to medium or low.
Acer Nitro 5 Review: Keyboard and Trackpad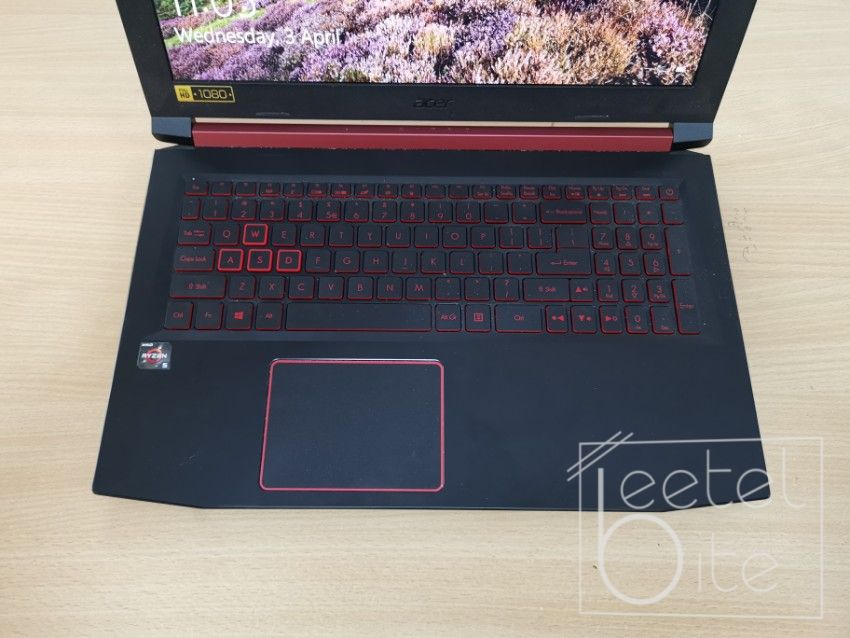 Also Read: Asus TUF FX504 gaming laptop review: Faster screen with a faster processor
The gaming laptop comes with a backlit chiclet-style keyboard. It is quite comfortable for both, gaming and long typing sessions. The trackpad uses Windows precession drivers, which means Windows 10 gestures work well. Both the keys and the trackpad have red accents around them, giving it a gaming vibe.
Acer Nitro 5 Review: Battery
Most gaming laptops do not provide a good battery life, same is the case for the Nitro 5. In normal use case scenarios including web browsing, using a couple of apps, and a few hours of media playback, the laptop delivers a battery life of around three and a half hours. However, tinkering around with the Windows performance modes and a few other settings can, you can bring it up to around five hours.
Acer Nitro 5 Review: Verdict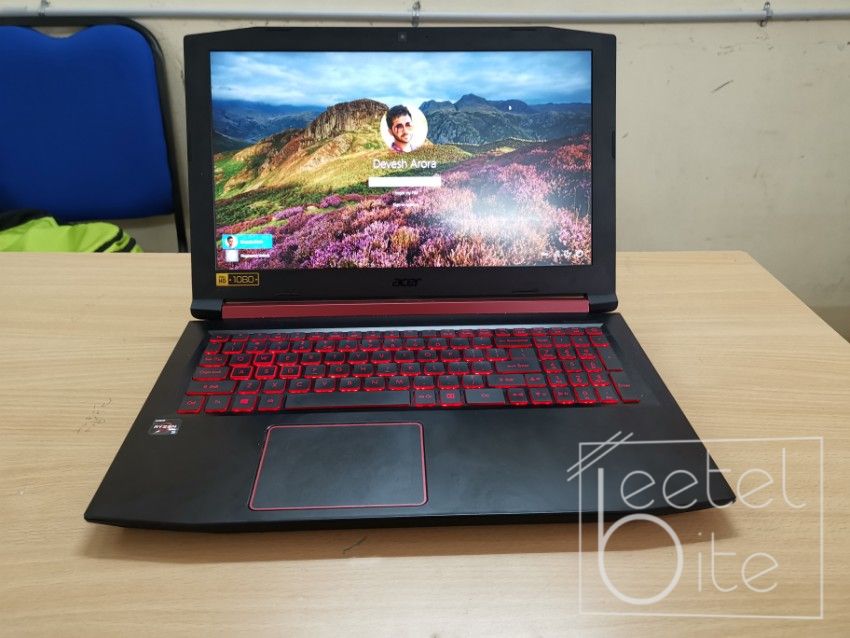 Acer Nitro 5 is hands down one of the best gaming laptops under Rs. 60,000. However, in order to get to such a price point, Acer has cut a few corners. The bezels around the display are quite chunky and even the cooling system is not the best in the market. Also, it is worth noting that all the AMD versions give a lower performance when compared to a similarly specced Intel machine.
In a nutshell, if you are out hunting for a good gaming laptop and you are on a tight budget, this laptop will not disappoint you. However, if you are able to stretch your budget a little bit, we would recommend going with the Intel + Nvidia options that Acer has to offer.