Flipkart and Apple have again collaborated to bring the Apple Week Sale. Under the Apple Week, the e-commerce website will be offering huge discounts starting April 3 a which will go on until April 9. The sale includes products like iPhone X, iPhone 8, iPads, Apple Watch, Macbook and other accessories.
During the Apple Week, Flipkart is offering 50 percent BuyBack value on select Apple iPhone models. Also, ICIC Credit Cardholders can claim up to Rs. 10,000 cashback on EMI transactions. If you are interested in buying any of the Apple products during the sale, here's a full rate list of products running on discounts.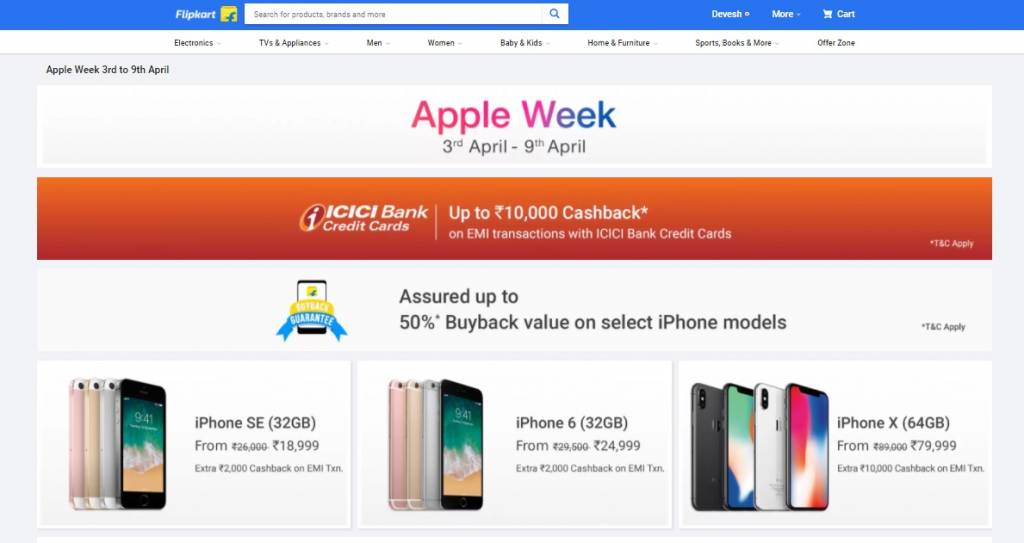 Apple iPhone X 64GB is priced at Rs. 79,999 while the 256GB variant is available for Rs. 94,999. In the Apple fest, you can get the Apple iPhone 8 for as low as Rs. 54,999 whereas the 256GB variant is priced at Rs. 69,999. iPhone 8 Plus, on the other hand, is priced at Rs. 63,999 and Rs. 84,790 for the 64GB and 256GB variant respectively.
Also Read: iOS 11.3 on Apple iPhone 5S does not have Battery health features. But Why?
Last year's iPhone 7 models are also the part of the Apple Fest Sale. You can grab an iPhone 7 32GB for just Rs. 41,999. If you wish to have 128GB of storage, you will need to pay Rs. 53,990. The bigger iPhone 7 Plus is listed for Rs. 57,794 for the 32GB variant while the 128GB variant is listed for Rs. 65,699.
If you wish to get an iPhone for a little less, the iPhone 6s is selling for 32GB is selling for 32,999 and the iPhone 6s Plus is priced at Rs. 42,900. More budget options can be the iPhone 6 and the iPhone SE which are currently available at 24,499 and Rs. 18,999 respectively.