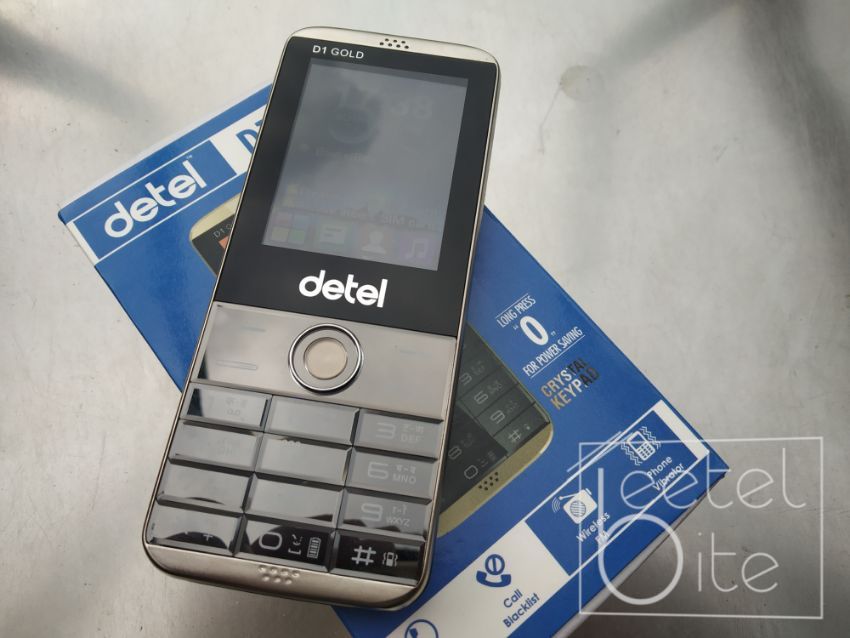 Feature phones have seen a recent resurrection from the brink of dying all thanks to Reliance Jio. However, they have become a sight for sore eyes these days. Considering the fact, all those who are in their 20's or older, will remember chatting away on they feature phones on their T9 keyboard. Many companies other than Reliance Jio like Detel are still making feature phones till date. We got out hand on the Detel D1 Gold to check out how good feature phones really are in 2018, here's what we thought:
Detel D1 Gold: Specifications
Detel D1 Gold sports a 2.4-inch display along with Dual SIM and a Micro-SD card support with up to 16GB expandable storage. The USP of the device is its Auto Call Recorder functionality and that it is too gold.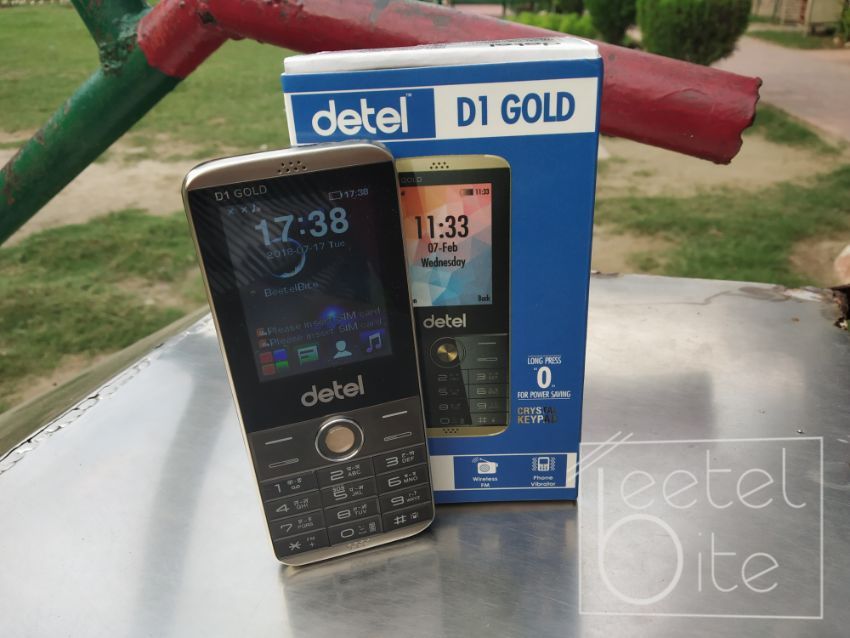 It comes with a 0.3-megapixel or VGA camera on the back paired with an LED flash, which also doubles as a torch.
Detel D1 Gold: Design
Detel D1 Gold features a very typical feature phone design of the past. There is a small 2.4-inch display with speaker piece on the top, the full T9 keyboard on the bottom, small camera at the back and nothing more on the phone, apart from the charging and headphone jack.
First look at the device will reveal it's shiny keyboard at the front, and the gold coloured body with a gradient texture on it. The device is made entirely of plastic, however, nobody can argue the fact that it looks good. The keys have a sturdy feel to it. The back panel feels durable, like the phone can take a bad beating and still survive.
Overall the feature phone is nothing but a bright shiny gold candy bar design phone. Smartphones of today, with glass on the back and front and curved display's, are not at all durable. However, the Detel D1 Gold shows durability that only some can mimic.
Detel D1 Gold: Features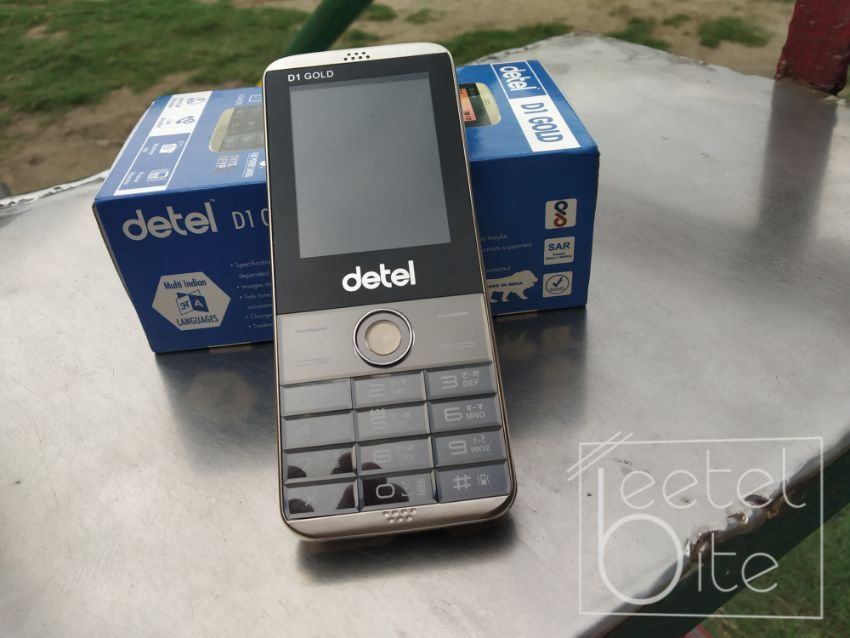 The device packs the design of the past, however, it still packs some modern day features. The smartphone can play FM wirelessly if you ever need it, you can insert a microSD card into it and use that to play songs and use it as an mp3 player, it can make calls, it can work as a torch, it has a pre-loaded snake game which is a delight to play, it can browse the internet. However, we will suggest you not to, as it runs on GPRS/2G connection and opening Facebook to send one message sometimes takes over 15 minutes. Still, the number of features makes the use case of the Detel D1 Gold really broad.
Detel D1 Gold: Camera
The Detel D1 Gold sports a 0.3-megapixel rear camera with LED-Flash. Fun fact, to click any photos from the camera you will need to insert a micro-sd card first as the device comes with near to none internal storage. However, with a 0.3-megapixel camera, we highly doubt that anybody will even care.
However, if you are still wondering, the photo quality is next to nothing, and you will be able to capture the shape of the object but no details at all. Simply, the existence of the camera on this phone is simply of no use according to me. However, do keep this in mind, I currently have used various flagship devices, and it has been years since I last used a VGA camera to take an image.
Detel D1 Gold: Battery
The battery on this device is one of the most interesting aspects of it. The Detel D1 Gold was well lying around my house and car for over two weeks as my backup device if need be. It had a 48 percent battery charge when put there, and the surprise was it ran over two weeks on that without needing a charge. There is also a power saving mode in the device, which wasn't even turned on. From the in-box charger, the device takes almost 2 hours to charge from 0-100.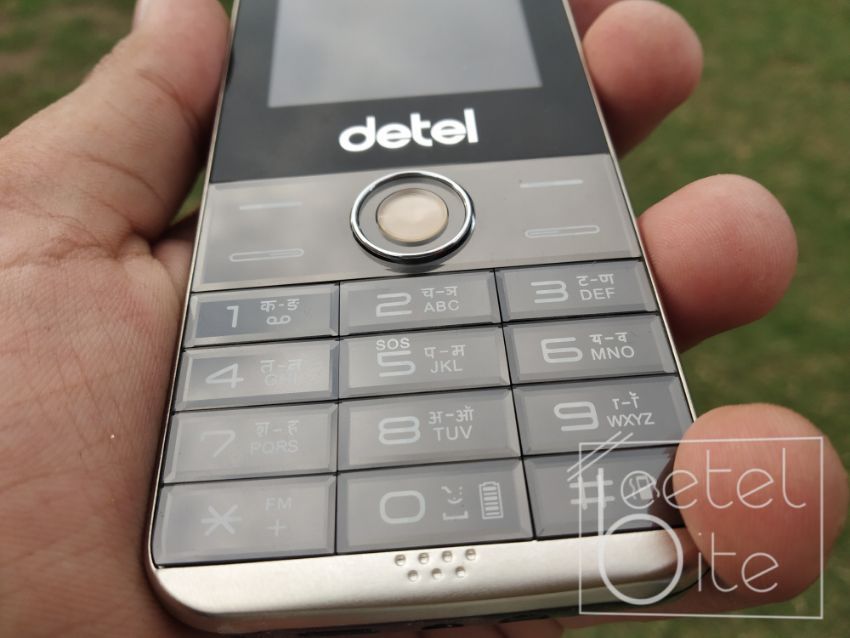 Keep a note that I used the phone with an extra sim-card to use as a secondary phone to make and receive some calls here and there. If you use it more than me, then the turning on the power saving mode will help you keep that month-long battery life. The device is backed by a 1,500mAh battery.
Detel D1 Gold: Conclusion
With these specifications and the features, you must be starting to wonder, why even did we bother to write this review. However, when you consider the feature phone is priced under Rs. 999 (less than $15) brand new. Then you might understand the target audience of the phone. The Detel D1 Gold is meant for the people who can't afford a device priced over Rs. 1,000. They need a device for making calls and doing other basic stuff like texting and a bit of web browsing. This makes the D1 Gold, a great device with great battery life, good features, and amazing durability.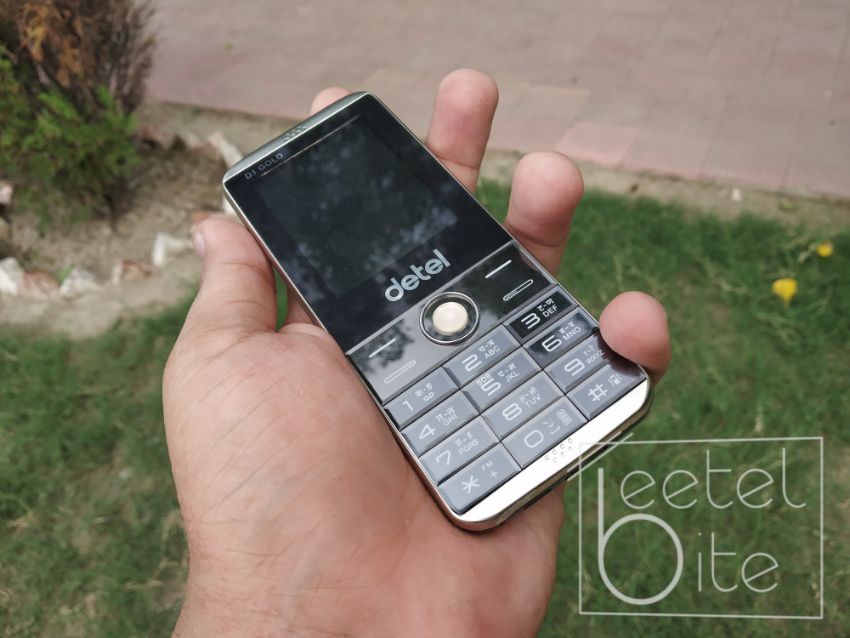 On the other end of the spectrum, there are people like me, who need just an emergency device or a second phone. The smartphones of today have horrible battery life. With my iPhone dying almost towards the 5-6 pm mark in the evening. In those cases, I can rely on a phone like the Detel D1 Gold as a soldier ready for duty. We can easily toss it into our backpacks or our vehicles so that it is available when need be. Also, the device has an immensely good battery life, so charging it is not a big issue.
So, time to the answer the question now, why the Detel D1 Gold exists in 2018? The answer is simple, it offers something good for the less fortunate in their price segment and a secondary device they can rely on for the more fortunate. The device has a use-case for no matter which segment of the society you belong to. That is a tough task to accomplish, which the D1 Gold has. That's why it still exists in 2018.