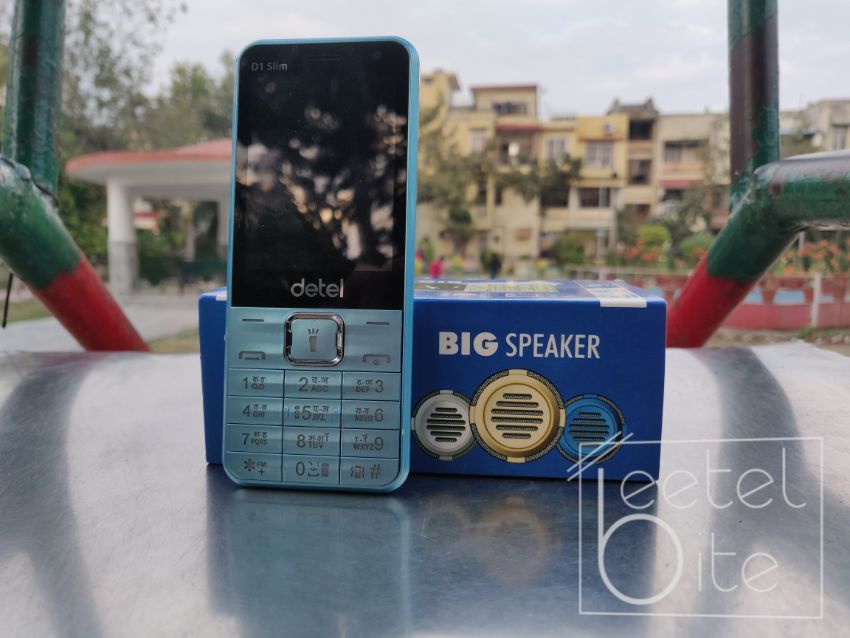 Its 2019 and smartphones are everywhere. You can get a decently used smartphone with all the features of a modern-day phone for around Rs. 2000. I personally sold an old iPhone 4s for Rs 2200 in perfect condition around a month ago.
However, there are still a number of people who still want to buy a feature phone. In many cases, feature phones offer more value than a smartphone. Phones like the Detel D1 Slim are the ones that sell due to this fact. Here is why people would still like to buy a feature phone like Detel D1 Slim.
Detel D1 Slim: Specifications
Detel D1 Slim sports a 2.4-inch display along with dual SIM and micro-SD card support. The USP of the device is its Auto Call Recorder functionality, which is a great thing to have due to Google banning call service access in Android starting March 1st. Also, the D1 Slim features a huge loudspeaker, which enables it to be used as a cheap music player that you can travel with.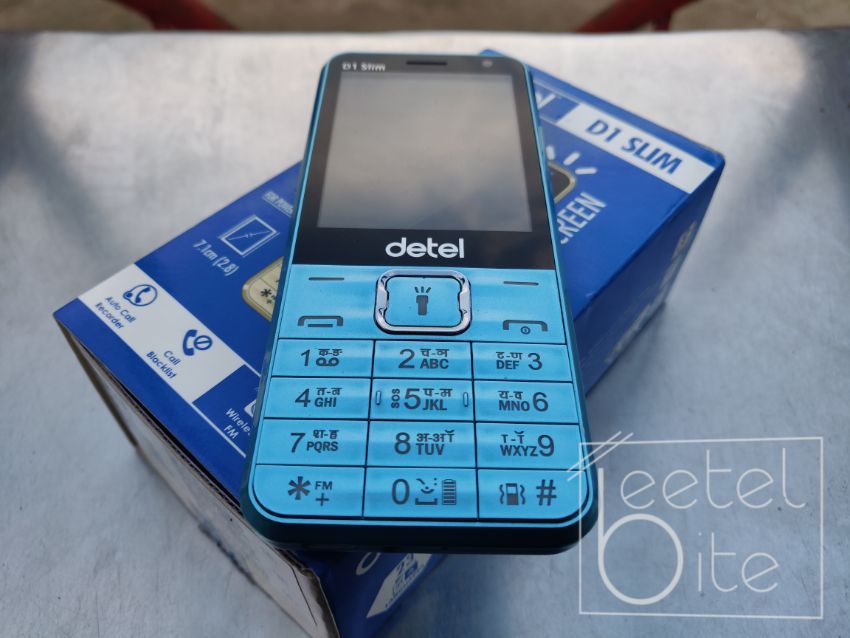 It comes with a 0.3-megapixel VGA camera on the back paired with an LED flash and the same 0.3-megapixel VGA camera on the front.
Detel D1 Slim: Design
Detel D1 Slim features a candy bar design of the past. There is a small 2.4-inch display with speaker piece on the top and a 0.3-megapixel camera. The full T9 keyboard on the bottom, small camera at the back along with a big loudspeaker. The phone also sports a microUSB port for charging and a headphone jack.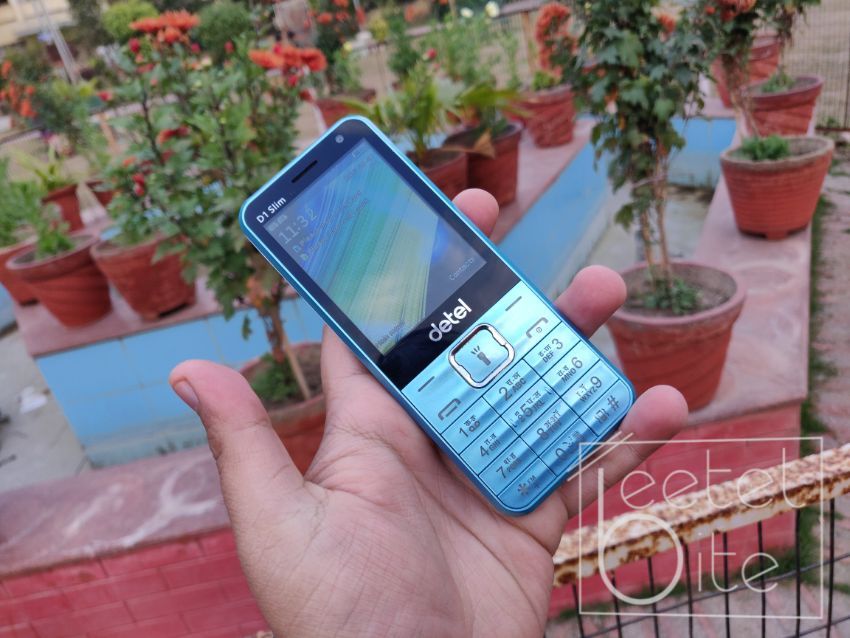 First look at the device reveals its shiny blue coloured keyboard embedded into a shiny blue coloured body, which gives it a unique look. The device is entirely made out of plastic, which at this price point was expected. The keys have a sturdy feel to them. The back panel feels solid, but I really doubt its durability.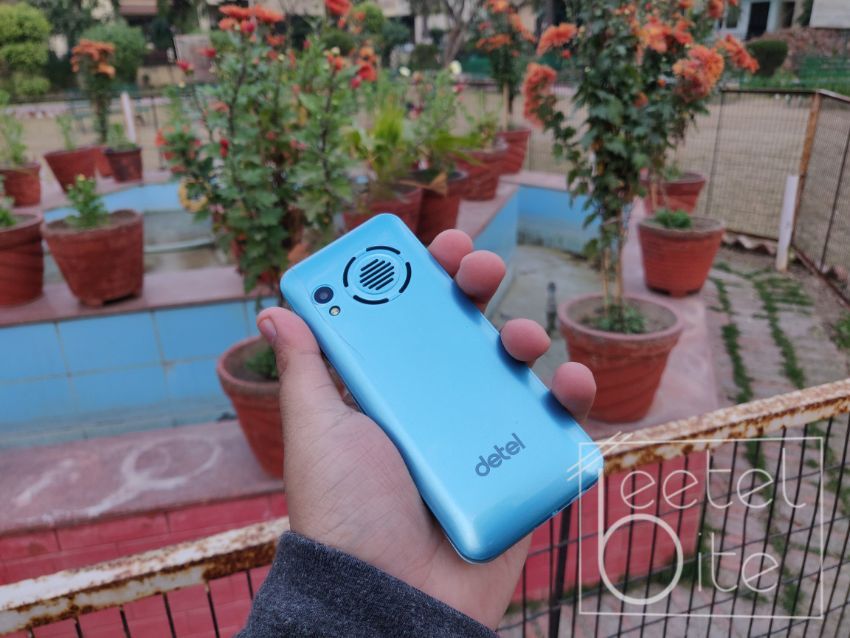 Having such a cheap plastic body is one of the pros for the feature phone. The phone is really cheap and it doesn't have a glass sandwich design or a premium metal back that can easily get damaged. You can basically throw it anywhere and it won't matter. The keys are sturdy so they won't get damaged. The display plastic feels that it is made out of really good quality plastic. Overall, the D1 Slim according to me can take a beating and still come out unscathed.
Detel D1 Gold: Features
The device packs a design of the past, however, it still packs some modern day features. It can play FM wirelessly if you ever need it, you can insert a microSD card into it and use that to play songs and use it as an mp3 player, it can make calls, it can work as a torch, it has a pre-loaded snake game which is a delight to play and it can browse the internet.
However, we suggest you not to browse the internet on this one, as it runs on GPRS/2G connection and opening Facebook to send one message sometimes takes over 15 minutes.
It has a loudspeaker that can be used to play music. The most important feature that I personally use is its Automatic Call Recorder. Especially, because of Google stopping apps from accessing calling APIs from March 1st, 2019. Also, Android Pie based smartphones have the new restrictions already enabled so a feature like that makes a lot of sense to the people who require it.
Detel D1 Slim: Camera
Detel D1 Slim sports a 0.3-megapixel rear camera with LED-Flash along. It sports the same camera module on the front. Fun fact, to click any photos from the camera you will need to insert a micro-sd card first as the device comes with near to none internal storage.
It actually intimates the user to insert a memory card when they try to click any photo. However, with a 0.3-megapixel camera, we highly doubt that anybody will even care.
However, if you are still wondering, the photo quality is next to nothing. You will be able to capture the shape of the object but no details at all. Simply, the existence of the camera on this phone is simply of no use according to me.
However, do keep this in mind, I currently have used various flagship devices, and it has been years since I last used a VGA camera to take an image.
Detel D1 Slim: Battery
The battery on this device is one of the most interesting aspects of it. The device lasts almost around a month on usage as an emergency phone. The power-saving feature can extend that time period even more. The 0-100 charge times are not even that bad, with the phone taking around 2 hours to fully charge up with the included charger.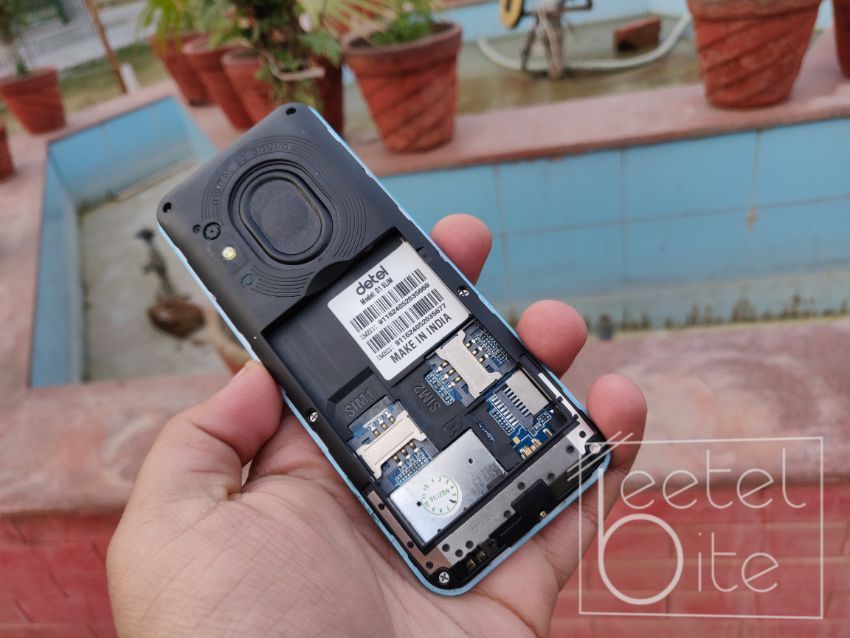 Keep note that I used the phone with an extra SIM card to use as a secondary phone to make and receive some calls here and there. The battery capacity for anyone wondering is 1,500mAh.
Detel D1 Slim: Conclusion
Detel D1 Slim costs only Rs. 999. You can use this as a secondary phone to make calls. The speaker is quite loud to enjoy some tunes whenever you wish. You can use this to record calls, which is a nifty feature. I personally used it as an emergency phone that I kept in my bag and my car.