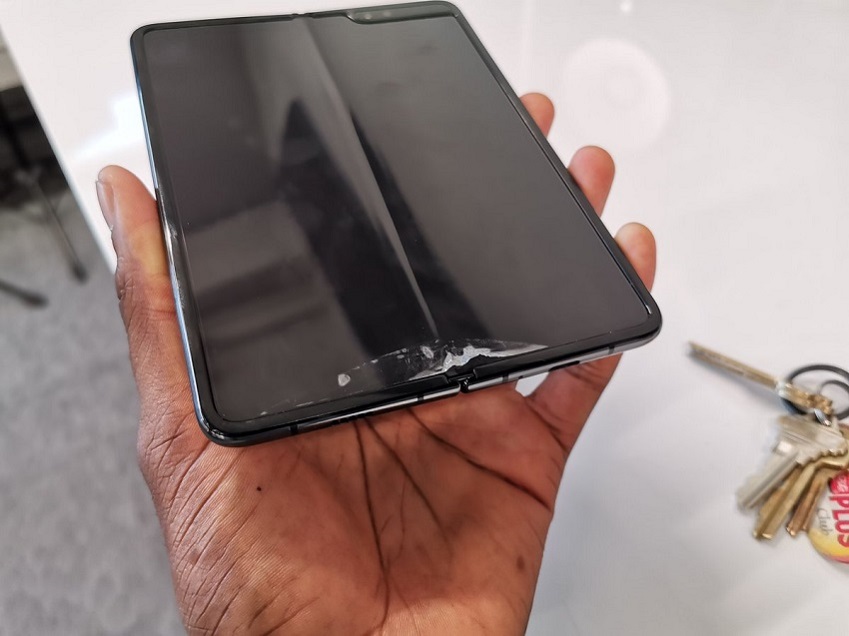 Samsung announced one of the first foldable smartphones at their recent Unpacked event. The Samsung Galaxy Fold is finally up for pre-orders in the U.S. and the company has started giving away review units to the media. Within less than 24 hours, users have started complaining about the Galaxy Fold's screen. Here's how you can keep your Galaxy Fold safe when you get one.
Unlike the Samsung Galaxy Note 7 fiasco, this one is not that big of a problem. Apparently, Samsung shipped these review units without the warning sign that states "Attention: The main screen includes a special protective layer. Peeling off the protective layer or using any adhesives on the main screen, such as screen protectors, may cause damage."
As these units did not have a warning on them, users including Marques Brownlee from MKBHD removed the protective layer thinking it of as some sort of screen protector. That caused the damage to the main screen and his all-new foldable smartphone stopped working within a few hours of him unboxing it.
PSA: There's a layer that appears to be a screen protector on the Galaxy Fold's display. It's NOT a screen protector. Do NOT remove it.

I got this far peeling it off before the display spazzed and blacked out. Started over with a replacement. pic.twitter.com/ZhEG2Bqulr

— Marques Brownlee (@MKBHD) April 17, 2019
On the other hand, Dieter from TheVerge, claims that his unit of Samsung Galaxy Fold got a line on the main screen just after two days of usage. Notably, he did not peel off the protective layer and still got into a problem.
SUPER YIKES: something happened to my Galaxy Fold screen and caused a bulge. I don't know how it happened, and I'm waiting to hear back from Samsung. It's broken. https://t.co/p1014uB01D pic.twitter.com/3FZJkWtSKr

— Dieter Bohn (@backlon) April 17, 2019
So, if you are looking out to buy a new Samsung Galaxy Fold, we would recommend to wait for a few weeks until more reviews come out. Also, if you managed to get one, make sure you do not peel off the protective layer, which will end up breaking up your all-new shiny 2000 USD smartphone.