While WhatsApp on iOS got the app lock feature a while ago, the company rolled out the much-awaited update for Android quite recently. With the new app lock feature, the users will not need to install third-part apps, which are usually unreliable. Users can now use fingerprint authentication or FaceID to unlock the application. Here's how it works.
How to setup WhatsApp app lock on Android?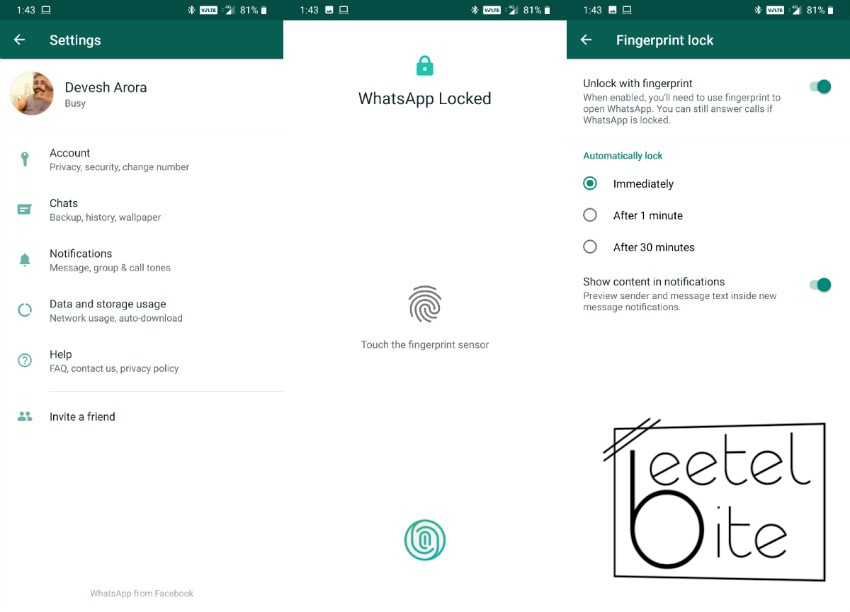 Update the application by heading over to the Google Play Store
Once the app is updated, open WhatsApp and head over to the in-app Settings
Now head over to Account>Privacy>Fingerprint lock
Here toggle the Unlock with Fingerprint option and authenticate with your registered fingerprint.
Once done, you can now exit the app and try unlocking it using your fingerprint.
The app also gives some extra options like Automatically lock timer and Show notification options.
How to setup WhatsApp app lock on iOS?
First make sure WhatsApp is updated by heading over to the updates section in the Apple App Store
Once the app is updated, fire up WhatsApp and tap on Settings menu
Now, head over to Account>Privacy>Screen Lock
Here, you can toggle "Require Face ID" or "Require Touch ID" option depending on the model of your iPhone
The user can also select when the app should automatically lock
Also Read: Facebook owns WhatsApp, Instagram and they want everyone to know that: Here's how
While Android users had the privilege of using third party app lock services, iOS users were forced to JailBreak if they wanted such feature. With the help of the in-built App Lock feature, WhatsApp has not only eliminated the need to third party applications but has also made it more secure and reliable.