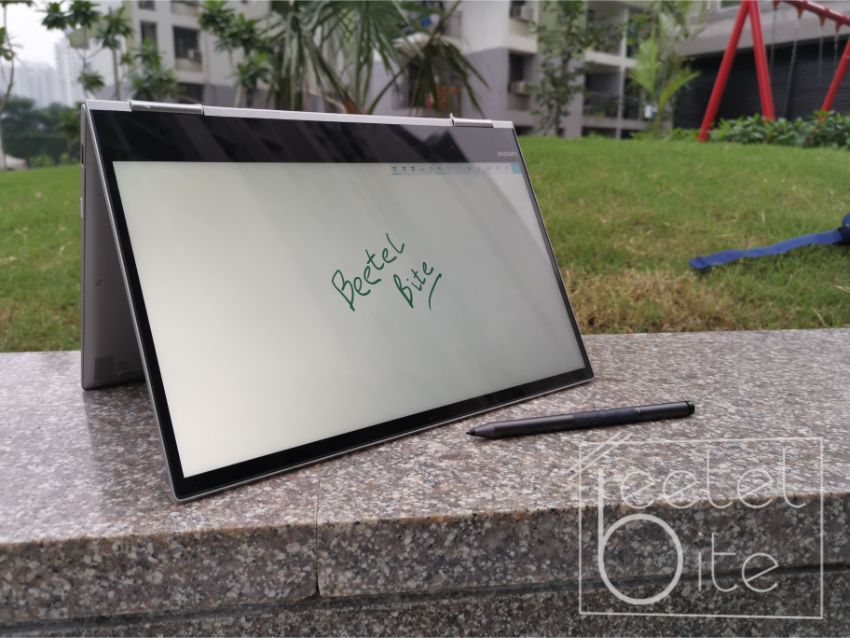 The use case of laptops has changed a lot over the years. From a portable workstation to a media consumption device to a multipurpose system, modern laptops can be used for everything. 2-in-1 laptops with a 360-degree hinge and a touchscreen are getting famous due to that. Lenovo was one of the first to introduce the trend with the Yoga series of laptops.
One such laptop in the Lenovo lineup is the Lenovo Yoga 730. However, is it any better than a traditional laptop?
Lenovo Yoga 730 Review: Specifications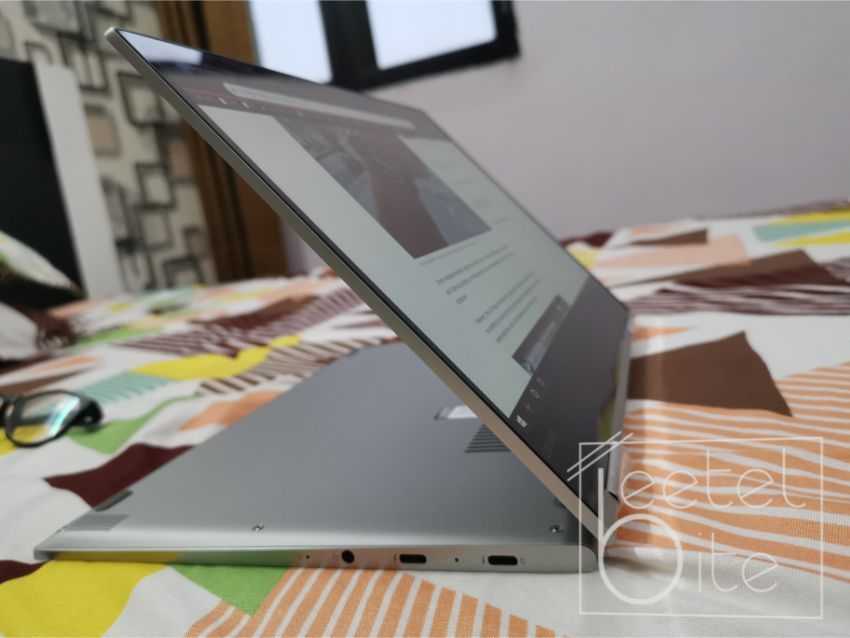 Lenovo Yoga 730 is available in a variety of configurations. The variant we had for review purposes came with an 8th Generation Intel Core i7 8550U processor coupled with 8GB of RAM. It comes with a 13.3-inch IPS LCD display with a resolution of 1920×1080 pixels anti-glare panel. The device also packs in 500GB SSD.
Lenovo Yoga 730 Review: Design
The Lenovo Yoga 730 looks sleek and portable with the Macbook Air like look to it from a distance. Once you get close, the laptop is nothing like the Macbook Air, with a slightly thicker body, better hinge design and a lot of weight.
The outer shell is made out of aluminium with a brushed matte feel to it. There are subtle Yoga logo on the back towards the corner and an even smaller Lenovo logo below the display on the side. The edges are not chambered which is something we would have liked.
Also Read: 
The 13.3-inch display has small bezels except for the massive bottom chin. Which we presume was required for some important reason. Unlike a lot of fo touch screen laptops, the touch panel is made out of glass instead of plastic. The matte aluminium feel to the body looks and feels really good and keeps the fingerprints away.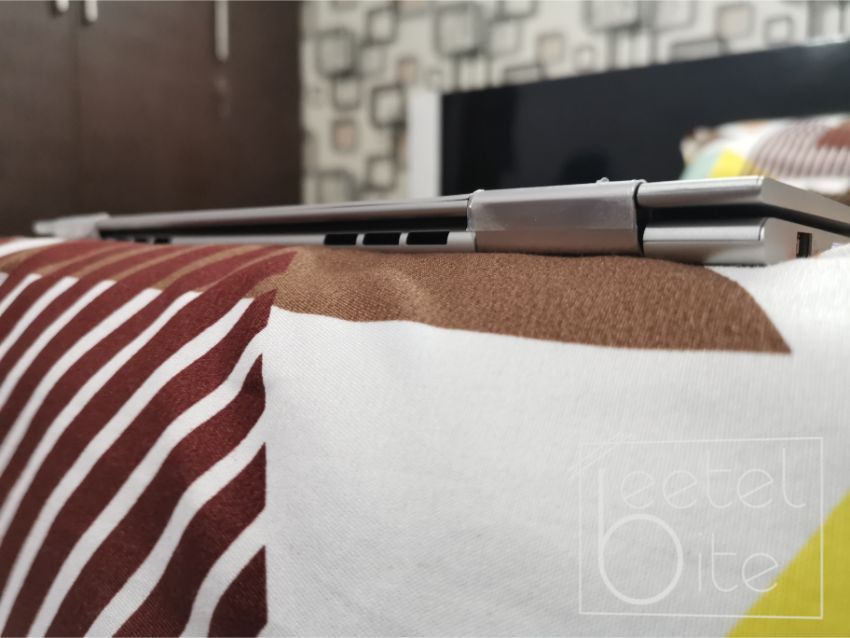 The design of the Lenovo Yoga 730 is very sleek. The non-chambered edges are felt while moving with the laptop in hand or typing. Also, the laptop is a heavy side, although the weight is evenly balanced. Overall, the design is something that you can keep under the radar while not making it look ugly.
Lenovo Yoga 730 Review: Display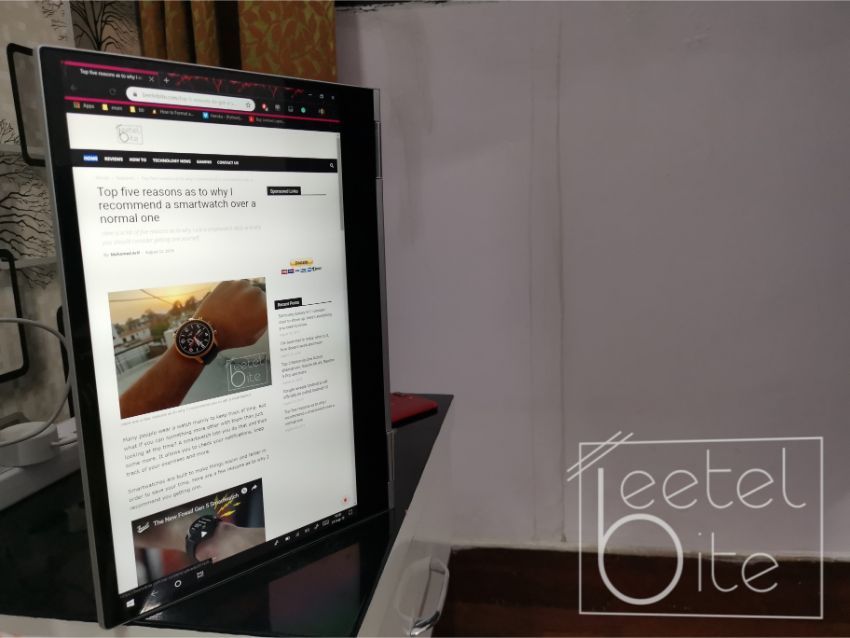 Lenovo Yoga 730 sports a 13.3-inch IPS LCD panel with a resolution of 1920×1080 pixels. The panel is big enough for day to day work but a bigger display would be better for gaming and working. Also, the display is anti-glare so it helps when working in direct sunlight outside which the laptop which due to its dimensions and features is a great option. Media consumption such as movies is such a great experience cause you can tilt the screen in any direction use it in tent mode or a tablet mode to be at the most comfortable position you want it to be. The colour accuracy is good and the anti-glare matt display helps with the light a lot.
Lenovo Yoga 730 Review: Performance
The laptop is powered by the 8th Generation Intel Core i7 8550U processor coupled with 8GB of RAM. which is quite enough for most use case scenarios and also has room for upgradeability with an expendable open slot. There is a 512GB PCIe SSD which can be upgraded. There is no HDD but that is for the good.
Due to it not sporting dedicated graphic cards, gaming was something that wasn't expected out of this laptop. Working on my daily basis, with around 101-5 chrome tabs open and a couple of tabs open on opera, with music in the background and typing and browsing the web, the laptop ran without any hiccup.
Also Read: Avita Liber 14 laptop Review: Just a fashion accessory?
Lenovo Yoga 730 Review: Keyboard, Trackpad, and IO
The laptop comes with a backlit chiclet-style keyboard. It is quite comfortable for both, gaming and long typing sessions. However, the non-chamfered edges will make you feel uncomfortable depending on the size of your hand and your typing style. The keyboard spacing is good enough, something I was comfortable with. The trackpad uses Windows precession drivers, which means Windows 10 gestures work well.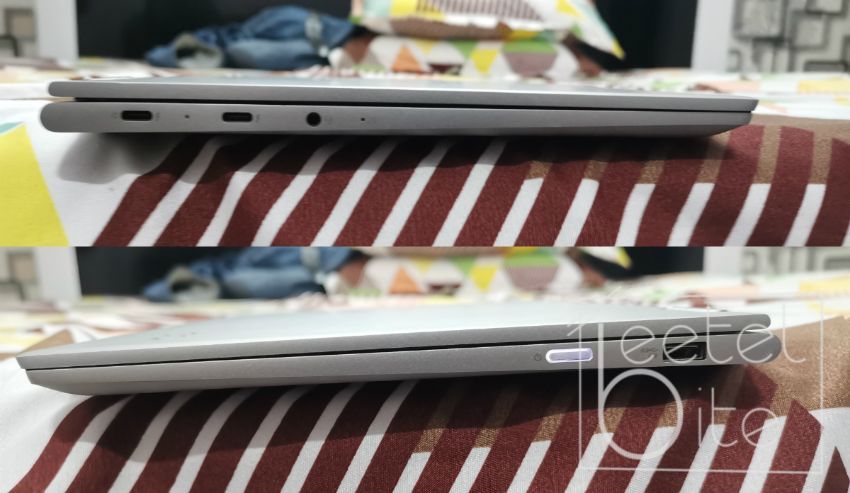 The trackpad is smooth, not but has a finish that helps you use it precisely. The white backlight gets bright enough for usage in low light situations.
Also Read: Asus Zenbook 14 UX434F Review: Gimmicks that you actually need
The IO on the Asus Yoga 730 is disappointing. The right side contains only a USB A port with a power button and the left side contains 2 USB Type-C ports with a 3.5 mm jack. The charging is done by one of the two Type-C ports. The lack of ports is felt when working on a daily basis.
Lenovo Yoga 730 Review: Battery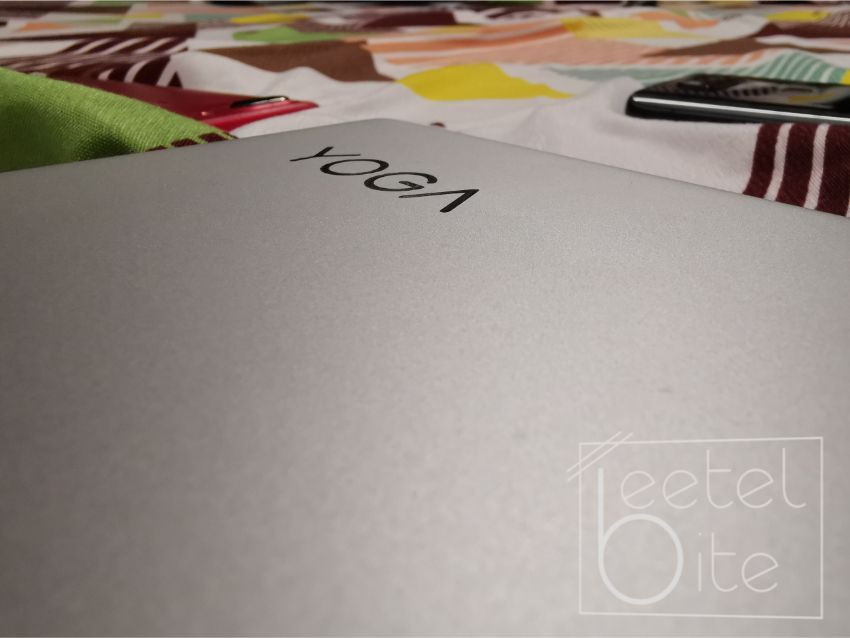 Battery life is the most important thing in any portable gadget. Especially with the thin and light portable laptops. You don't wanna run out of battery when you are working on the go. The company promises a battery life of around 11 hours which is a bit too much, or I thought so. With the brightness at around 80% and laptop at balanced performance, we were able to get an average of 7 hours easily without any issue. So running the laptop at a lower brightness and power saver mode, one could easily achieve that 11-hour mark which is impressive. Looks like the laptop was a tad heavy to accommodate this impressive battery.
Lenovo Yoga 730 Review: Active Pen 2
Lenovo bundles in the Lenovo Active Pen 2 with this laptop which immensely helps to enable the laptop as a sketch pad. It can be paired to your laptop or used standalone. It requires batteries to be paired o your laptop which is a lot annoying. Also, there is a flimsy holder for the active pen 2 which goes into and blocks your only USB-Type A port which is a lot annoying.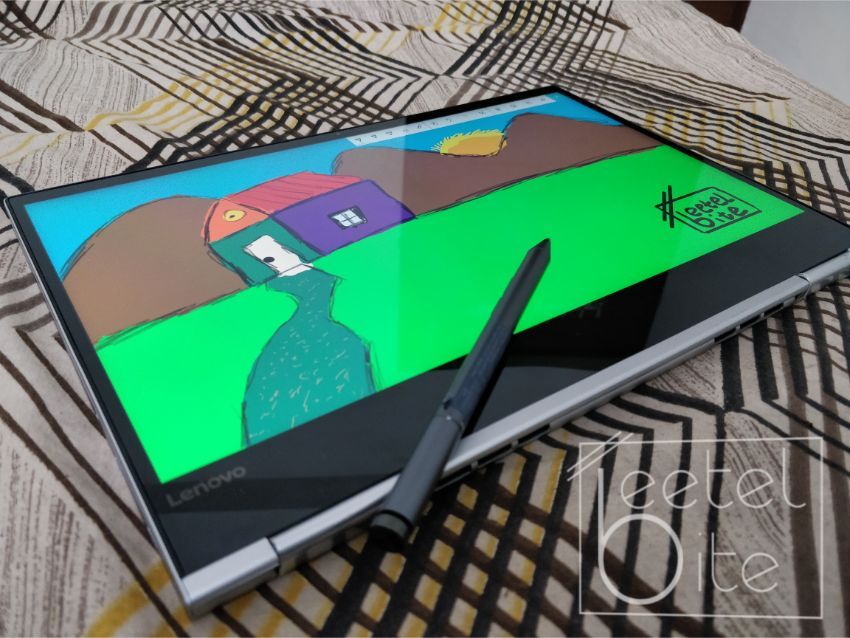 Ignoring the part, that carrying it is a pain, the Active Pen 2 performs kinds of disappointing. The pressure sensitivity is not that great and the lag is tremendous while doing something like drawing. S-Pen with the Note Series performs way better. What's more annoying is that you need to keep changing out the batteries if you want the full functionality.
Lenovo Yoga 730 Review: Verdict
Lenovo Yoga 730 is the laptop you can carry anywhere, sit on an aeroplane, train, office, home to work or watch a movie. With the 360-degree hinge and a touchscreen, the laptop offers versatility like nothing else. However, with a starting price of around Rs 1,00,000, things start to get a little complicated.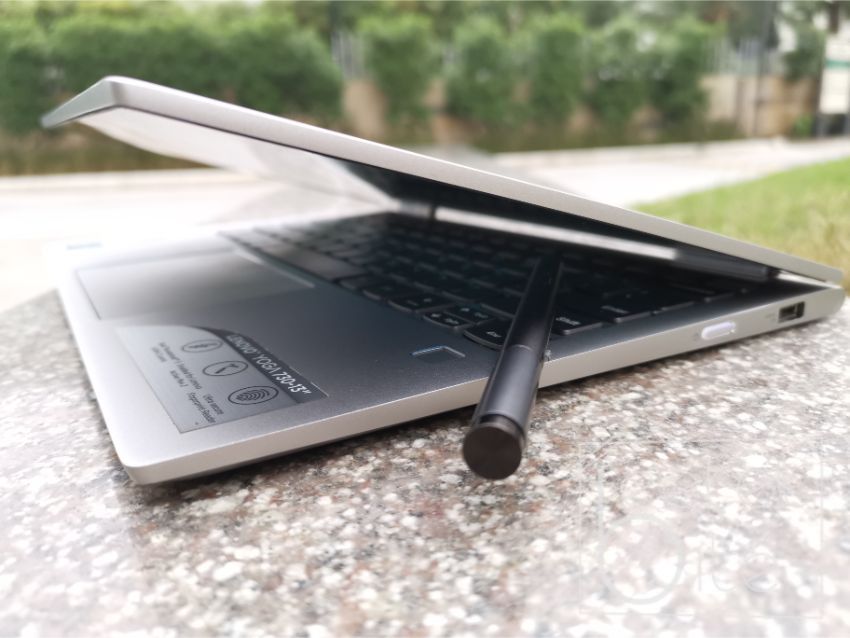 Its biggest direct competitor is the new 2019 Macbook Air, which is around the same cost and offers the same use case. With its 360 degrees hinge and a touchscreen, it offers more versatility than the Macbook, However, it is heavier than the Macbook but not by anything much, that you won't actually care. The biggest drawback of the Yoga 730 is its operating system. The Windows platform is just not able to provide as much smoothness and performance as the Mac OS X platform.
Apart from that, the Lenovo Yoga 730 is really a great laptop. It offers great versatility and portability for a price and performance which we can't argue about.