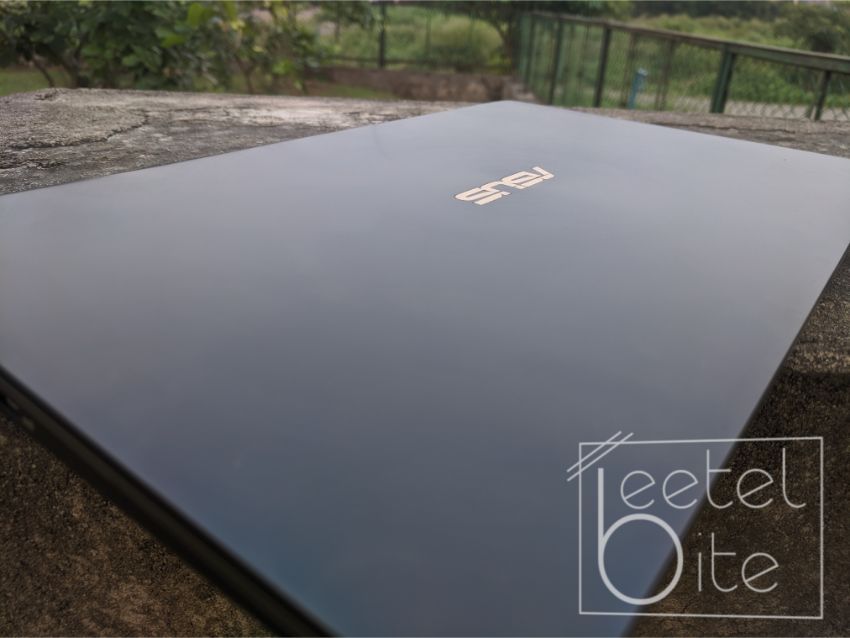 Asus is currently the market leader when it comes to innovation in the laptop segment. Whether it is with the gaming laptops in their ROG lineup or with their budget segment laptops on their Vivobook lineup for their flagship consumer laptops in their ZenBook lineup. Asus, continuing that trend has unveiled their latest ZenBook series laptop, the ZenBook 14 UX434F with their latest ScreenPad 2.0 technology.
The Asus ZenBook series of laptops, like always feature a premium build and a lot of fancy utilities, making the laptop a bargain. However, many times these fancy utilities can become just gimmicks and be worthless. So is the new ZenBook 14 and it's ScreenPad just a fancy gimmick or something that is a great innovation? Let's find out.
Asus ZenBook 14 Review: Specifications
Asus ZenBook 14 UX434F is available in a variety of configurations. The variant we had for review purposes came with an 8th Generation Intel Core i5 8265U processor coupled with 8GB of RAM. It can also be specced with 8th Generation Intel Core i7 8565U with up to 16GB of RAM. In the graphics end, it comes in with NVIDIA GeForce MX250 with 2GB VRAM. For the display, it sports a 14-inch FHD (1920 x 1080) NanoEdge display. You can get it with a touchscreen if you wish to.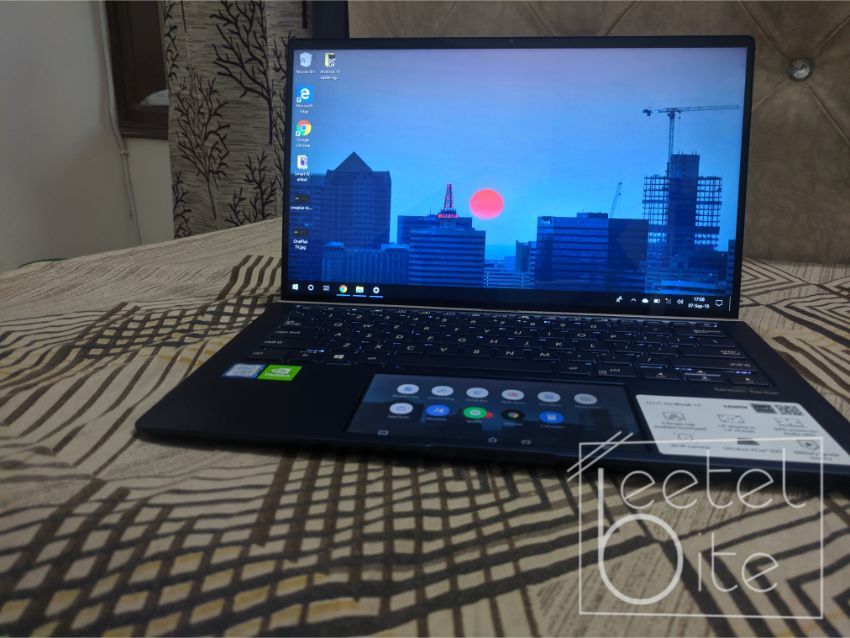 For the storage, we had a 512GB PCIe SSD, but you can get it with up to 1TB of PCIe SSD. Some of the other highlights include a 3D IR camera for Windows Hello and a 50Wh hour battery and Harman Kardon speakers. However, the most important feature of this laptop is arguably it's 5.65-inch ScreenPad display.
Asus ZenBook 14 Review: Design
The Asus ZenBook 14 looks sleek and portable with a unique look to it. There are subtle similarities with the last few generations of the Zenbook series, but it still looks unique. The subtle concentric circle's pattern on the lid, along with the 92% screen to body ratio, the massive fingerprint-resistant touchscreen in the place of the touchpad, makes the laptop completely different than anything else.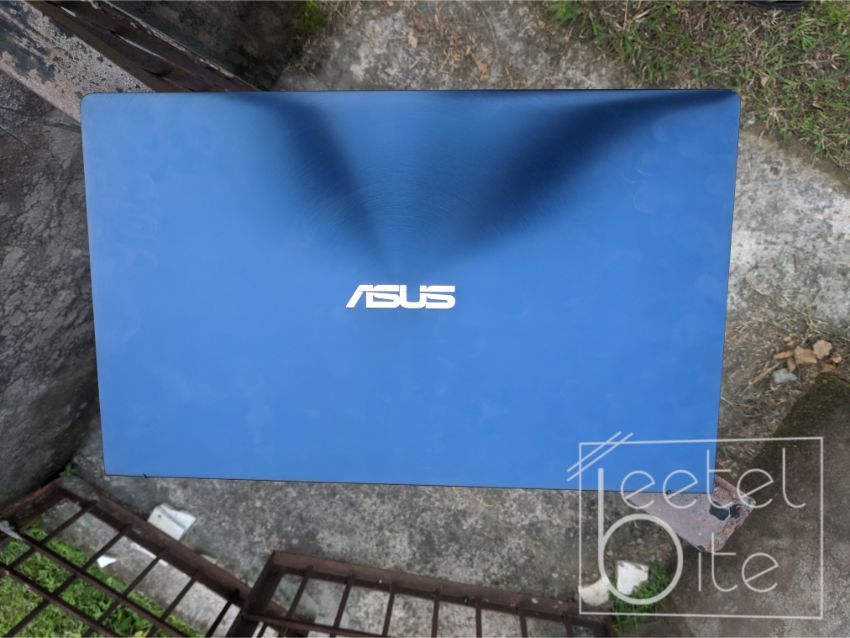 The outer shell is made out of metal and has a nice feel to it. There is a massive Asus logo on the back in the center in the Gold accent. There are many gold accents on the laptop which give the laptop a great look especially with our Royal Blue variant.

Due to small bezels and an impressive screen to body ratio of 92%, the laptop has a small chassis for a 14-inch laptop which makes it easier to carry around. The display has a glossy finish to it and gets bright enough for outdoor usage if needed to be.
Also Read: Asus ZenBook Pro UX580 Review: The hottest ultrabook?
The design of the Asus ZenBook 14 is what you would call well balanced. It's not dull and it's not screening look at me. It is nothing fancy, but nothing out of the normal. It looks good while not attracting all the attention to it, which according to me is the best thing about the laptop. The gold accents with the Royal Blue color give the laptop a soothing look to the eye.
Asus ZenBook 14 Review: Display
Asus ZenBook 14 sports a 14-inch IPS LCD panel with a resolution of 1920×1080 pixels. The panel is big enough for day to day work, especially considering the bezels are minimal. However, a matte finish display would be an icing on the top. The color accuracy and brightness are good offering a great balance for indoor and outdoor usage.
The secondary 5.65-inch ScreenPad display is also good. It offers fingerprint-resistant smudge-proof matte finish display at your fingertips for all sorts of shortcuts. Its quality and brightness is not the greatest, but considering its placement and use case that something you wouldn't care about.
Also Read: Asus 6z Review: The understated flagship?
Asus ZenBook 14 Review: Performance
The laptop is powered by the 8th Generation Intel Core i5 8265U processor coupled with 8GB of RAM and NVIDIA GeForce MX250 with 2GB VRAM. That should be quite enough for any everyday task. There is a 512GB PCIe SSD which can be upgraded. There is no HDD but that is for the good. Being a consumer laptop, Gaming is something we didn't expect to be doing on this laptop, but considering it has a basic graphics card, light gaming on the laptop works like a charm.
Working on my daily basis, with around 10-15 chrome tabs open and a couple of tabs open on opera, with music in the background and typing and browsing the web with a video playing in another chrome window on the ScreenPad, the laptop ran without any hiccup.
Asus ZenBook 14 Review: Keyboard and IO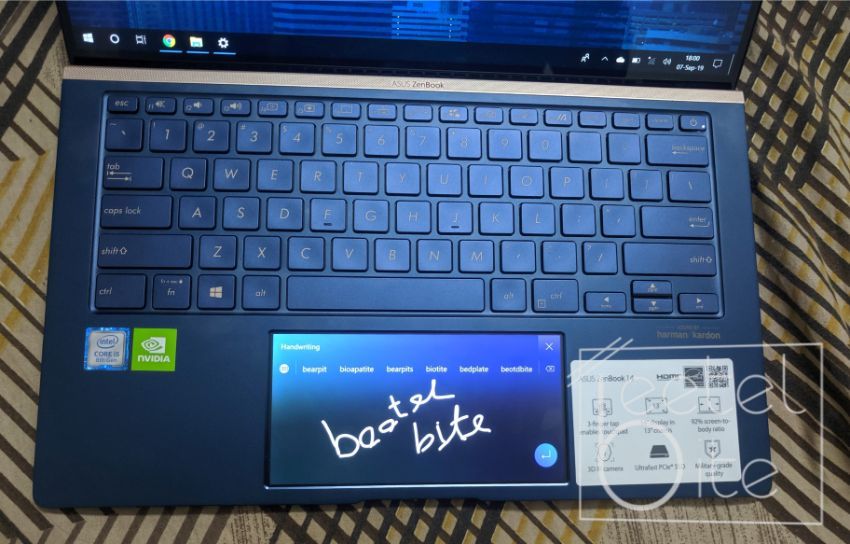 The laptop comes with a backlit chiclet-style keyboard. It is quite comfortable for both, gaming and long typing sessions. The key travel is great which makes long typing sessions not that much of a pain. The keyboard spacing is a little bit bigger than what I prefer but I could easily adjust. It looks a bit cramped look at it for the first time. However, in normal usage, it is completely normal. Also, the laptop has something Asus calls ErgoLift. The hinge is designed in such a way that the laptop can lift up to 3-degrees when the screen is open at the max of 145-degrees. This offers a comfortable typing and viewing experience on the laptop.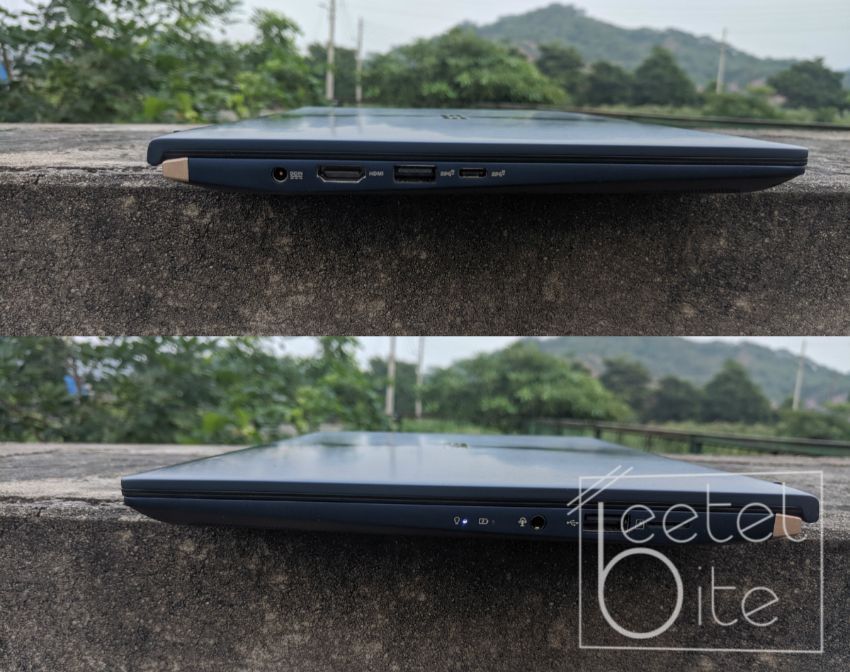 The IO on the Asus ZenBook 14 is great considering the competition in this segment. The right side contains a USB A port with a micro-sd card slot, headphone jack and power and charging indicators. While the left side contains a USB A Port, a USB C port, HDMI and a proprietary power connector port. Unlike many laptops in this segment, the IO is plentiful.
Asus ZenBook 14 Review: ScreenPad
Coming to the touchpad, the touchpad of the laptop is nothing of a big significance. A good quality touchpad is generally enough, however, Asus dreamt of something different. They picked up the improved version of the ScreenPad technology found in their flagship ZenBook Pro and put it in the new Zenbook 14. The ScreenPad 2.0 technology offers a 5.65-inch fingerprint-resistant matte finish display where the touchpad should be. You can still use it as a touchpad by either shutting off the display completely or by going into mouse mode.
However, when you don't use it in the mouse mode you get a fairly big touchscreen display to play around with. Its general use is with the shortcuts for your everyday usage. With software like word, you get shortcuts and handwriting recognition for great comfort while long typing sessions. You can pin any app to look at a video tutorial while working on a project or you could control the music while working. The ability to have a small additional display there is excellent. It is kind of a gimmick but it has a great use case to make your life a lot easier.
Also Read: Asus Tuf FX705 Review: The budget gaming laptop everyone has been waiting for?
Asus ZenBook 14 Review: Battery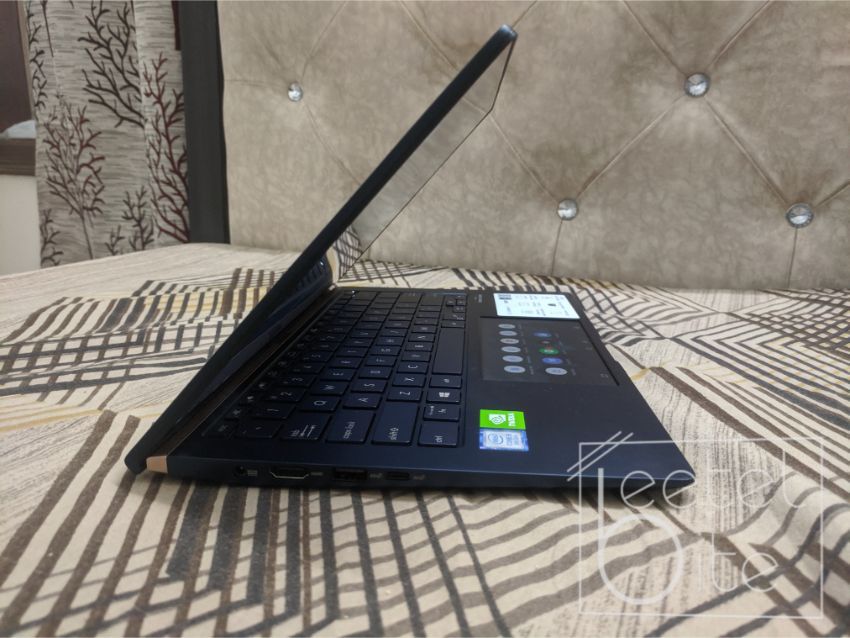 Battery life is the most important thing in any portable gadget. Especially with the thin and light portable laptops. You don't wanna run out of battery when you are working on the go. The company promises a battery life of around 12.3 hours which is a bit too much. With the brightness at around 50% and laptop at balanced performance and ScreenPad on the music playing over Bluetooth, we were able to get an average of 6-7 hours easily without any issue. So running the laptop at a lower brightness and power saver mode and without the ScreenPad, one could easily achieve that 10+ hours which is good enough. Considering that the laptop has to power two display's at a time, the battery life was supposed to be worse than others.
Asus ZenBook 14 Review: Verdict
Asus ZenBook 14 is the laptop you can carry anywhere, sit on an airplane, train, office, home to work or watch a movie. The ScreenPad helps a lot while working on anything. When you don't want it or want to save power, you can just turn it off at will and use it as a normal trackpad.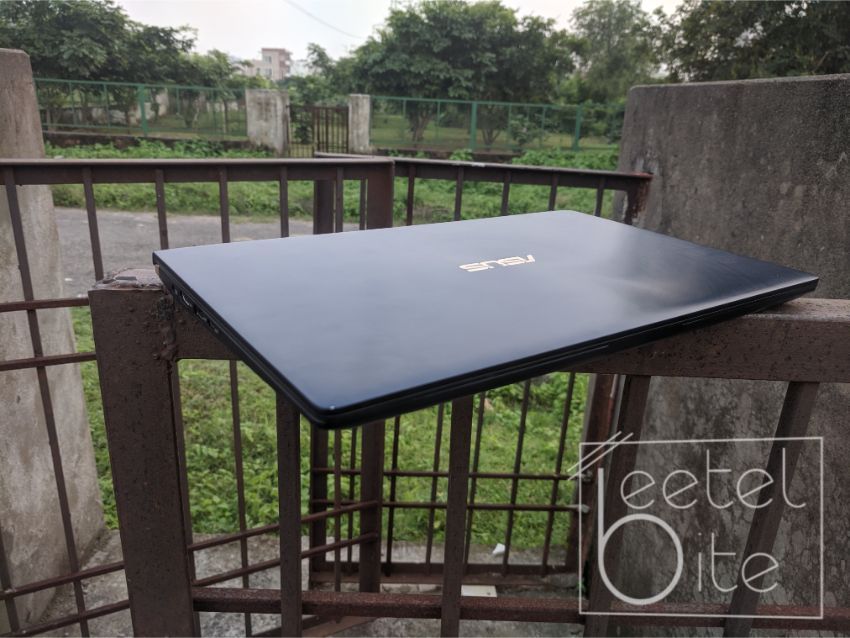 Apart from the ScreenPad, the new Zenbook 14 is a great laptop. It combines style with productivity and portability. With our specification starting in at Rs 79,990 one might think it is a bit expensive, but when you think about all the possibilities the second screen just at your fingertips can offer, the price seems adequate. It is not something you absolutely would need, but something you should have. The capabilities are so much and it's so much more efficient that it is something that everyone should consider at the very top of their list.