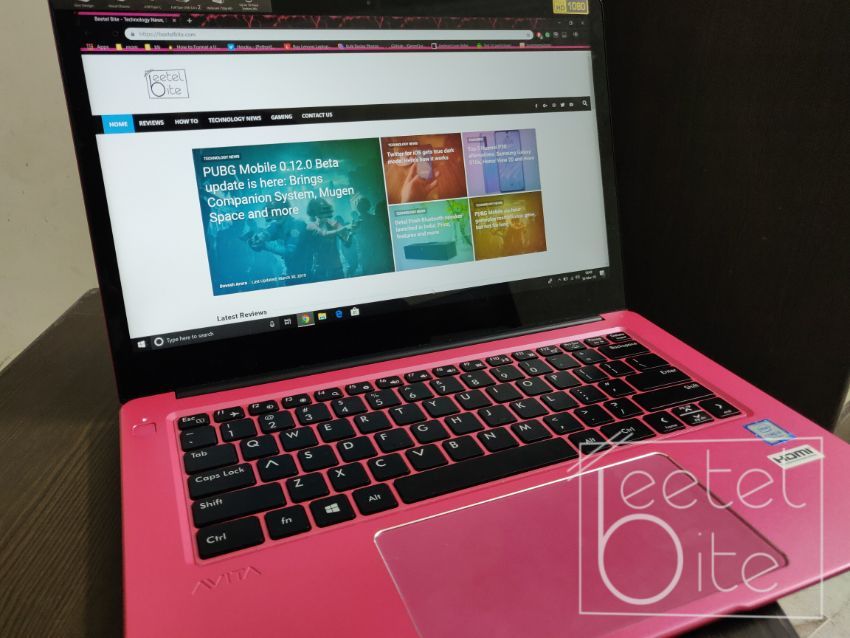 Avita unveiled their Liber series of laptops a few months ago aiming at the market which only a few other laptop manufacturers have ever touched before. Laptops that can be used as a fashion statement and can also perform as good as other laptops. The Liber 14 is a thin and light laptop that comes in various colour options and design patterns to make your workhorse a fashion statement. So are the new Avita Liber laptops worth the premium this company is asking for them?
Avita Liber 14 Review: Specifications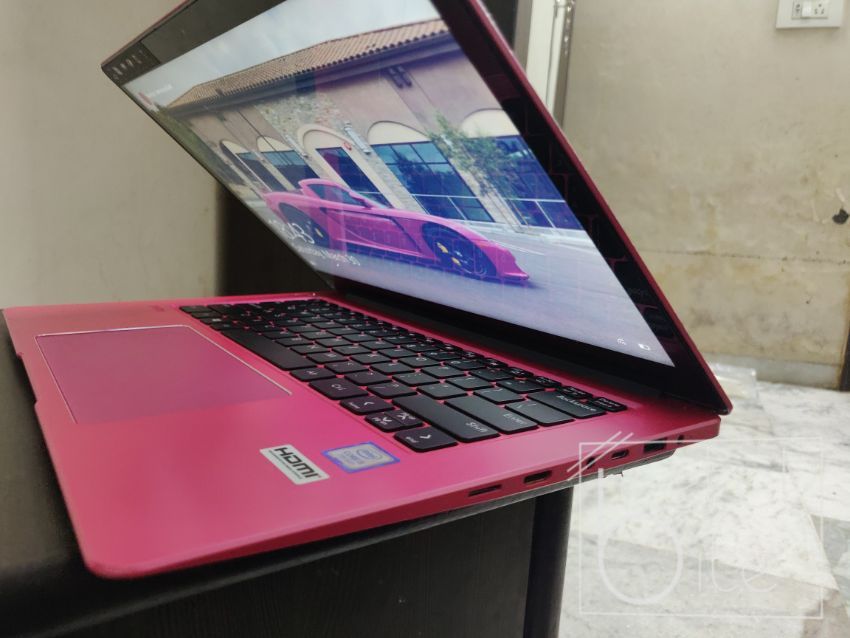 Specifications of the review unit we got include a 14-inch IPS LCD display with a resolution of 1920×1080 pixels. It is powered by the seventh generation 1.2Ghz Intel Core i5 Y-series processor (7Y54) coupled with integrated UHD Graphics 615. The device comes with 8GB of RAM and a 256GB SSD for storage.
Avita Liber 14 Review: Design
Avita Liber 14 looks like a thin and light metal built laptop from a distance. While the thin and the metal build parts are mostly true, it is not as light as other thin and light laptops seen in the market. The laptop feels sturdy due to its high-quality metal build quality, but that also makes it heavy to hold compared to its competitors.
The touchpad is big, massive and has an unusual shape, more on that later. As for the keyboard, it has good key travel and has a very high actuation point which makes it stressful on the hand while typing long articles like this review.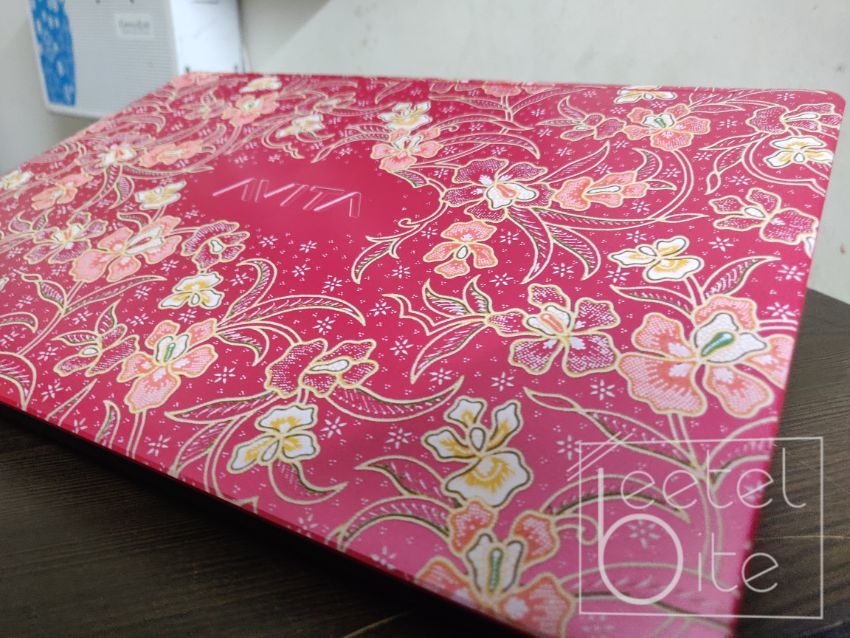 Edges of the Liber 14 are neatly bevelled giving it a nice minimalist look, mimicking the look of the MacBook Air while giving it a comfortable grip in hand.
The rubber feet at the bottom are coated for a long life but that makes their grip very weak. You can easily push the laptop with one finger on the table which is not a really good thing.
Avita Liber 14 Review: Display and IO
Avita Liber 14 sports a 14-inch full HD (1920 x 1080) IPS display. With the display being reflective and it attracts fingerprints quite easily. The panel gets dim enough for indoor usage at night without hurting your eyes and bright enough for outdoor usage.
Viewing angles of the laptop are quite good, the text is legible even at all angles and in most lighting conditions. The display colours are neither too sharp nor too faded. They appear a little brighter than natural but it is really hard to notice.
Also Read: Acer Nitro 5 gaming laptop review: Gaming on the go without breaking the bank
The speaker situation on the Avita Liber 14 is a bit complicated. They are loud but not that clear. While listening to EDM music the performance is great, just tone down the volume to like 80 percent to get the best results. On things with more dialogue, the speakers show how bad they really are. You can easily notice the disturbance while watching movies or listening to pop or rap songs. I would strongly suggest to pair them up with good headphones for the best experience.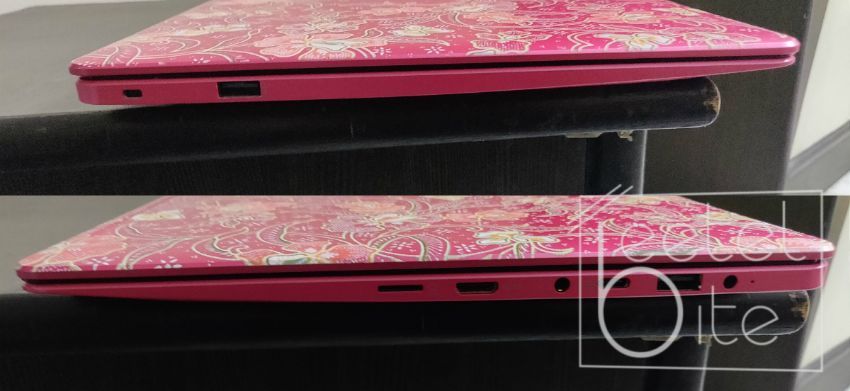 Coming to the IO (Input Output) ports on the Liber 14. It sports two full-size USB ports, one on each side, a mini-HDMI port, a micro-SD card reader, 3.5mm audio jack, a charging port, and a USB Type-C port. Exclusion of a DVD drive and Ethernet port was done to decrease the thickness of the device.
Honestly, in the modern world, I don't personally see a need for a DVD drive so its exclusion won't affect most of the people. Also, WiFi is quite common these days, so the exclusion of an Ethernet port might not be an issue for some, but I would have preferred it.
Presence of only two full-size USB ports does bother me a bit, as both of them will vanish if you decide to use an external mouse and keyboard with the laptop. Presence of the USB Type-C port helps with overcoming all of that if you are willing to live that dongle life.
Avita Liber 14 Review: Keyboard and Touchpad
Avita Liber 14  sports a chiclet-style keyboard, with two levels of backlighting for usage in a dimly lit room. The keys on the keyboard are flat and feel a little cheap. The tactile feedback from the keyboard is not that good and the high actuation point makes it really stressful to type on the keyboard, especially long articles like this review.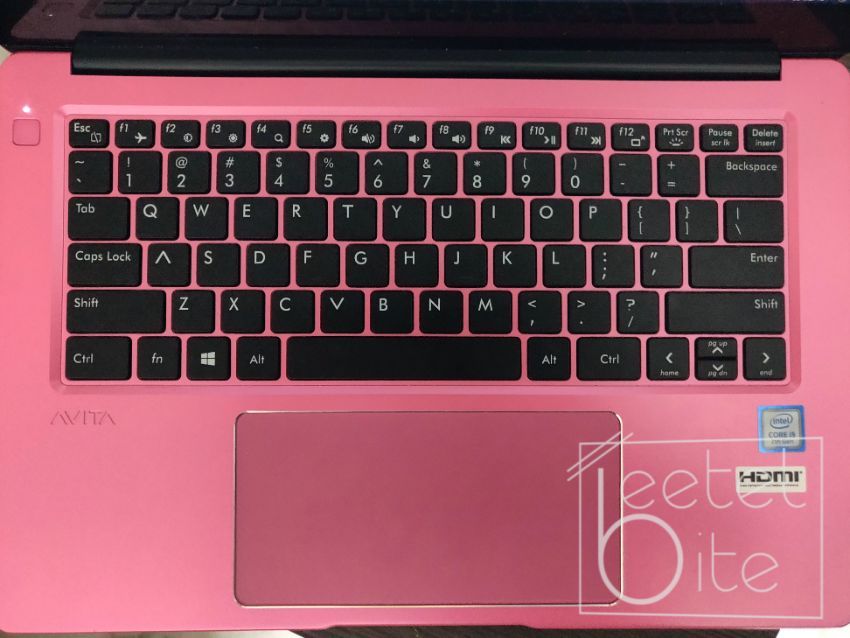 The touchpad on the Avita Liber 14 is a completely different story. It is broader than usual to provide for a big trackpad experience which is great which browsing the internet. The feel of the trackpad is not that great, but there are bigger issues to look on that. Due to the immense breadth of the touchpad, while typing 90% of the time my palm rests on the trackpad which causes accidents clicks at the time moving the cursor to undesired location giving you a headache to type.
If you decide not to rest your palm on the touchpad, you can access the middle section of the keyboard while making for an awkward typing position for the keys that you can reach. If you decide not to rest your palms on the laptop at all, it becomes painful after a while due to the high actuation pressure of the keyboard and the way we are used to interacting with the laptops, and still a slight touch to the trackpad accidentally spoils your mood to an extent you can't adjust to. The only alternative is to disable the touchpad and use an external mouse which decreases portability.
I tried to write this whole review on the laptop with different methods to avoid the touchpad issues I am around halfway through and my hands are paining and I am frustrated fixing the issues caused by cursor accidentally moving. Due to the high actuation pressure and the touchpad issue, typing on the Liber 14 an actual nightmare.
Avita Liber 14 Review: Performance
Performance is one of the most important specifications to look at while testing any laptop. The Liber 14 we had comes with a 7th Generation Intel Core i5 7Y54 Y series processor clocked at 1.2Ghz. It comes packed with 8GB of RAM.
Upgradability options are quite limited with this one. For storage, you only have a 256GB SATA3 SSD. There is no space to add a separate internal hard drive. So the only way to get more storage is a bigger SSD, which is a disappointment. The graphics onboard are handled by an integrated Intel UHD Graphics 615 chip.
Also Read: Top 5 gaming laptops under Rs. 1,00,000: Dell G3, MSI GL63 and more
While things like booting, application launches, and everyday tasks happen quite fast due to the SSD. Opening and working with multiple tabs on Chrome along with multiple applications open in the background, the 7th gen Y series processor starts to show its limitations. With around 10-15 tabs open on chrome streaming to music on youtube and downloading files, the tab changes showed a lag. Interestingly enough as I was writing this the chrome froze and reloaded all the tabs after a few seconds which reverted the article to last saved time which was 2-3 lines gone.
Also, the right side of the metal underbody of the Liber 14 heats up after a while of just watching a movie on Netflix for about 30 minutes. With temperatures hitting up to 50-degree Celsius, the heating issue will be a real problem.
Avita Liber 14 Review: Battery
Writing and looking up websites for reference while listening to music at full volume with about ten Chrome tabs open and running a few downloads in the background. With those being the things I usually do during my workday, the battery lasts approximately five to six hours depending on various factors.
It is worth noting that in my use case, the brightness is set to around 75 percent most of the times. Pushing the brightness to 50 percent where it is more comfortable in long usage sessions, with power mode set to better battery, you can easily get around an hour of juice more.
Also Read: Asus TUF FX504 gaming laptop review: Faster screen with a faster processor
However, there was an issue, which might be limited to our review unit's manufacturing defect we had to plug in the laptop for around 7-8 hours to get a full charge which made it worthless to use. We believe it was a manufacturing defect limited to our review unit only so we cannot comment on charging times.
Avita Liber 14 Review: Verdict
Avita Liber 14 is a modern thin and stylish computer that looks great and sports a not so minimalist design. The laptop is designed for style on the move while sporting the performance to back it all up.
While the style part is questionable, our Urban Ruby variant with a flower pattern printed on the lid looked more like a fashion accessory than a laptop, which accomplishes the style part. While about the performance, the laptop doesn't offer any great performance. The Y series processor is sluggish and the other specifications are fairly standard.
The review unit we had cost Rs. 57,490 and the performance it offered for the price was truly bad. Even the fashion accessory part of the laptop is not enough to justify that hight of the price for the specifications are performance.
The issues with the trackpad and keyboard are enough to keep me away from it. Overall, the Avita Liber 14 is a good all-rounder that is a bit more expensive. However, considering they are the only one offering such customizations you can snag one up if you value only the looks feel and nothing more.
Purchase links
Avita Liber 14 Iris in Urban Ruby
Avita Liber 14 Paisley on Lilac