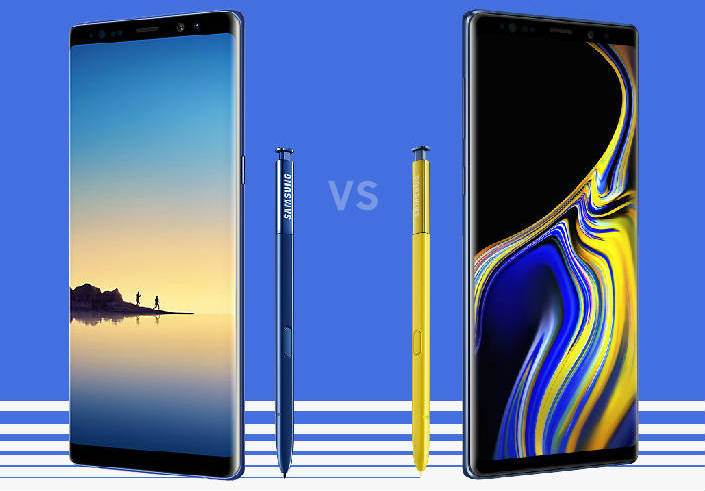 Samsung has launched its new Galaxy Note 9 smartphone at an event held in New York. The device is know become what most people in the tech industry are calling the device of the year. Considering the fact that the device is an extremely over-powered beast that will do most of the work you are able to throw at it with a single breeze, let's not ignore the fact that the Galaxy Note 8 will be a bit lower priced now. Which will be an excellent option for you to get. Below is a press release that Samsung issued comparing both the new Galaxy Note 9 to the Galaxy Note 8, to make your decision a much simpler one.
Press Release:
The latest addition to a series that continues to raise the bar for smartphone power and performance, the Galaxy Note 9 features an array of innovative technologies that help users get the most out of everything they do.
The Galaxy Note9's all-day, 4,000mAh battery is the largest ever featured in a Galaxy flagship phone, and offers enough charge to power through an entire day's worth of work, play, and everything in between. The device also features generous built-in storage options (either 128GB or 512GB) that allow users to put the days of deleting photos, videos and apps to make room for more behind them.
A new, Bluetooth Low-Energy enabled S Pen makes the series' signature feature even more dynamic, allowing you to utilize the powerful tool as a customizable control for managing apps and functions. The device also introduces a camera that combines Samsung's industry-leading innovations with deep-learning technology that takes the work out of snapping the perfect photo.
These are just a few of the exciting innovations that make the Galaxy Note9 ideal for those who demand the best of the best. Check out the infographic below to learn more about how Samsung enhanced its latest flagship device.

Now that all has been said, the decision is up to you. Do you want the newest Samsung Galaxy Note 9 with all of the new features or you are able to sacrifice a few features and save on a lot of money by purchasing the Samsung Galaxy Note 8?