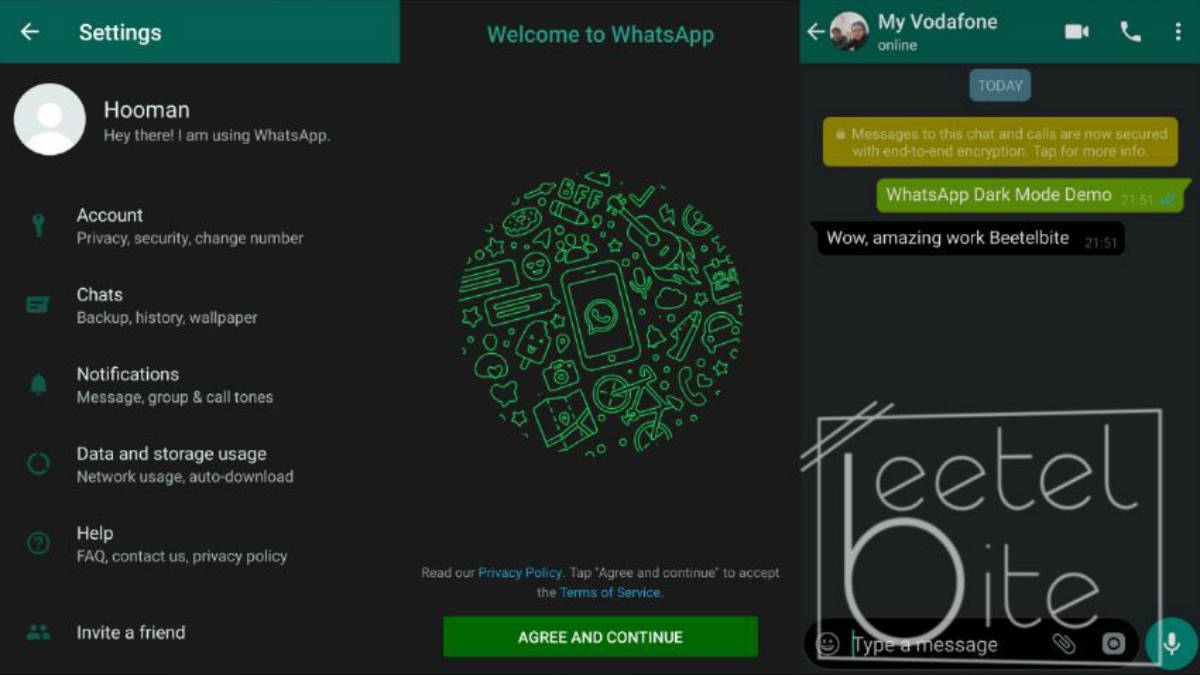 WhatsApp recently rolled out one of its most requested features, the Dark Mode for both Android and iOS users. The company has rolled out the update globally and it is currently available on both Android and iOS respective app stores. Today we take a look at how you can enable the WhatsApp Dark Mode feature on your device:
How to enable WhatsApp Dark Mode on Android
Head over to the Google Play Store and download the latest update for WhatsApp.
After downloading wait for the update to install and then open the app.
Press the three dots present on the top right corner of the home screen.
Press the Settings option.
Now open the 'Chats' tab.
Inside of the 'Chats' tab, press the 'Theme' option.
You can set it to default on Android 10, which will make it follow the system-wide theme.
Or you can click on Dark, to change the app's theme to follow only the Dark theme and not follow whatever, theme you have applied on your smartphone.
Note, sometimes the app does not pick the default theme. Just clear it off once from the recents menu, if it still doesn't change the theme to system default then just go into the settings and enforce the dark theme.
Also Read: Facebook owns WhatsApp, Instagram and they want everyone to know that: Here's how
All Android versions that WhatsApp currently runs on, support this new feature.
How to enable WhatsApp Dark Mode on iPhone
WhatsApp on iPhone has only brought support for its Dark Mode feature to devices running iOS 13 or above. So before you try and activate the mode update your iPhone first.
Download and install the latest version of WhatsApp from the App Store.
Now open your device's Settings panel and scroll down to the 'Display & Brightness option'
Inside of the setting, enable Dark Mode.
This will enable a system-wide Dark Mode, which will turn the toggle to active WhatsApp's Dark Mode automatically.
WhatsApp Dark Mode: Supported smartphones
All Android phones run WhatsApp have gotten support for the new feature and can toggle the settings by following the steps given above.
Also Read: How to setup fingerprint lock on WhatsApp?
For iPhones, only the phones running iOS 13 or above support this new feature. The supported devices include iPhone 6S, iPhone 6S Plus, iPhone SE, iPhone 7, iPhone 7 Plus, iPhone 8, iPhone 8 Plus, iPhone X, iPhone XS, iPhone XS, iPhone XS Max, iPhone XR, iPhone 11, iPhone 11 Pro and the iPhone 11 Pro Max.