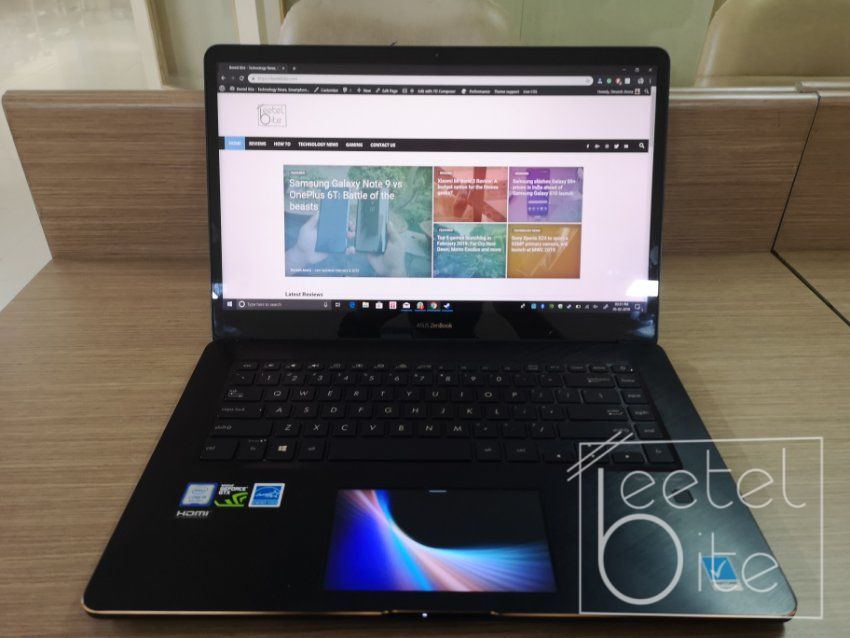 Asus ZenBook series is the company's flagship laptop series in which they try to show the best they have to offer to their customers. ZenBook Pro is a top of the line laptop, which is targeted towards content creators and heavy users. It brings premium design, durable build quality and some great features. But, how does it performs in the real world? Find out in our review:
Asus ZenBook Pro Review: Specifications
Asus ZenBook Pro UX580 features a 15.6-inch IPS LCD display with a resolution of 3840x2160 pixels. It is powered by the Intel Core i9-8950HK 8th Gen CPU coupled with 16GB of DDR4 RAM. For graphics, there is an Nvidia GeForce GTX 1050 Ti GPU with 4GB of GDDR5 VRAM. The storage is taken care of by the 1TB M.2 NVMe PCIe SSD drive.
Asus ZenBook Pro Review: Design
Asus ZenBook Pro, being a flagship laptop from Asus, comes with a metal body and feels premium and durable. The company has also managed to keep the laptop quite thin and lightweight. The outer shell looks quite attractive when clean, however, it is just a fingerprint magnet.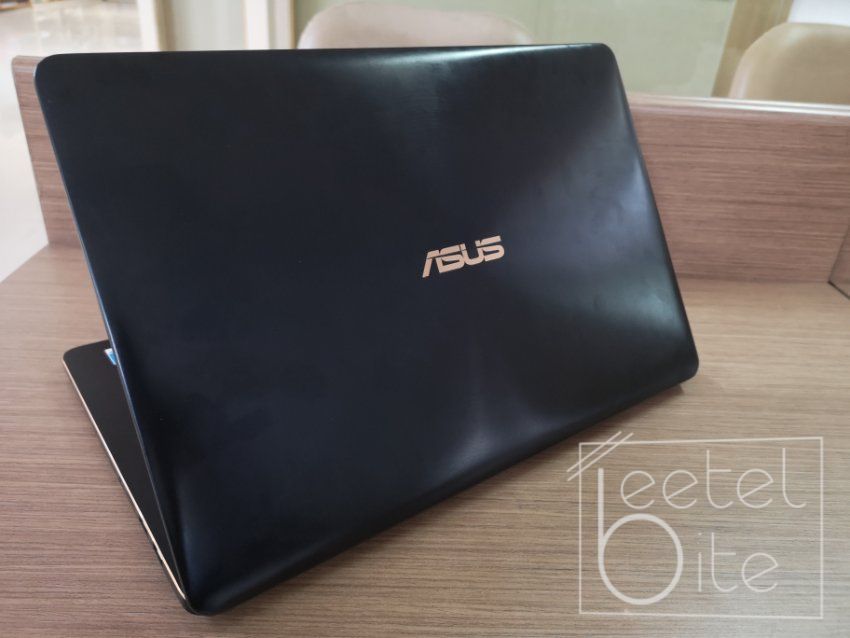 The laptop features a power-in port, an HDMI port and two USB Type-C ThunderBolt 3 ports on the left. On the right-hand side, it consists of two full-size USB 3.0 ports along with a microSD card slot and 3.5mm headphone jack.
In terms of upgradability, Asus ZenBook Pro is not that good. The RAM is soldered onto the motherboard, which means you will have to stick with 16GB of RAM till you get rid of the device. Also, there is only one PCIe slot, which means you cannot have a hybrid storage solution.
Also Read: Asus VivoBook S14 (S430U) Review: MacBook Air got some competition
Asus ZenBook Pro Review: Display
Display is one of the major selling points of this laptop. Asus ZenBook Pro features a 15.6-inch IPS LCD panel with a resolution of 3840x2160 pixels. As it is geared towards creators and professionals, the display is 100% sRGB and Adobe RGB accurate. The brightness can be cranked up to 325nits, which looks pretty good even while using the device outdoors. Additionally, the display sports a touchscreen, which does a fairly decent job.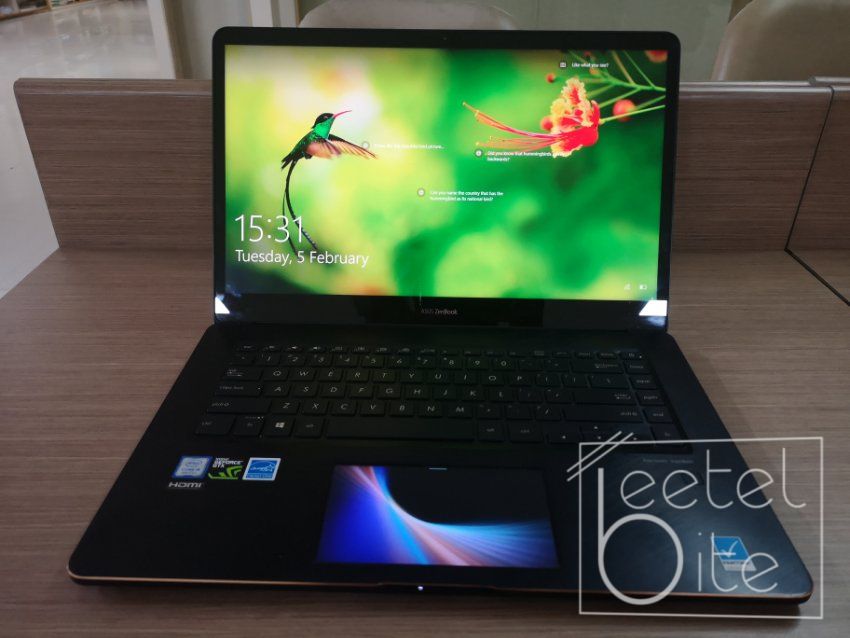 Unlike the design of the more other Asus laptops, this one does not have their nano edge display design. However, the bezels are still pretty small when compared to most other 2018 laptops. One thing, which I did not like about this display, is its glossy finish. It attracts a lot of fingerprints and it is quite reflective as well.
Asus ZenBook Pro Review: Performance
Asus ZenBook Pro UX580 is powered by an Intel Core i9-8950HK processor paired with 16GB of DDR4 RAM. While the Core i9 makes this laptop look like one of the most powerful devices in the world, it is actually one of the weakest points of this machine.
As it is an ultrabook, the chassis does not have enough cooling vents to keep the CPU cool under heavy loads. It easily gets thermal throttled even with a few minutes of gaming or video editing.
We highly recommend considering the Core i7 variant of ZenBook Pro if you are looking to buy one. The laptop itself is not quite capable of unleashing the true potential of the CPU. Also, the laptop gets quite hot during use and can easily make you feel uncomfortable. If you really need a Core i9 CPU, you should look elsewhere.
Also Read: Asus ROG Strix Hero II review: 144Hz gaming on the go
In terms of graphics, Asus ZenBook Pro comes with an Nvidia GTX 1050 Ti GPU with 4GB of DDR5 VRAM. Though it is not a gaming machine, the graphics card is quite capable of running most AAA titles at medium to high settings. During our time with the device, we played games like PUBG, Apex Legends and CS:GO. While Counter-Strike easily gave me upwards of 120 FPS even at high settings, PUBG required me to switch to low settings in order to achieve a playable 60 FPS mark. However, we really feel this is not the right choice if you are looking for a laptop for gaming.
Asus ZenBook Pro Review: Keyboard and Trackpad
I personally have mixed feelings about this keyboard. The key travel is quite good, which makes the typing experience great. However, on the flip side, the keys are quite short as the whole keyboard is shifted towards the left as to accommodate a row of navigation keys.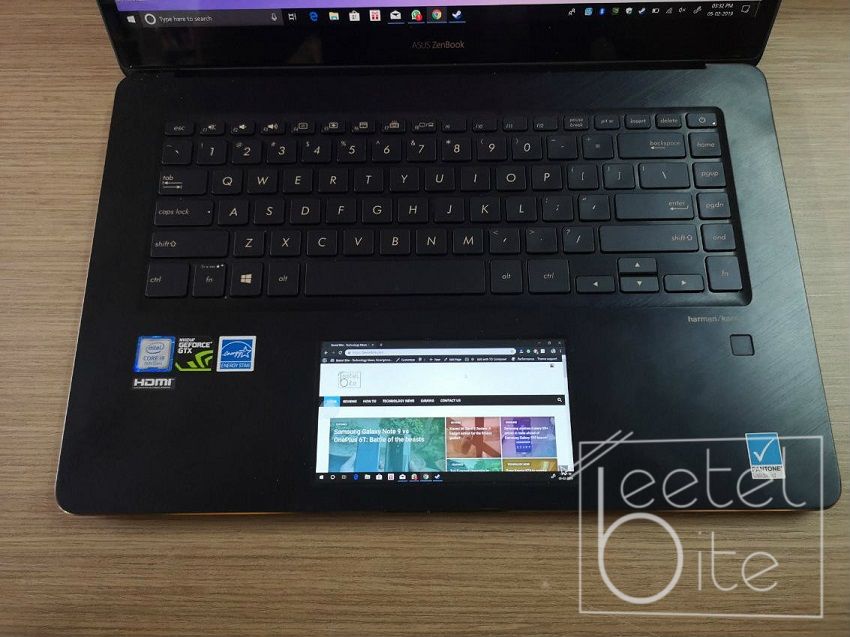 The trackpad here is another interesting part of this laptop. It is, what Asus likes to call, a screenpad. It basically means that there is another touchscreen display on the trackpad. Asus has customised a few apps for quick access on the screenpad, which include a calendar, calculator and more. One of my favourite features of the screenpad is the ability to control YouTube videos on Google Chrome using the screenpad. Additionally, the screenpad can also act as an extended display for your laptop.
Asus ZenBook Pro Review: Battery
The Asus ZenBook Pro is backed by a 71Wh battery, which is pretty good. During our testing, the laptop easily lasted around 6-7 hours with light usage like web browsing and watching movies. However, if you really want to pull off more battery life out of this, you will need to switch from 4K to 1080p and lower the Windows power mode to get better battery performance. The power supply is able to deliver 150W of power, which is enough to juice up the laptop quite quickly.
Asus ZenBook Pro Review: Verdict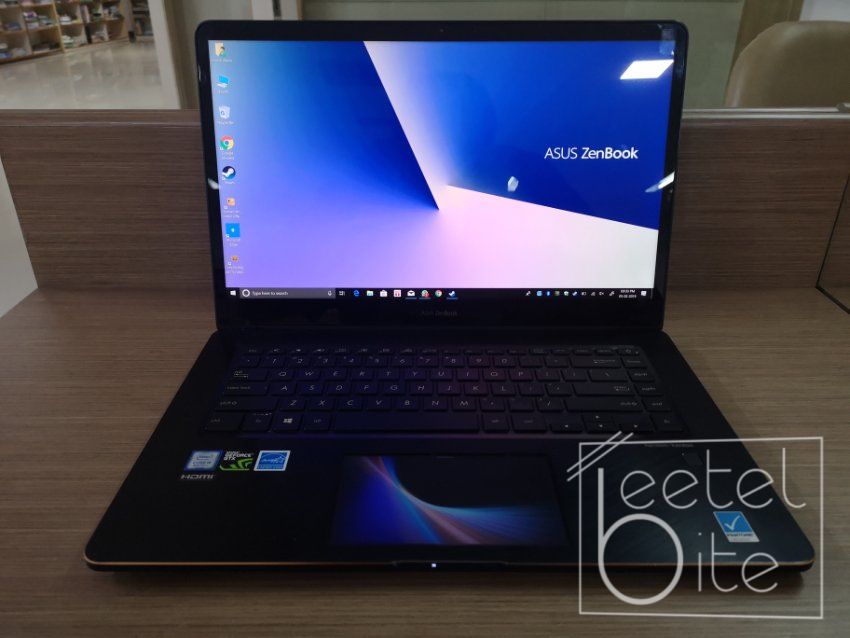 Asus ZenBook Pro 15 (UX580) is a powerful, premium ultrabook that is geared towards creators. While the screenpad looks to be quite gimmicky, it does help improve productivity in some cases. The display used is quite good, one might call it the best 4K panel used on a laptop. However, on the downside, the laptop does thermal throttle a lot due to poor heat management and the extremely powerful, yet pretty hot, Core i9 chipset.
Even if you are interested in this laptop, we highly recommend getting the Core i7 version of it as that is less likely to thermal throttle and also also save some of your money.