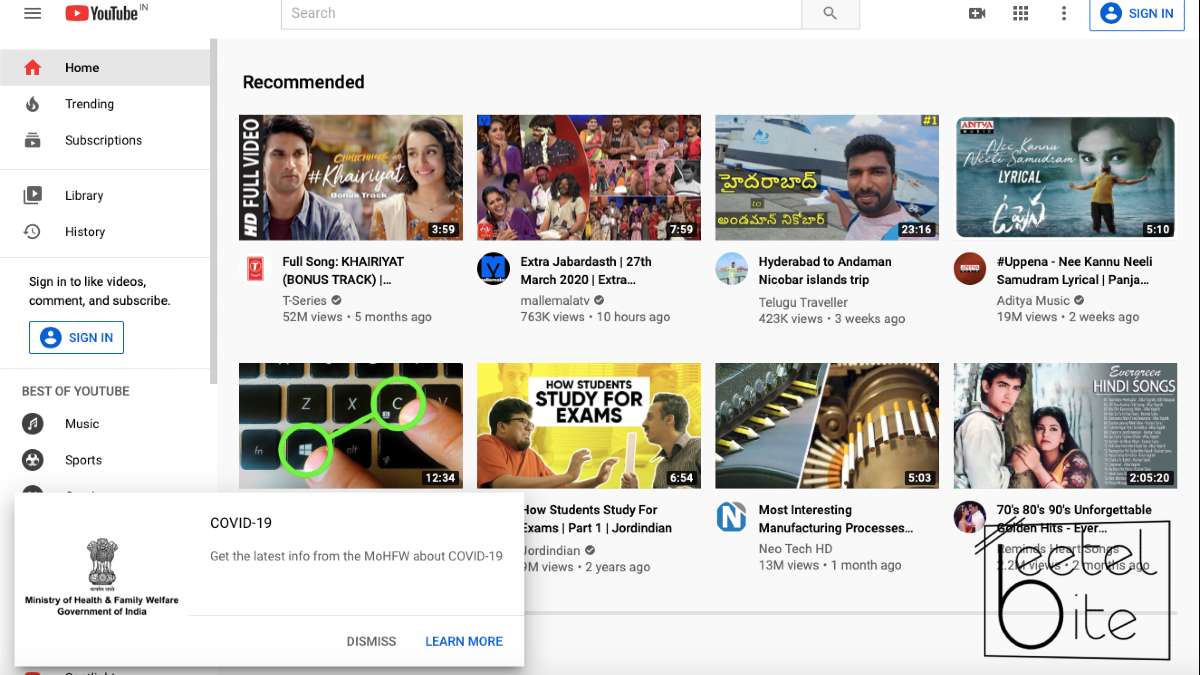 Coronavirus (COVID-19) is spreading like wildfire throughout the globe. With hundreds of new cases being discovered daily across the globe, tech companies like Facebook and Google are taking steps to educate people about the virus and how its spread can be stopped. They are also taking steps to curb the spread of misinformation, which is causing mass hysteria.
YouTube is also taking part in this initiative, by doing two things. The first is that it shows a COVID-19 disclaimer when you open the site. If you click on the disclaimer you will be taken to the WHO (World Health Organisation) website, which provides users with all the necessary information about coronavirus.
The second step is that it is promoting "authoritative content" regarding coronavirus with a "news shelf" on its homepage. In the box, it shows informative videos regarding the coronavirus outbreak to users.
To recall, Facebook has also announced a similar action this week to curb the sharing of rumours and hoaxes about the pandemic.
We want everyone to have access to authoritative content during this trying time, so we're launching a COVID-19 news shelf on our homepage in 16 countries. We'll expand to more countries, as well. pic.twitter.com/nivKDZ2mHo

— YouTubeInsider (@YouTubeInsider) March 19, 2020
YouTube earlier this week along with its parent company joined major US internet companies in a joint effort to root out misinformation about coronavirus. This move was taken after increased claims of the virus being a hoax.
In related news, Twitter has now expanded its safety rules, according to which it will remove tweets that could put more people at risk. In a statement, Twitter's safety team said that it will ban all "content that increases the chance that someone contracts or transmits the virus." This includes denial of expert guidance or encouragement of the use of fake or ineffective treatments.
Also Read: Google announces Incognito mode for Maps, auto-delete for YouTube and more
Facebook hs also taken steps to place authoritative information regarding the virus on the top of all its users feeds. The company is calling the box, where all of this information will appear, the Facebook information hub. This was developed by the company in collaboration with various health organisations and is currently available in the US and Europe. The company has stated that it plans to expand this platform to other markets soon.