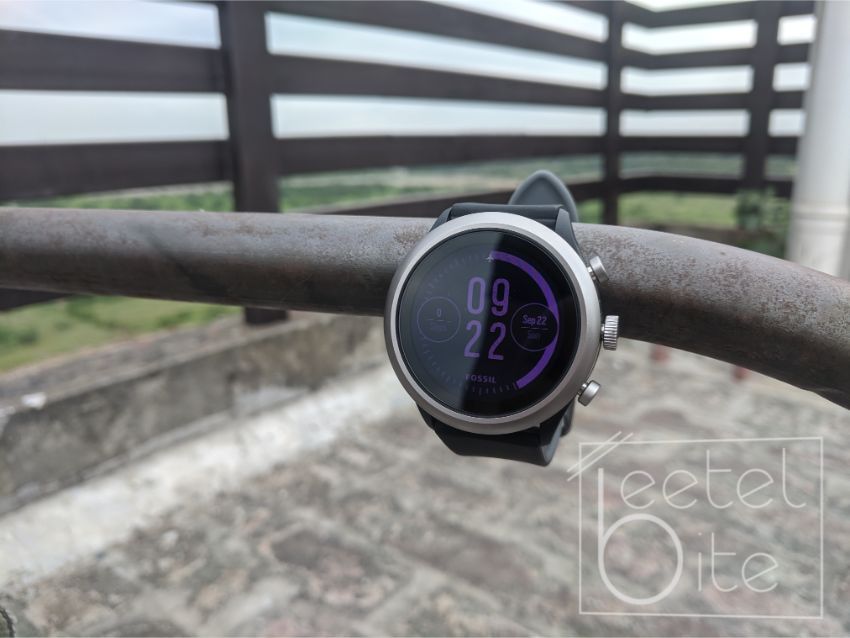 Smart wearables like smartwatches are a niche category, but the market is growing at a rapid pace with new devices entering the market and sales growing at a steady pace.
Fossil, the brand that is known for its spectacularly crafted watches, entered the smartwatch market a long time ago. What made it stand out and succeed in my opinion was that their smartwatches were primarily watches and then smartwatches.
However, Fossil didn't consider using this approach while making their newest smartwatch, Fossil Sport. It is geared more towards fitness folks, wanting to track their run and activities. It is light, durable and even comes with a silicone strap so that the leather doesn't get spoilt with sweat.
In this review, we are going to find out if the new Fossil Sport is one of the best smartwatches for fitness-oriented people or not.
Fossil Sport Review: Design
Unlike the other Fossil smartwatches, with a heavy and traditional watch-like design, Fossil Sport features a completely different look. It is made out of lightweight aluminium and comes with a non sweat absorbing silicone strap.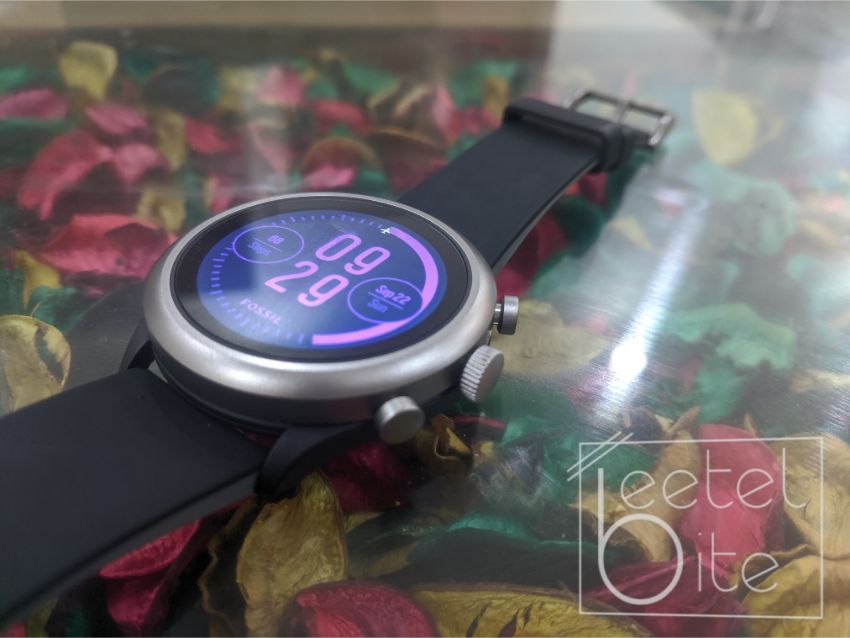 On the side of the watch, you will find a big centre dial, along with two buttons on it's either side. The side buttons are customizable buttons, enabling you to launch anything from the watch face. The centre dial works as a power button and helps in scrolling with the rotation of the dial. Buttons are a little stiff, which is a good thing as it prevents accidental presses, which I had experienced with some of the earlier generation Fossil smartwatches.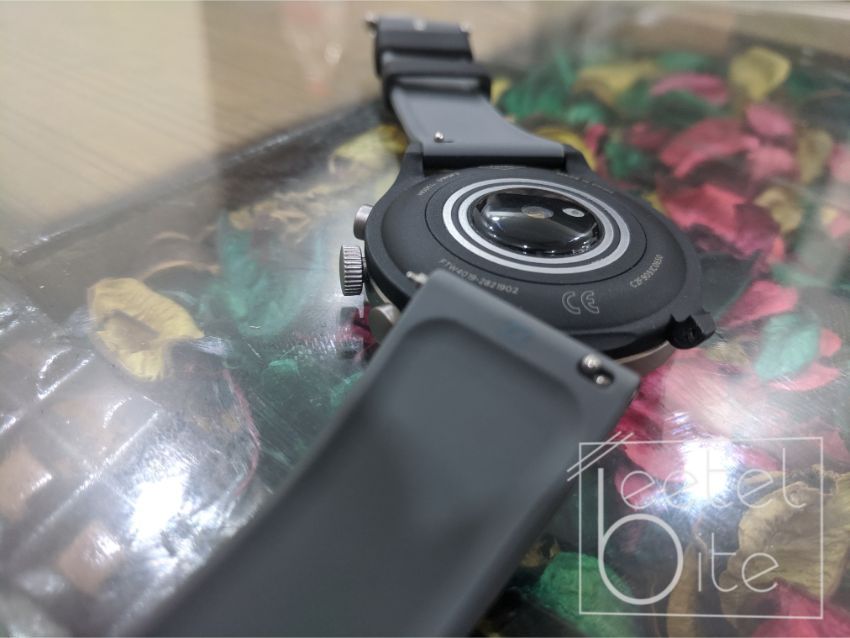 Turning the watch around and you will get to see the heart rate sensor, which is made out of glass surrounding which are metal contact points for charging.
Coming to the silicon straps, unlike leather it does not absorb sweat and wear out the band in long usage. However, silicone is not one of the most premium-feeling materials you can get.
It is durable and hot-swappable if you ever wanna change the look with another colour. A good thing is that the bands are not proprietary. Any 18mm or 22mm band depending on your casing size will easily fit the watch. So this means you can put your favorite band from any watch onto the Fossil Sport.
Also Read: Fossil Q Explorist HR Review: A Huge upgrade over its predecessor
Overall, the design of the Fossil Sport is not like any traditional watch or Fossil's main lineup of smartwatches. The look and feel of the watch is a little sporty and comfortable. It's lightweight and made out of durable material that helps you perform in the gym without any issue.
Fossil Sport Review: Display
Fossil Sport features a 1.19-inch circular OLED display with a resolution of 454x390 pixels. The OLED panels offer true blacks, good colour accuracy and saves battery when the watch face is not on or in the Always on Display mode.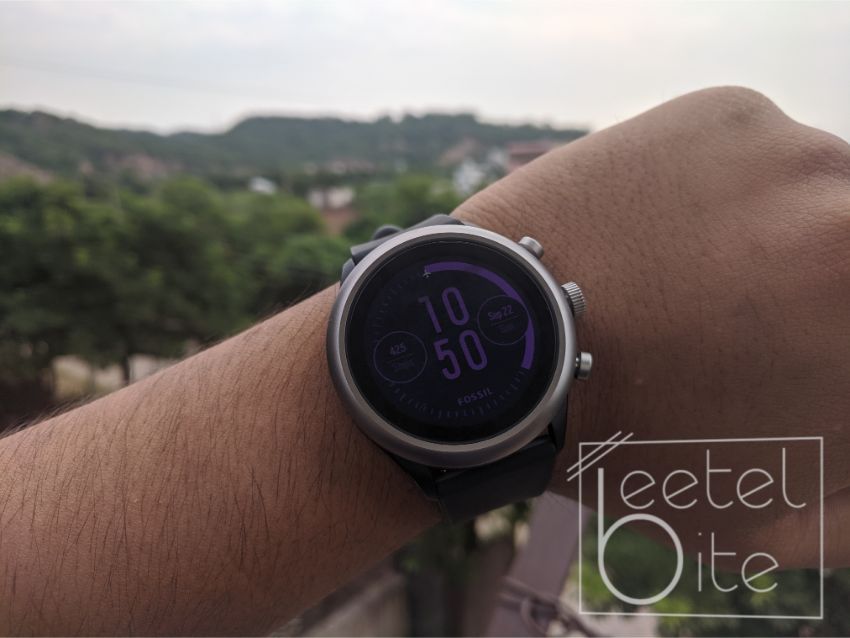 The bezel is not the smallest with a considerably huge black border around the display. Bezel-less displays haven't yet hit the smartwatches, but I am sure that we all will agree that it's not required.
Also Read: Fossil Q Marshal: Is it still worth it?
The display panel on the watch is not one of the brightest. Even at full brightness, it is hard to properly read outside, and in direct sunlight, you can forget about you even being able to comprehend anything that's showing up on the watch. The always-on display is much duller.
Fossil Sport Review: Performance
Fossil Sport is powered by Qualcomm's Snapdragon Wear 3100 processor, which greatly improves battery life and performance compared to the last generation Wear 2100 processor. It comes with 512MB of RAM and 4GB of storage.
The newer processor helps the watch feel a lot more snappy and responsive. The Watch rarely lags and 4GB of storage means you can load up a lot of apps or even music and videos on to the watch.

Fossil Sport is completely geared towards fitness. Its heart rate sensor can help you track your fitness sessions and GPS allows for accurate step tracking. Unlike the likes of other fitness bands, step tracking is fairly accurate. Google Fit tracking allows you to track your fitness with even more precision along with many predefined modes.
The watch is also 5 ATM water-resistant, which means up to 50 meters of water protection for up to 30 minutes, which is good for a quick swim session. The silicone bands mean that the straps won't get spoiled with a quick swim.
Also Read: Top five reasons as to why I recommend a smartwatch over a normal one
Fossil Sport also sports an NFC chip for using Google Pay, but it cannot be used for any other things as of now, which according to me is a missed opportunity.
Fossil Sport Review: Battery Life
OLED panels on smartwatches make a lot of sense. Things like the Always-on display on LCD panels drain out a lot of battery. On an OLED display, it can shut down most of the pixels for a true black experience and battery savings.
Also Read: Xiaomi Mi Band 3 Review: A budget option for the fitness geeks?
With only the device connected to the smartphone and every other feature turned off, the battery lasts around 24 hours on a single charge. With the heart rate sensor on, always-on display turned on and device connected to a phone, the watch easily lasts a workday.
When the device enters its low battery, I was able to make it run for 12 hours without dying. However, in the low power mode, you can only see the time, that too with the always-on display mode being turned off. Fossil claims a two-day battery life, which feels attainable considering if when the phone is disconnected and everything is turned off, it drained only 20 percent battery during a workday.
Also Read: Honor Band 4 Running Edition Review: A cheaper alternative to a fitness tracker?
The smartwatch charges very quickly. With a basic one amp charger, it took the watch a little more than an hour to get fully charged from zero.
Fossil Sport Review: Conclusion
Fossil Sport starts at Rs. 17,999 and is not really a budget option, but at the same time, it is also not a premium option, considering prices of some other smartwatches available in the market. This smartwatch is aimed at the fitness enthusiast who wants a little more from their fitness trackers like the ones from the Fitbit.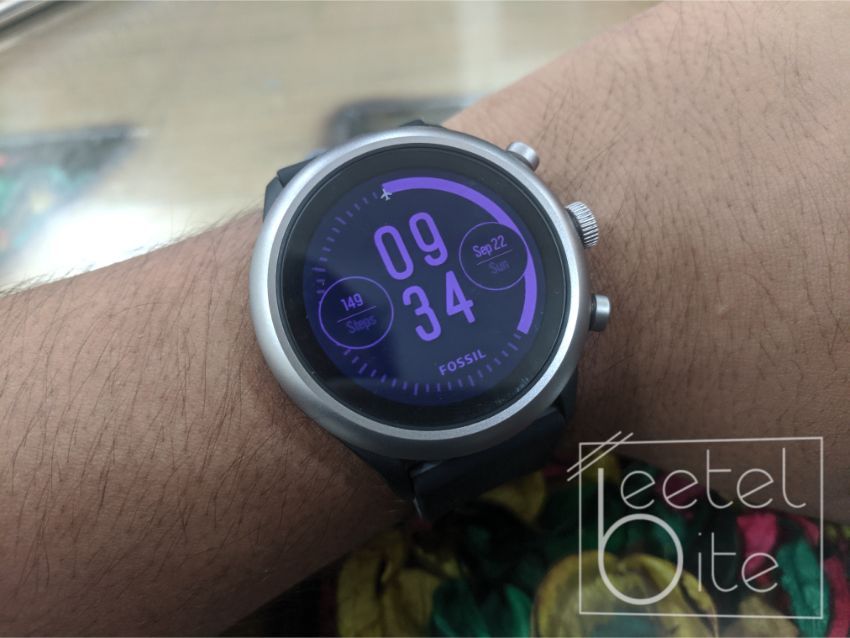 Fossil Sport doesn't come with top of the line hardware, but it is good enough to keep the watch running without any hiccup. Fossil knows how to make a watch and their smartwatches keep getting better with each generation they launch. This watch is aimed towards people who want a fitness tracker but don't want to lose the features of a smartwatch.
Overall, the watch is really good considering it performs well at what it is aimed at doing and at the same time, it doesn't cost a fortune. Whether you should go for this depends on how much you want a fitness tracker and how much you want a smartwatch. There are cheaper fitness trackers in the market, but none with smartwatch capabilities. If you are looking for just a smartwatch, then you can probably find better ones, but the Fossil Sport will do just fine. So, unless you don't need features of a smartwatch, Fossil Sport is something you won't regret buying.