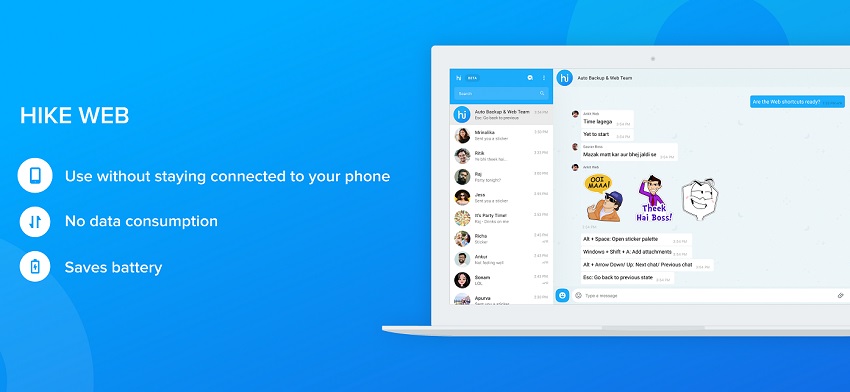 Hike Sticker Chat, the popular cross-platform messaging application has received a new major update. While this update does not bring any visual changes, it does offer two really huge and important features. Auto Backup and Web are two features that many users have been requesting for and they have finally arrived.
Commenting on this, Kavin Bharti Mittal, Founder & CEO, Hike, said, "With this update, Hike Sticker Chat becomes a truly ubiquitous messaging platform. With the Auto Backup feature, your data will be backed up in real-time so you don't have to worry about changing devices and with Web, we're bringing our unique sticker driven messaging experience to the computer browser. What's unique about Hike Sticker Chat on Web is that it can be used without your phone being present or connected to the internet. A big request from the market."
"We've also upgraded our encryption to 128-bit AES 2048-bit RSA for data in transit and at rest amongst a few other things making Hike Sticker Chat more secure than ever," he further added.
As the name suggests, Auto Backup automatically takes a backup of all the chats. This happens in real-time, which means every time one sends or receives a new message, it directly goes on to the server. While it might bring privacy concerns for some people, it will make life easier for others. The feature also makes migrating from Android to iOS or vice versa easier and brings all the chats back. This feature has been a request by many people and even WhatsApp fails to provide it.
Also Read: Top 5 WhatsApp features that you are not using, but you should
Another interesting feature, which has now been long overdue is a web interface. The feature allows users to chat via the browser on their Mac or PC. With the help of Auto Backup feature, the Hike Web does not require the phone to be always connected to the internet. Hike Web can be accessed from this link.