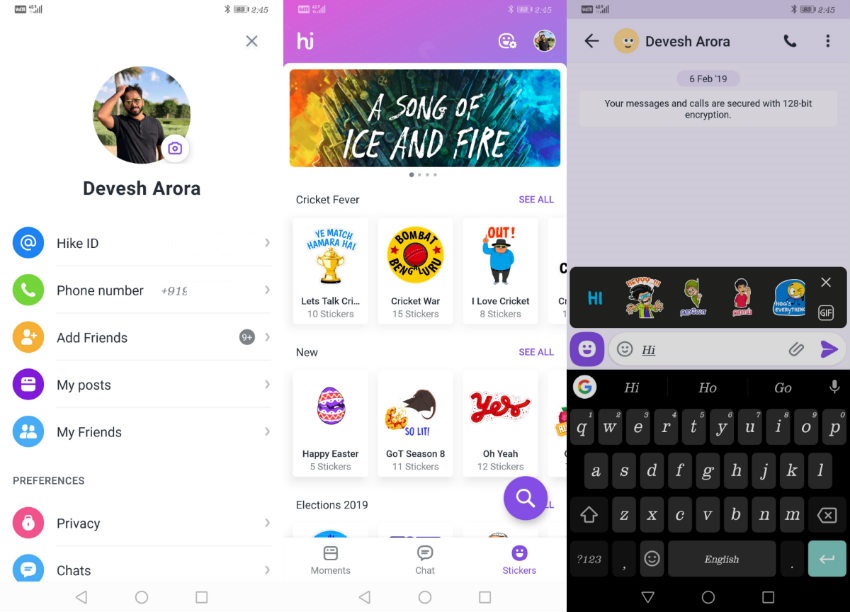 Hike is one of the most popular cross-platform messaging application. The app was one of the firsts to bring features like stickers to bump up the chatting experience. The company has recently announced there whole new application, the Hike Sticker Chat. It is here to eliminate any sort of confusions and make the experience more simplified and better.
Unlike other Whatsapp and other apps that have sticker based chats, Hike now has more than 30,000 stickers in its library including some of the regional ones. Interestingly, they even keep on adding more stickers on different occasions like Valentines Day, Republic Day and more.
Additionally, Hike uses machine learning and artificial intelligence (ML/AI) in order to predict what kind of a sticker the user would be looking for. In case you type "Hi" on the chat box, the app will suggest a couple of stickers saying Hi or Heya. This makes it convenient to use some of the best stickers from more than thousands available.
While the main focus of the app here is the stickers, it also brings a few other tricks up its sleeve. It also comes with something called as the Hidden Mode, which, as the name suggests, allows the user to hide some of the chats. These chats can be accessed by tapping on the Hi icon on the top left corner of the app. It can be secured using pattern or PIN and users can even use their fingerprint to unlock the hidden mode.
Also Read: WhatsApp vs Telegram: Which instant messaging app deserves a spot on your smartphone
Hike Sticker Chat also brings an app theme, night mode as well as the chat theme, which is shared between both the parties. The new app also gets Hike ID which allows users to chat with their friends without needing to share their number.