We all recently bare witness to the fact that Facebook had been sharing or data with Cambridge Analytica. Mark Zuckerberg, CEO, Facebook on Tuesday and Wednesday will be testifying to the US Congress for the same. Numbers revealed last month showed that the social media network had shared data of 87 million users with Cambridge Analytica, out of which over 5 lakh users belonged to India.
In a statement, Facebook had promised to notify all of the affected users whose data had been shared improperly starting April 9. However, it seems that those notifications are being rolled out extremely slow to the affected users. The company has also released a tool for users to check if they were amongst the affected users.
If you want to check that you're ID was affected or not. You need to visit Facebook's Help Centre page. There the company has jotted down the way how to know if your ID was amongst the ones shared or not.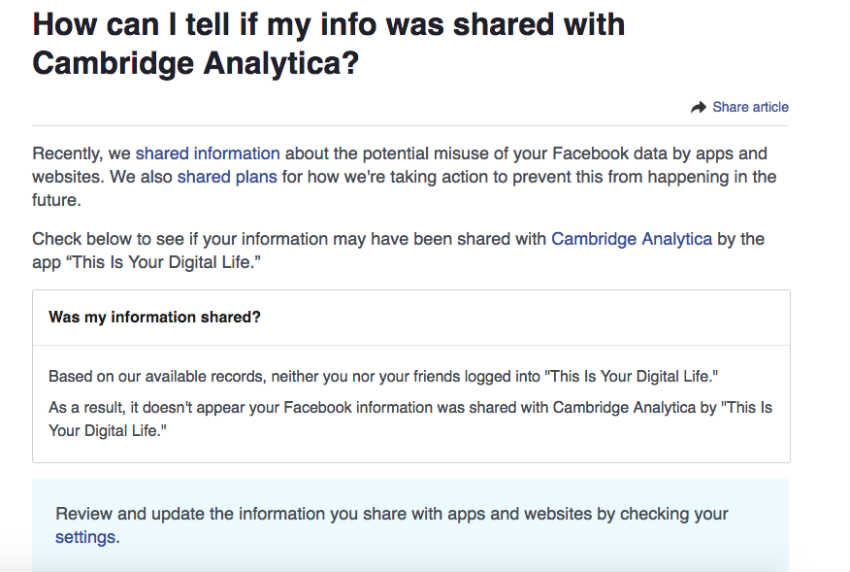 On the page, you will see a box with the title 'Was my information shared?'. If logged in the box will tell you if you or any of your friends are the one affected. Just a side note, in the box it is written that the page specifically tells if the 'This Is Your Digital Life' shared the data or not.
If any of your friends got infected the page will not reveal to you who it was. However, it will point you to a page from where you can check and update information that is shared with any apps or websites.
Also Read: How to stop Facebook from tracking your location
If you got infected, there is a good tool that Facebook quietly released last week, which lets users bulk remove apps. This will help the users disconnect their ID's from third-party apps linked to their Facebook accounts.