Xiaomi back in 2018, due to it not charging a huge profit margin for its smartphones from customers, started showing ads in MIUI, to float itself. Back then many brands like Realme mocked this decision.
Now Realme, one of the company's that mocked Xiaomi's decision has announced that it will start showing ads to its users. The company via its official forum made the announcement stating that all devices running ColorOS 6 and above will now start showing users recommended ads.
"To continue offering more surprises for you and maintain a healthy and sustainable business model, we have introduced commercial content recommendations in the OS," stated the company in a forum post.
The company has confirmed that the ads will appear in the Phone Manager, Download Manager and on the Security Check page after installing new apps. However, if you do not want to get these ads and disable them, you can do it simply by following the steps provided below.
Head into the Settings panel of the device.
When inside of the 'Settings' menu, scroll to 'additional settings' and open it.
There you will find a get recommendations button, which you need to tap.
Inside of the setting, you can now disable the get recommendations toggle, which will stop the ads altogether.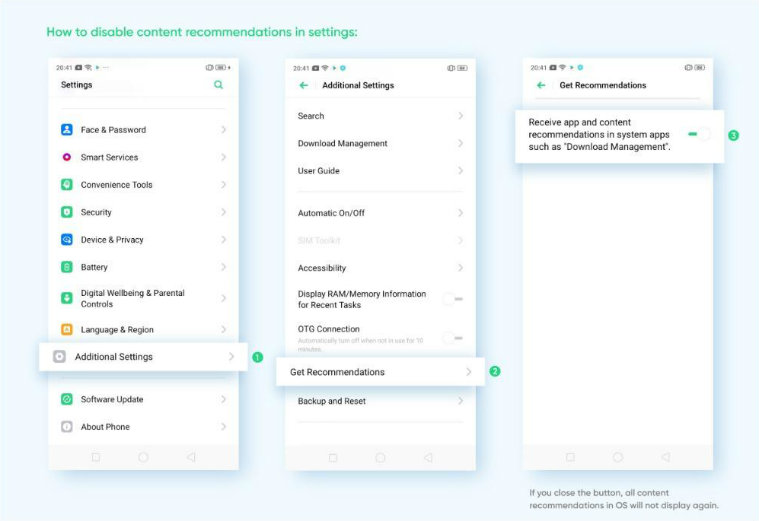 The ads are not region-specific and have started showing on Realme phones across the globe.
Also Read: Realme X2 Pro first impressions: Will it be able to take on OnePlus 7T, Redmi K20 Pro?
Realme has had tremendous growth since its launch. The company has been able to maintain such a high growth trajectory thanks to the extremely competitive prices. Ads are one way to ensure that device pricing stays low. However, it does seem a bit silly when you think that Realme mocked Xiaomi for running ads on their smartphones and now are doing the same.