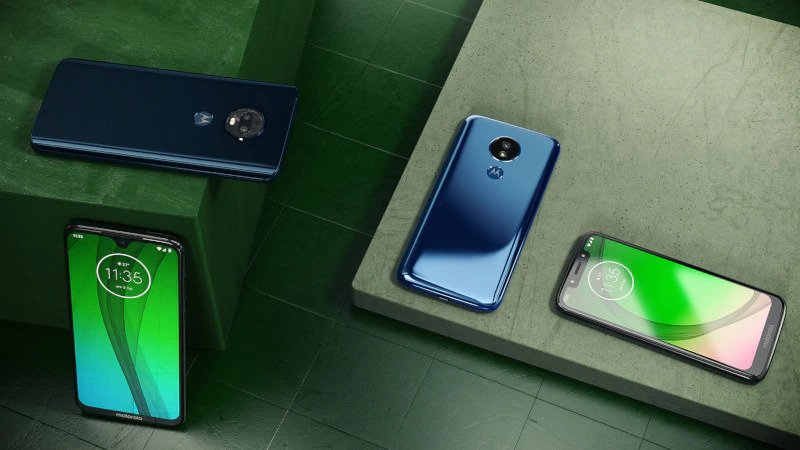 Motorola has finally launched its latest G series smartphones at an event in Brazil. The company has introduced four new phones under the G7 series, the Moto G7, Moto G7 Plus Moto G7 Play and Moto G7 Power. The highlights of these new smartphones include notched displays and stock Android interface.
Moto G7 and Moto G7 Plus
Moto G7 and G7 Plus both feature a 6.24-inch FullHD+ IPS LCD display. While the Moto G7 comes with Qualcomm Snapdragon 632 processor paired with an Adreno 506 GPU, the Plus variant gets a more powerful Qualcomm Snapdragon 636 chipset, which is paired with Adreno 508 GPU. Both the smartphones come with 4GB RAM and 64GB of onboard storage. Moto G7 comes backed by a 3,000mAh battery with support for Moto Turbocharge.
As for the optics, the Moto G7 Plus sports a dual-camera setup consisting of a 16-megapixel primary and a 5-megapixel secondary sensor. Moto G7, on the other hand, features a 13-megapixel + 5-megapixel dual-camera setup at the back. There is an 8-megapixel and 12-megapixel selfie snapper on the G7 and G7 Plus respectively.
Moto G7 Play and Moto G7 Power
Just like the Moto G7 and G7 Plus, the G7 Power also sports a 6.24-inch display. The G7 Play, being a more budget option, gets a smaller 5.7-inch display. Both the smartphones get HD+ resolution displays. Also, both the smartphones are powered by the same Qualcomm Snapdragon 632 processor coupled with Adreno 506 GPU. The smartphones run on Android 9 Pie out of the box. While the G7 Play gets 2GB of RAM, the G7 Power gets 3GB, storage remaining 32GB on both devices.
Also Read: Top 5 smartphones launching at MWC 2019: Huawei P30 Pro, Moto Razr and more
Both the Moto G7 Play and G7 Power come with 8-megapixel selfie shooters. As for the rear cameras, the G7 Play gets 13-megapixel single camera sensor and the G7 Power features a 12-megapixel lens.
As far as the pricing is concerned, the Moto G7 Plus and Moto G7 are priced at USD 299 and USD 349 respectively. The more budget-friendly options Moto G7 Play and G7 Power will be available with price tags of USD 199 and USD 249 respectively.